It might be easier than ever for companies to buy software, but that doesn't mean it is easy for companies to sell software.

In today's B2B SaaS sales, the service is meant to be sold, not bought -which means that businesses must take an active role in educating, engaging, nurturing, and supporting customers.
Let's start with establishing a basic framework for B2B SaaS to understand the overall idea. Later, this article will dive into the best practices used by some of the most successful SaaS companies to create effective B2B SaaS sales and real examples and tips to help you succeed.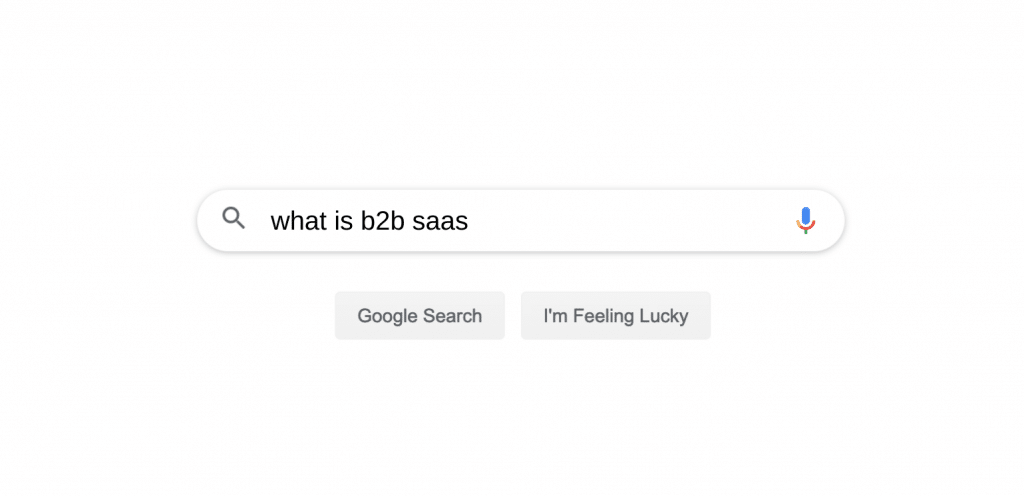 What is B2B SaaS?
B2B SaaS stands for business-to-business cloud-based software that is sold to businesses, not individual customers. It can be defined as a software distribution model in which a service provider hosts applications for businesses and makes them available to these businesses via the internet.
B2B SaaS sale is a way of delivering applications over the Internet to businesses to provide various services, such as customer relationship management (CRM), enterprise resource planning (ERP), product management, social media management, and web-hosting and eCommerce.
B2B SaaS companies offer their services or products to businesses through the internet for a monthly subscription or a pay-as-you-go model. 
B2B SaaS Market Size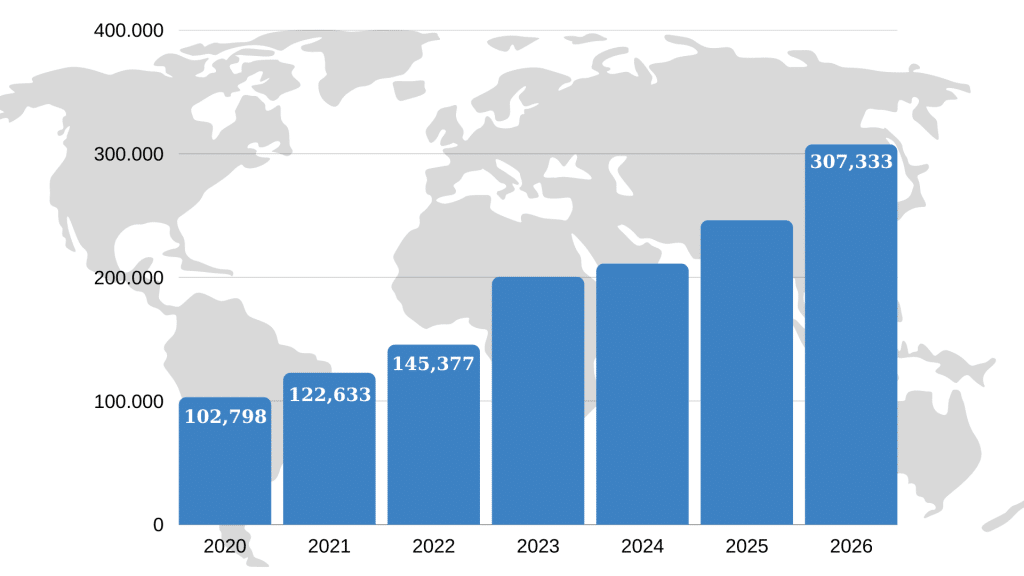 With emerging technologies such as virtualization and containerization and the 2020 pandemic, Software-as-a-Service companies have become more mainstream. Simply, these events drive a fast-growing interest in the cloud.

Worldwide cloud application services are forecast to grow approximately 45% in 2022 to total $145,377 billion, up from $102,798 billion in 2020, according to the latest forecast from Gartner, Inc.

SaaS companies around the world keep adopting various SaaS solutions for a variety of business needs with the help of Artificial Intelligence to solve complex business problems. It is also said the global Software-as-a-Service market size is projected to reach $307.3 billion by 2026, according to FinancialNewsMedia.com.
How Do B2B SaaS Sales Differ from B2C SaaS Sales?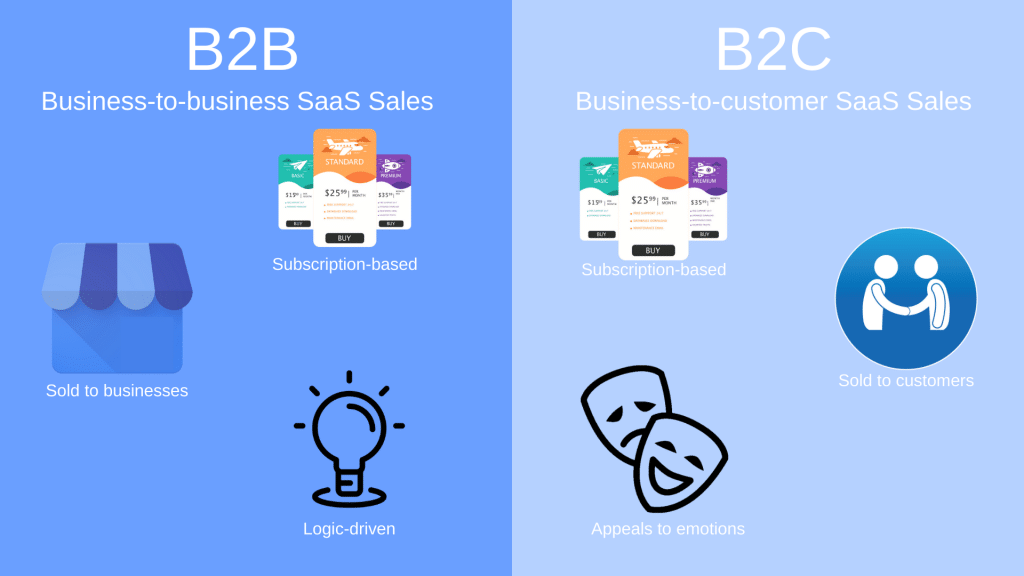 It may seem that B2C and B2B SaaS sales have many things in common. They are both based on subscriptions and deal with similar metrics like customer acquisition cost and churn rate.

But at the same time, they have different roots. B2C SaaS sales refer to any software sales process that sells directly to consumers, while B2B sales refer to the process that sells cloud-based products and services to other businesses.

With B2C sales, you are mainly dealing with a huge target market segment consisting of many individual consumers. However, with B2B sales, you usually deal with a narrow market segment with groups of professional people.

Fundamentally, one thing that differentiates B2B SaaS sales from B2C SaaS sales is that the people you are marketing are experts. In individual consumer marketing, you hardly sell to experts.
How to Sell SaaS B2B?
In this improving B2B SaaS world with an approximately$145,377 market value, you need to shine among the others.
You may have a great product with awesome features, but you need to know how to sell SaaS B2B to a narrow market segment with a group of professional people.
1. Curate a highly targeted digital marketplace
When people walk into a store, they love that it has an extensive product catalog, and they can find everything they are looking for. On the other hand, this equation cannot be applied to B2B SaaS buyers, and they have a completely different experience with a software product.

A significant number of features doesn't mean that a great number of customers. If you have too many features for different problems, people might get confused and overwhelmed.

Most businesses need a single solution that addresses their pain point, and that's why you need a highly targeted app marketplace for your potential customers.

At the early stages of your product development, you need to choose three or four additional cloud services related to your core service to curate a highly targeted marketplace. By sticking to your core value, you will be able to make it easy for everyone, both customers and stakeholders, to understand your service and value.

Here's is an example of a highly targeted app marketplace.

AnnounceKit provides a changelog service for product updates and releases notes at the core of it. But it also has several other services such as widgets, notifications, and segmentation to support its core value.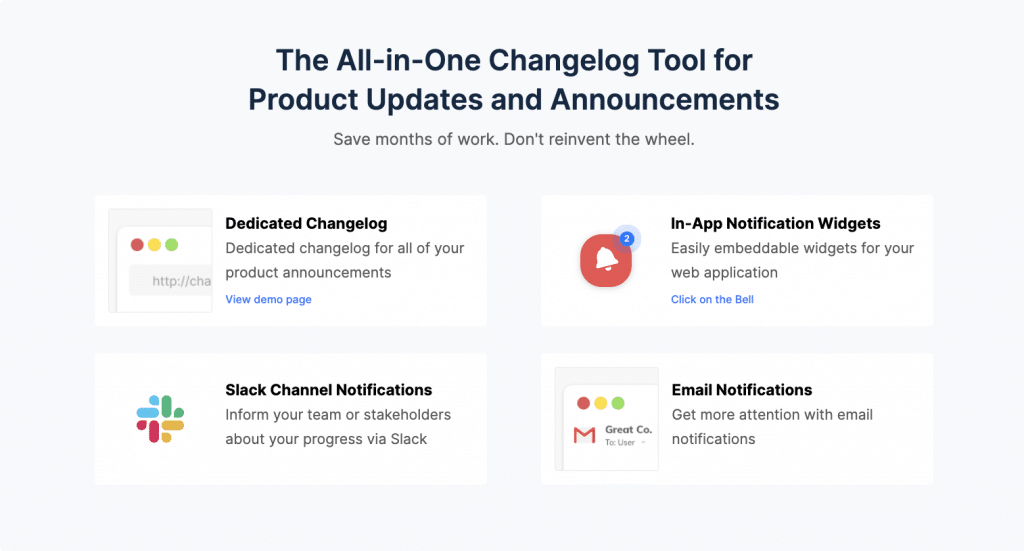 AnnounceKit also offers different use cases for kinds of target audiences. In this way, they keep their marketplace targeted, and they don't overwhelm their different customer profiles with the features they do not really care about.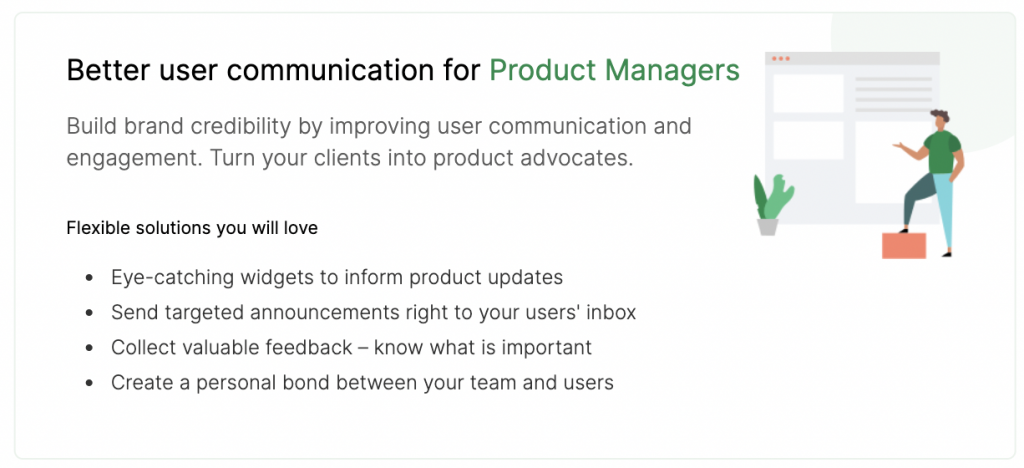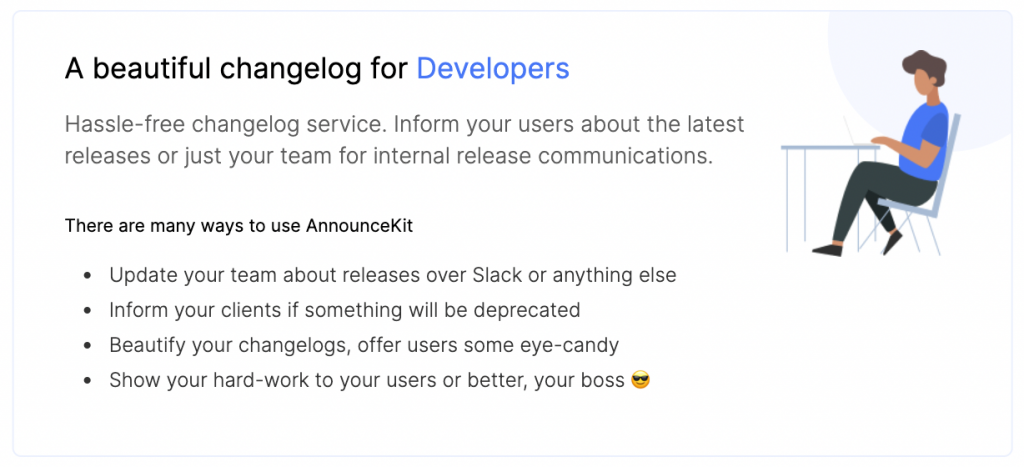 2. Use pull marketing to attract your audience
There are two ways to generate leads for your product:
Push marketing to promote your productusually with paid advertising or promotions, and hope them to visit.

Pull marketing to naturally draw customer interest in your product usually with authentic and interesting content.
Push marketing is the most traditional advertising method. It is a way of saying, "I have awesome widgets at a great price" hoping that someone will make a purchase. It does not raise awareness in a superior way to move customers down to the sales funnel. It is a fifty-fifty chance -whether they buy or not.

Push marketing is costly even though it does not guarantee a purchase. Nothing absolutely guarantees a purchase, yet pull marketing may increase the chance as it aims to raise awareness.

Especially in B2B SaaS sales, as you sell to experts, you need to provide valuable and authentic materials to impress them.

The pull marketing method gives you the opportunity to drive customers to your web page by offering valuable content such as blog posts, social media posts, podcasts, webinars, eBooks, or white papers.
There are several different advantages and disadvantages of each, yet generally speaking, "pull marketing" is more impactful and cost-effective when attracting prospects in the early buying stage.
An example of how to sell SaaS B2B using pull marketing effectively
HubSpot's marketing strategy is a great example of pull marketing. It has various content types and educational materials such as blog posts, eBooks, guides, and courses to educate its audience.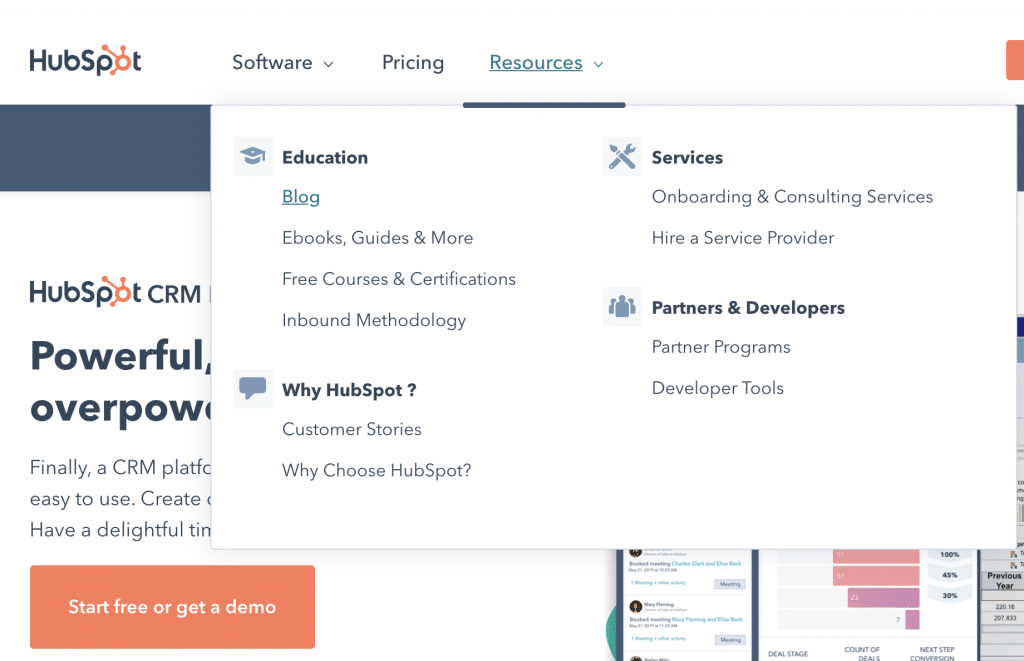 They offer a significant number of business and marketing resources for free.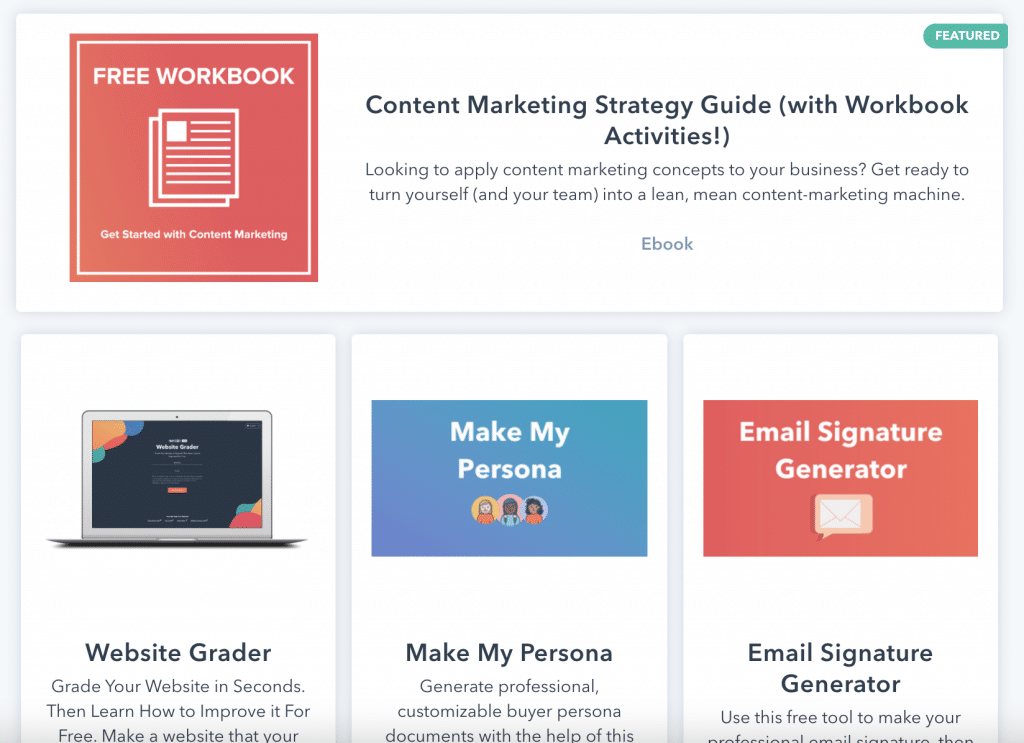 They organize webinars for different kinds of topics regularly to generate leads for their product.

It is also essential to protect the values of people and give importance to special days. HubSpot celebrates special days with special care.

3. Create an effective onboarding process
Without effective onboarding, your customers are most likely to drop using your product. Because customers generally don't want to pay for something they cannot understand and use effectively.

An ineffective onboarding process will eventually lead to a churn rate of 50 percent. Moreover, it also put you under pressure to deal with a steady stream of unhappy customers.

But with an effective onboarding process, you can increase your B2B SaaS sales along with establishing trust with your customers and providing opportunities for cross-selling and up-selling.

The onboarding experience is so valuable that businesses must focus on providing an effective one from the first moment.

Here're some examples of an effective onboarding process.
AnnounceKit welcomes you with a page that includes the onboarding steps, sample project mode, and resources to support the onboarding process.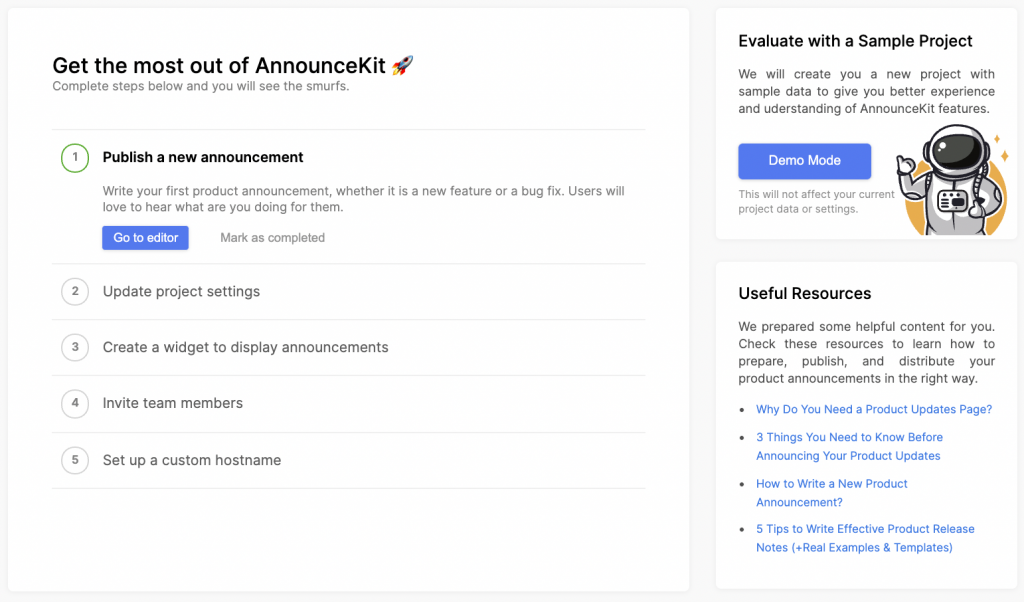 AnnounceKit also gives you little tips when you go to the relevant page.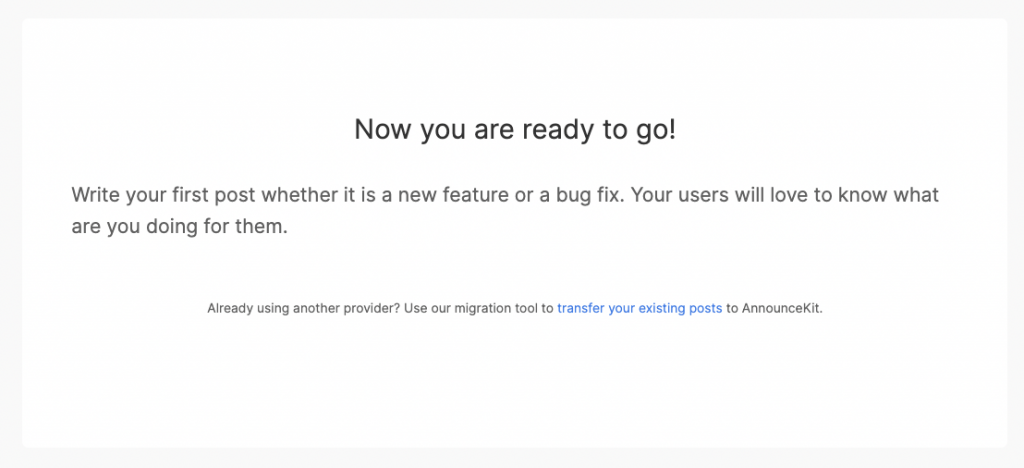 Productboard uses a clever fill-in-the-blanks method of finding out more about you and your specific use case.

Productboard also uses personalization foruser onboarding after filling in the blanks.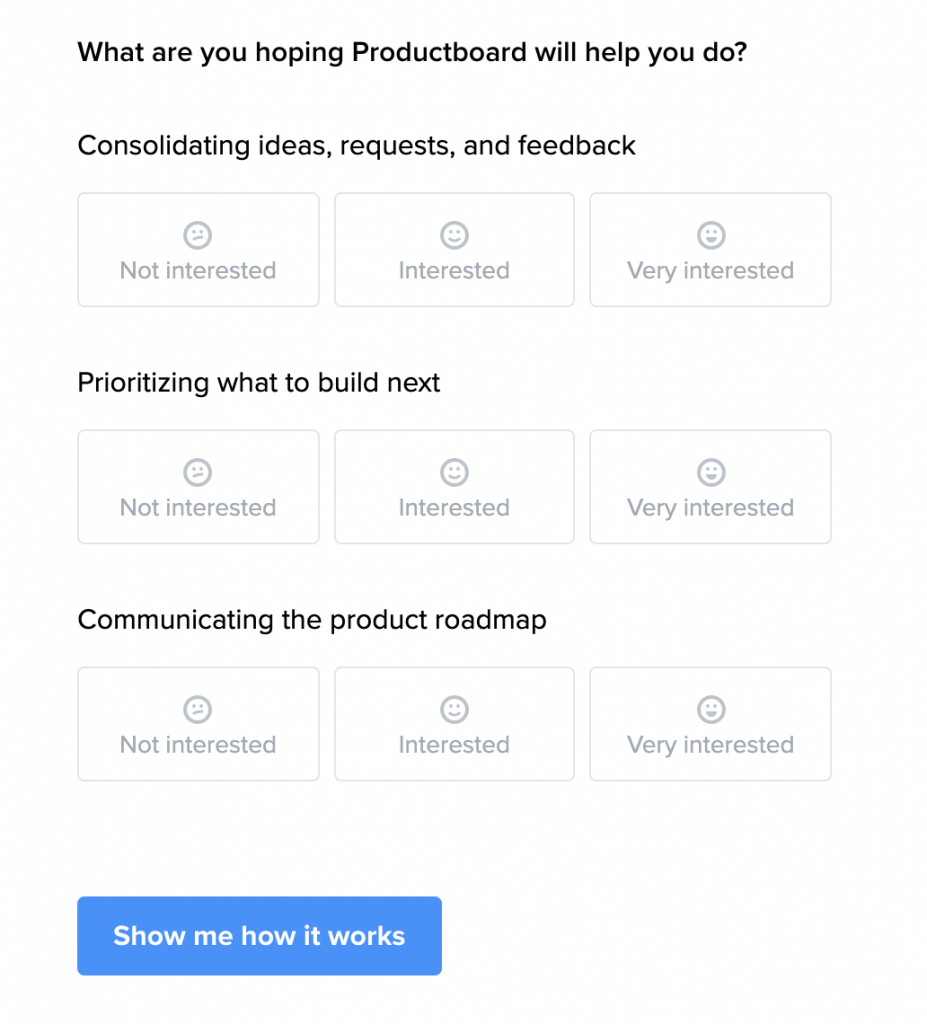 Productboard lastly provides a video demo method to start the onboarding process and offers linear onboarding and trial.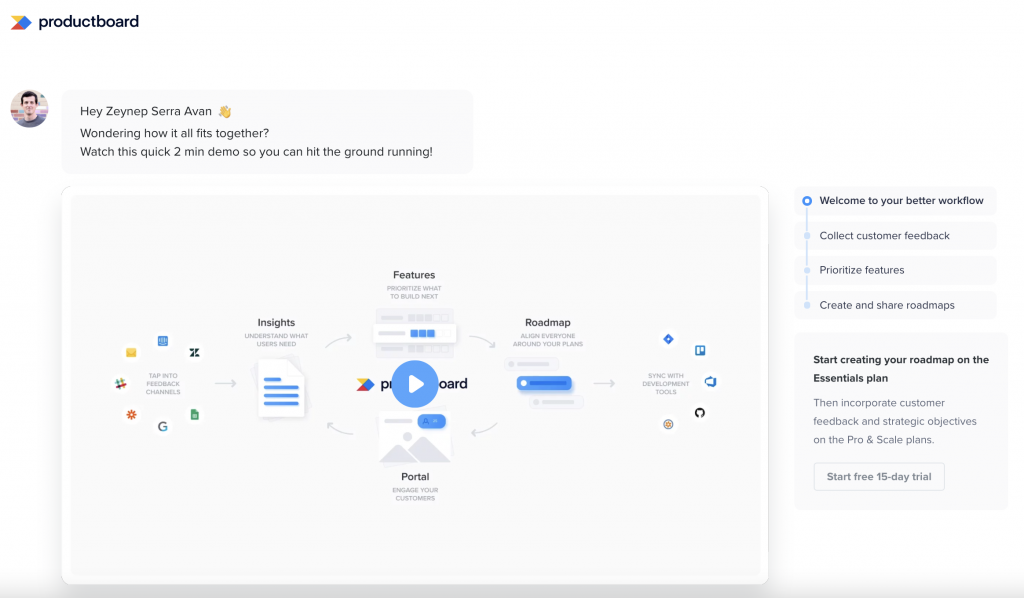 Kommunicate uses interactive walkthroughs instead of linear product tours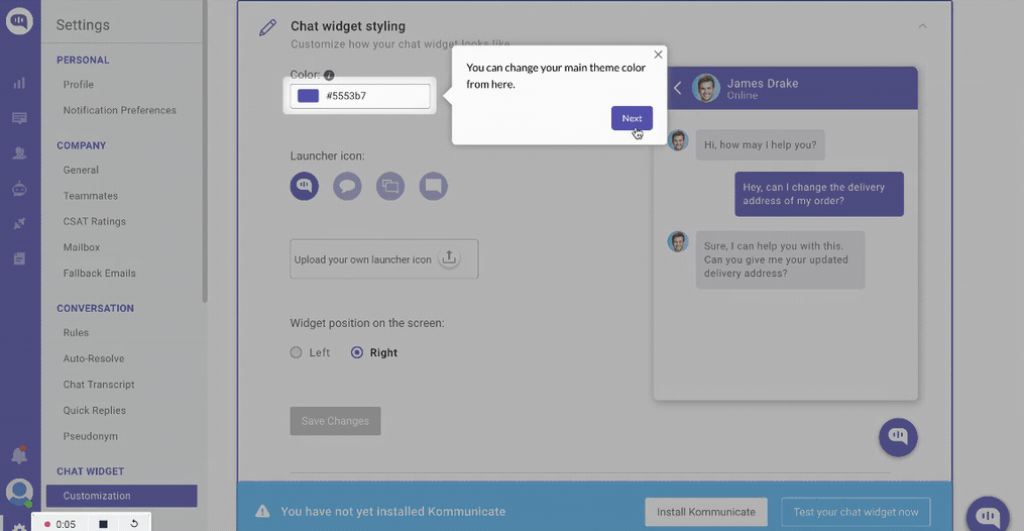 4. Show human touch at every stage of your service
It doesn't matter if it is B2C or B2B SaaS sales; they are all H2H (Human to Human) at the end.

So, you need to show that there is a human behind the product at every stage of your service. It is not just about customer support or services; it is about the product itself.


It doesn't matter if you are the founder, CEO, developer, copywriter, customer success manager, or any other individual responsible; each of you should be socially present -by giving an interview, attending online seminars, personally contacting customers, or using social media platforms. In this way, you can increase the credibility of your product.

In B2B SaaS sales, as we said before, you are dealing with founders, CTOs, or product managers, so founders and CEOs should be present and personally communicating with them in any case,as well.

You also need to provide the human touch throughout the whole onboarding process. As a customer success or developer team, you need to support them at every stage of their journey.

And lastly, you should personally be present in the case of a misunderstood or confusion. Do not send automated emails in such cases.

Here're are some examples of a perfect human touch
People at UserGuiding use the same background and header, and they mostly post anything related to the product. In this way, they show their team culture and value, which attract customers and increase the credibility of your B2B SaaS sales.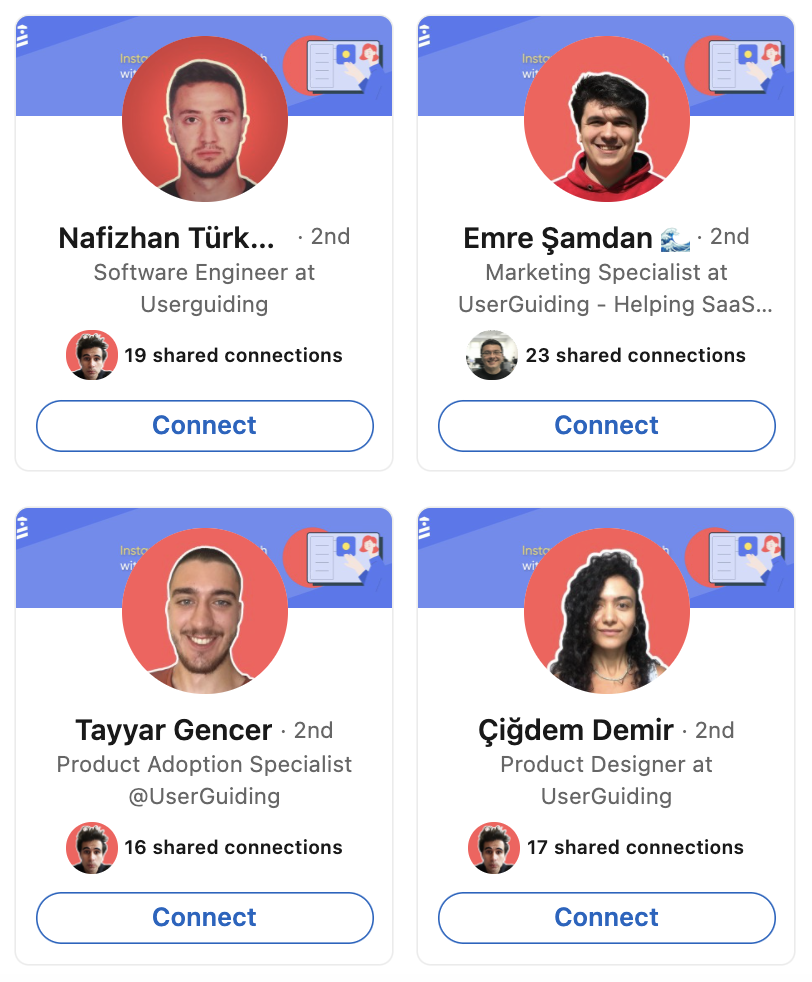 AnnounceKit and others, more than I can count, are using live chat to show that they are here every second someone needs support. It is also important to use real photos to increase credibility.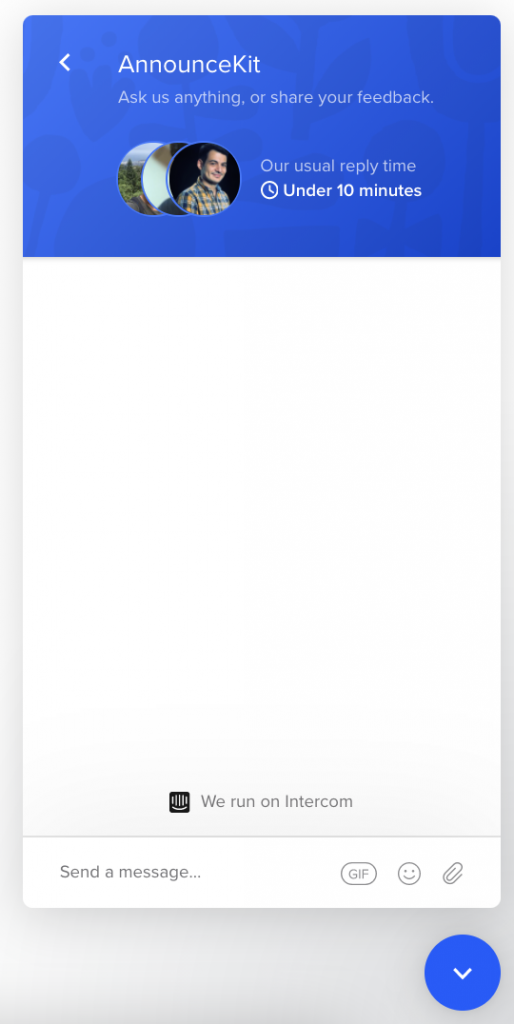 As we said before, founders should also be present at any project stage -development or sale.
iVent has a friendly About Us page to show their team and spirit -the human touch.

And introduces their team.
Kovan Studio introduces their team and invites you to their game, even just to chat with a friendly approach.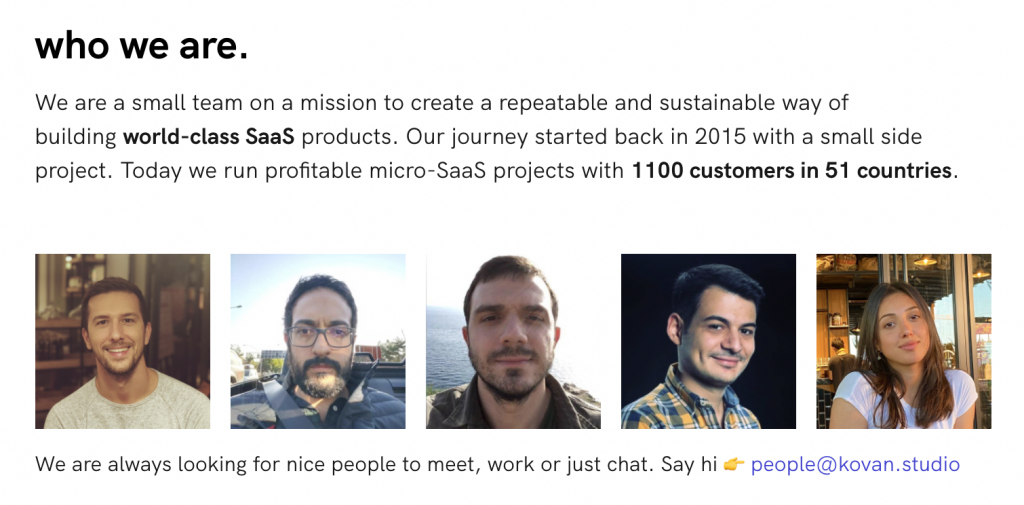 5. Don't sell services; sell customer-centric solutions
B2B SaaS sales are primarily about the solutions as much as B2C sales are. People don't want to know what your features are; they want to know what benefits they can obtain.

How to sell SaaS B2B? Well, it requires a different mindset.

Instead of showing endless feature catalogs and promoting your product with simple phrases, sales teams need to put the pain points, solutions, and benefits first.

That way, customers can see how will using your product change the course of their workflow experience and how much they can benefit from it.
When a customer understands the value that they are getting from your product, it is the moment that you move them down to the bottom of your B2B SaaS sales funnel. Moreover, your sales team will become trusted advisors and a critical factor in reducing customer churn.

Here're examples of selling customer-centric solutions
While announcing new features, we at AnnounceKit, always focus on stating pain points, solutions, and benefits respectively.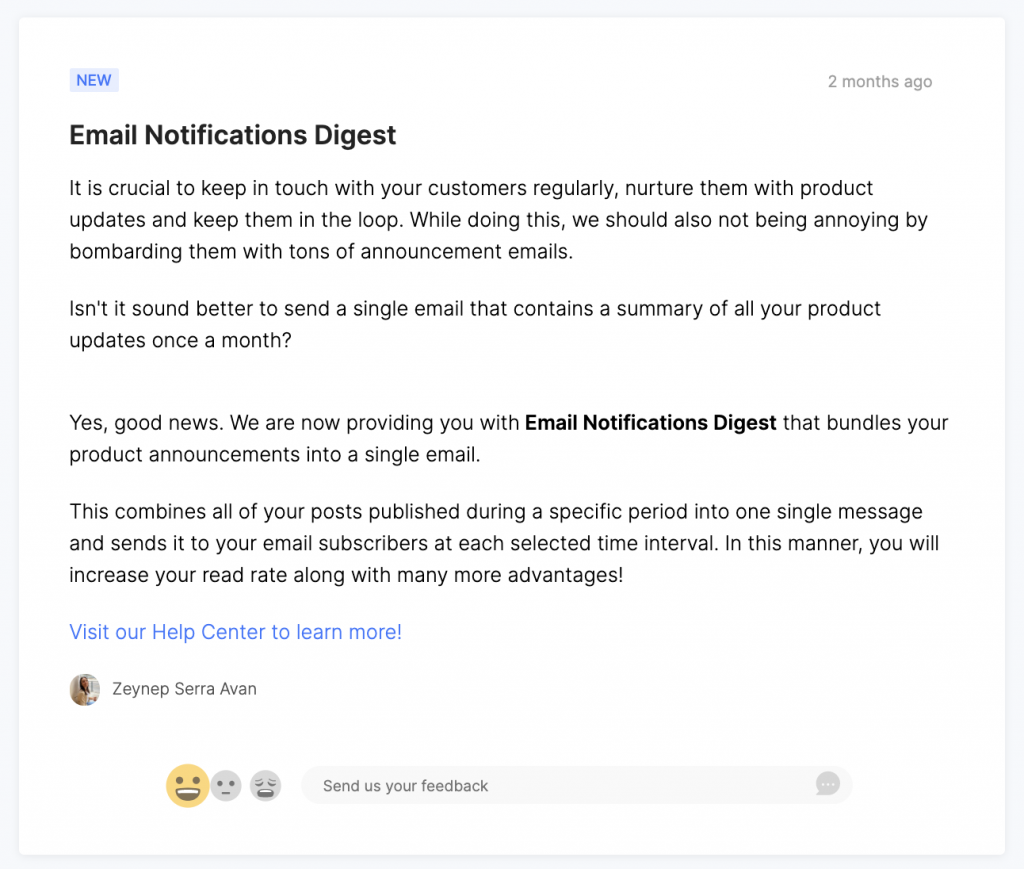 Slack uses a short video to show its customer-centric solutions.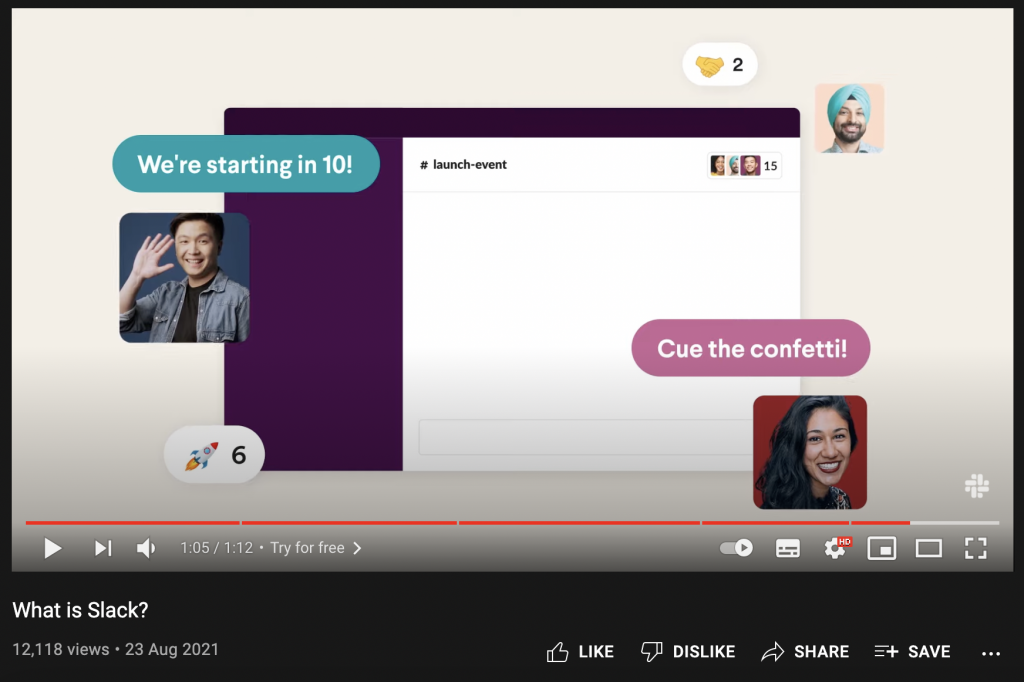 Conclusion
B2B SaaS sales may be seen as easy; however, it requires a bunch of approaches to sell services to businesses effectively.

If you give the necessary attention to theabovementioned 5 strategies on how to sell SaaS B2B, no customer can run away.

With a well-developed marketplace, pull marketing strategy, onboarding process, and customer-centric solutions, you can manage successful B2B SaaS sales.

Wait, wait, wait… I almost forgot the human touch -the frosting to the cupcake 🧁
Have you read our post on What are In-App Widgets, and What Are They Used For? If you haven't, give it a shot!
Article image credit to Emy Lascan, https://dribbble.com/mazepixel

Quick Setup, Easy to Use, and Many Integrations
Manage your product announcements from a single place and easily distribute them
across multiple channels.