Summer has arrived in all its glory. The sun is on the top and greets us with all its warmth. I want you to think about your favorite summer activities. Swimming, sunbathing, playing beach volleyball, and many more great things. When I counted all of these, I realized that I really love the summer months!
Resorts have always had my favorite ice cream shops. Naturally flavored ice creams with dozens of varieties. Choosing between options has always been difficult for indecisive people like myself.
I want to give up the chocolate, vanilla, and strawberry trio and try something different. But I'm not sure I'll like the flavors of the new ice creams either.
Just then, the ice cream maker hands me a small scoop and says, "Would you like to try the caramel ice cream?" says. He's not asking for money for this treat; he just wants me to try other ice cream options in the freezer. This is what we call a free trial!
Today, this marketing method used by giant companies such as Netflix, Amazon, and Disney+ has been used by ice cream makers for years. These guys must be geniuses!

Quick Setup, Easy to Use, and Many Integrations
Manage your product announcements from a single place and easily distribute them
across multiple channels.
What exactly is a free trial?
A free trial is an opportunity for a customer to test out a product or service before making a purchase. This can be an important marketing tool for businesses, as it allows potential customers to experience the product or service first-hand and see if it meets their needs. Free trials can also help to build trust with potential customers, as they can see that the business is confident in its offering.
There are a few things to keep in mind when offering a free trial:
Make sure the free trial period is long enough for the customer to get a good sense of the product or service.
Be clear about what the customer will be getting for free, and what, if anything, they will be expected to pay for after the trial period ends.

Have an exit strategy for customers who decide not to convert to paying customers after the free trial period. This could involve offering a discounted rate, or giving them access to a limited version of the product or service.
I listed three pieces of information that were not in my plan for this article. But these can be useful when creating a road map if you are thinking of starting a free trial option for your customers. Bonus pieces of information don't require you to thank me because it comes from deep in my heart! ❤
Give customers a chance to try your product
Assuming you have planned for your summer vacation, you have arranged to meet with an agent. During the interview, the employee in charge begins to tell you about all the natural resources and facilities of the island you are planning to visit.
Everything sounds so good, but that's all. You have no idea what the holiday will be like; you are only dreaming as the officer tells you.
Today's world is the world of marketing. Everything described can be a part of it. Think about the possibility of the island and the facility going bad; you can never be sure until you try it, right?
It would be amazing if we could use a free trial for our holiday. However, we offer a free trial for our products or services. Do you know how crucial this method is?

The free trial gives your users the opportunity to try your product first hand. You don't need to explain the advantages of your product at length to them, if you trust your product, why not give it a chance to experience these advantages?
A good product always has the power of selling itself, and experiencing something is always better than explaining and dreaming things. If you trust your product, give your customers a chance to use your product for a short time in a free trial. 🤘 (recommended 14 days.)
Every free trial user is a potential long-term customer
You are a SaaS company, right? Also, there should be a software team somewhere in your company. Why you don't start to use your software team effectively? I will explain how you will do it! 😎
First of all, you should create a system in your product where you can track the behavior of each user.
You know which users are your free trial users. You have the opportunity to convert users with high activity levels among your free trial users, that is, users with similar activity levels with your paid users, into permanent customers later on. 🤝
These users spend time with your products; this means your product makes customers' work-life easier. It's always been easy to sell something to someone who benefits from something. Identify your potential customers among them and turn them into permanent customers with special offers as they near the end of their free trial period.

Who wants to see the real rates?

According to a 2017 study, companies offering a free trial package achieved an average of 66 percent conversions among users. That's a really great rate for SaaS companies. I will end this part with a quote I love: Choose the moon as your target, you will reach the stars even if you fail!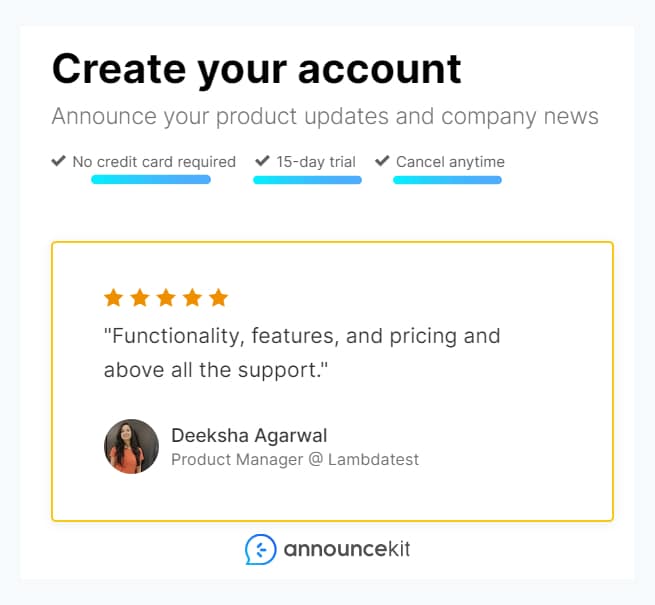 Make your customers' purchase decisions easier
I remember when I wanted to sign up for the gym. They didn't have monthly packages and I had to make an annual commitment. You know how hard it is to gain a habit. It is even more difficult to make it a habit when it comes to something that requires high effort, such as sports. 🙄
Boom! You guessed it right. I didn't sign the gym's commitment. Such deals make me nervous, as I'm not sure if I'm going to continue. What if other customers think like me?
Thanks to the free trial, all these worries disappear. Because they can experience the advantages and disadvantages of your product by trying it for free. They still have not paid any fees and have the right to decide on this until the last day of the free trial.
No deals, no commitments, no anxious customers. 🎅
Let me tell you what would have happened if you didn't offer a free trial, your potential users would probably no longer be an option and turn to alternative products.
Offer your users the most comfortable customer experience possible until they truly decide to be your customer. Offering a free trial option is one of the most effective of these. 🤸‍♂️
I won't get tired of talking about feedback 😎
What does a potential customer mean? A potential customer is a user who is most likely to buy your product. You give him a chance to get to know your product and this user is trying to make a decision during this time.
This decision is not always positive. Sometimes users do not make purchases due to features that are not available in your product, sometimes due to budget constraints, and sometimes due to an unsuccessful support team.
Whatever the cause, you should be able to identify these causes. Because every reason you identify means you're more likely to convert your next lead into a sale.
Before leaving, ask your free trial users why they left and gather feedback effectively. Building a successful business model is like a puzzle. You cannot be successful without missing pieces.
Feedback is an important feature that AnnounceKit users use to improve their announcements and new features they develop.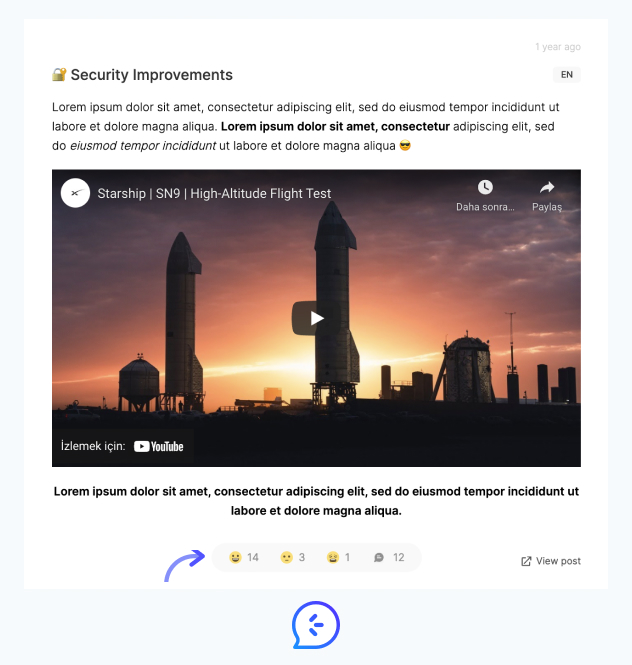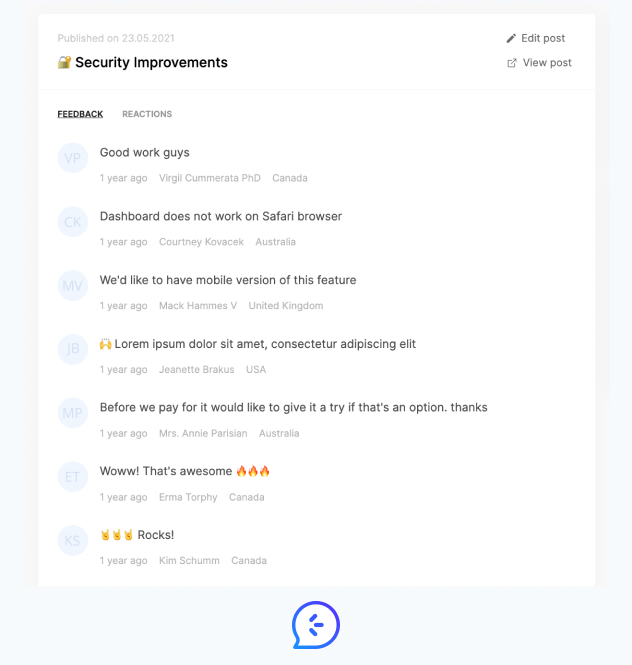 One of the most useful features of AnnounceKit for its customers is the ability to collect feedback for announcements. Users can add new features to their updates or change the way they are used according to feedback.
There is a saying in my culture that "the customer is always right". When evaluating feedback, we should adopt the motto that users are always right. Because we make all announcements and developments for our own users. How about listening to them for better results? 😛
What did we learn today?
Offering a free trial is one of the most effective ways to promote your product to your target audience. As I mentioned above, you don't even need to make an extra effort for this because users can experience your product for free and decide whether it is useful or not.
Unfortunately, products that require a credit card or that require you to commit from the beginning cannot reach high user rates. Because users do not want to invest in a product they do not know.
All major SaaS companies have increased their number of users using the free trial method and are reaching more and more users every day. If you offer a free trial option for your Micro SaaS or SaaS product, I am sure you will benefit from it. Free to try!
Take care of yourself! 🍦🍨