Taking a trip? It always sounds easy.

But, once you get on the road, it becomes harder. It would be best if you had your roadmap with you. Otherwise, you may get lost.

Similarly, people may admire your product and think of a subscription. However, if you cannot manage an effective SaaS onboarding process, I hate to break it to you but, it means you already lose them.

The experience customers have at the early stages of their subscription sets the tone for long-term engagement.

This experience can only be ensured with an effective onboarding process. If you don't enable them to have an effective onboarding process, it's hard to keep them paying for the next month.

That's why SaaS onboarding is so important. In this article, we'll share some customer onboarding best practices that will improve your customer success in 2021
What is SaaS Onboarding?
What is SaaS Onboarding?
Imagine yourself on an island in the middle of the ocean. Wouldn't it be great to encounter a local who will teach you every detail about the island?
Your SaaS product is an island for your new users, and therefore your SaaS Onboarding process should be the helpful local they find in there.
SaaS onboarding is a process in which a SaaS company provides new customers with roadmaps, documentation, tutorials, videos, surveys or any other way to ease their familiarization. It sets up the first impression of the software by your customers, raises their awareness and gets them acquainted with your product.
Why Is Onboarding in SaaS is So Essential?
According to the latest data, nearly two-thirds (63%) of customers say that onboarding – the level of support they're likely to receive post-sale – is an important consideration in whether they decide the first place. You will even lose  75% of your new users within the first week if you don't have an effective SaaS onboarding process.
Onboarding is actually the first significant interaction between customers and SaaS. Therefore, offering an effective SaaS onboarding process lays the foundation of your oncoming relationship and customer's product experience.
No matter how perfect products, services, features, and product design you have, familiarizing your customer with them -an effective SaaS onboarding process- is a real matter of issue. Making your customer comfortable will eventually reduce churn, improve product adoption and plant trust.
SaaS Onboarding Strategy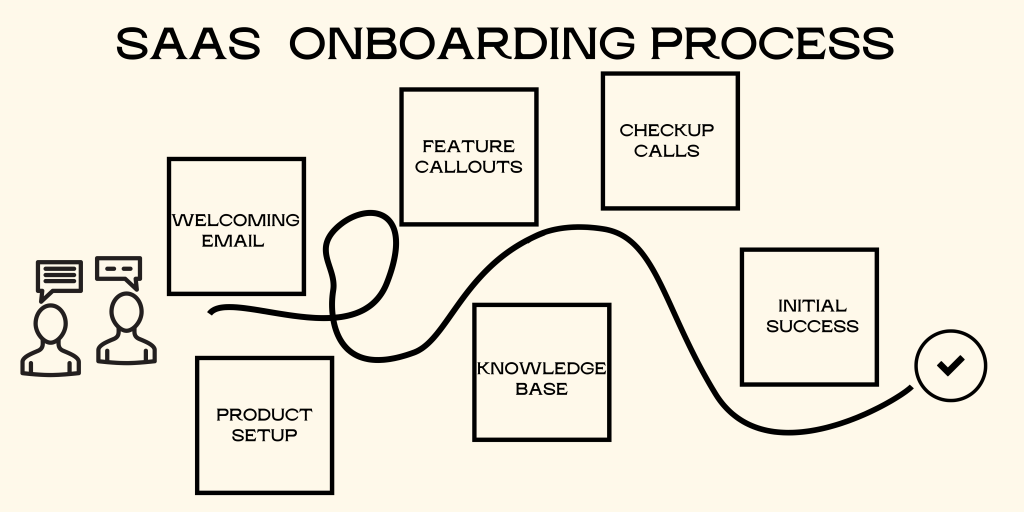 Everything comes with a strategy first. Even no strategy is a strategy. It would be best to have a goal and a plan at the beginning of every project for deciding how you'll get the desired outcome.

Same rules apply to the SaaS onboarding plan.

Create an environment to learn more about your customers and to teach more about your product to your customers.

Embrace this strategy while planing your SaaS onboarding process and support it with the below best practices.
SaaS Onboarding Best Practices

As Jeff Bezos stated, How you host -onboard- your new users and customers makes their experience better and sets the tone for a long term relationship.

The following best practices will help you on creating an effective SaaS onboarding process.
1. Set Clear Expectations
During the SaaS onboarding process, setting clear expectations is so essential.

To help customers understand what to expect from your product and services, point out various qualifying factors for using the product in your onboarding process.

This practice provides your customers with your features and services more deeply and prepares them for potential steps and requirements.
2. Create a Strong Value Proposition
Creating value is essential in every phase of your product development. Therefore, during the onboarding process.

A strong value proposition always makes people trust you -your product, as well.
So, to help your customers on the onboarding phase, create a strong value of your product and use this weapon -a strong value proposition- as a connecting channel!
3. Create a Strong Relationship with Your Users
As the strategy requires, you need to learn more about your customers. Focus on your buyer persona and try to explore their cares and work on them.

A personal touch always a game-changer in the SaaS industry. It also reduces churn in a short term.

Understanding each unique thought, pain point, and feedback that your customer points out will help you improve their onboarding experience.
4. Keep It Simple As Much As You Can
People may be afraid when they see a 25-page setting up process in front of them and immediately quit even before they start. Therefore, include only the vital and joyful steps for users to onboard in the first step.

By doing so, you will clear their mind and decrease the complexity of the onboarding process -therefore, shorten the time they get used to your product.

💡 You may ask what about the other needed information. Don't hesitate always to add more questions and new steps as time goes on.
5. Always Measure SaaS Onboarding Process
You cannot improve what you cannot measure.

Therefore, you should always keep measuring the onboarding process with the right metrics. Focus on the frequency of user logins, the features they use and the time per session while measuring.
Without these metrics, you cannot manage (even expect) an effective SaaS onboarding process
6. Have a SaaS Onboarding Checklist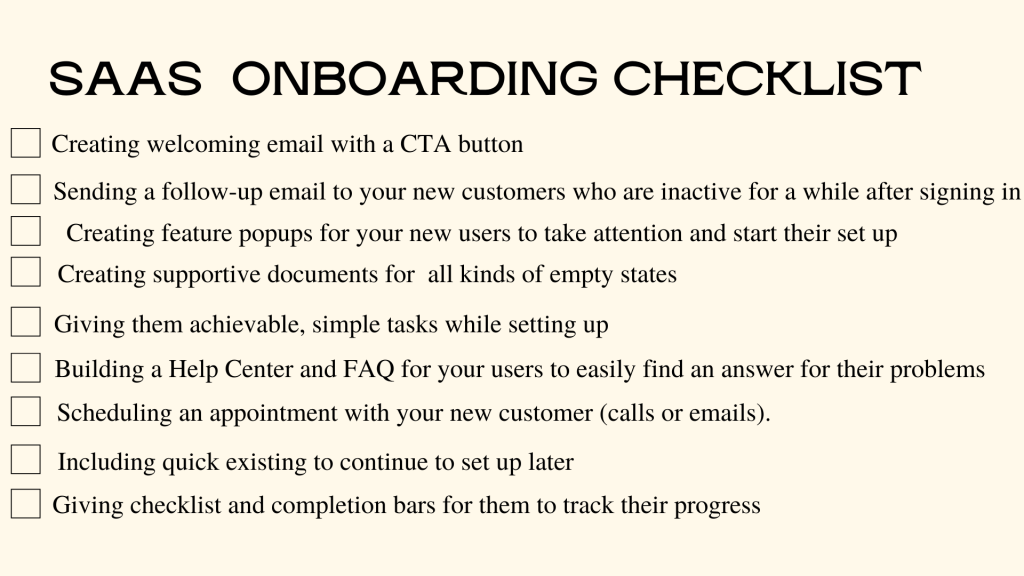 Now we know that people won't stick to your product if they don't have an effective onboarding process. But, knowing what to do and how to do, while creating and managing an effective onboarding process is not well enough.

You need to build an effective client onboarding checklist that takes all minor details into account. It will help if you focus on checking each requirement of your strategy.

Creating a checklist that consists of the below items will ensure you do not forget anything!
Creating welcoming email with a CTA button
Sending a follow-up email to your new customers who are inactive for a while after signing in
Creating feature popups for your new users to take attention and start their set up
Creating supportive documents for all kinds of empty states
Giving them achievable, simple tasks while setting up
Building a Help Center and FAQ for your users to easily find an answer for their problems
Scheduling an appointment with your new customer (calls or emails)
Including quick existing to continue to set up later
Giving checklist and completion bars for them to track their progress
Customer Onboarding Helps You Improve Better Relationships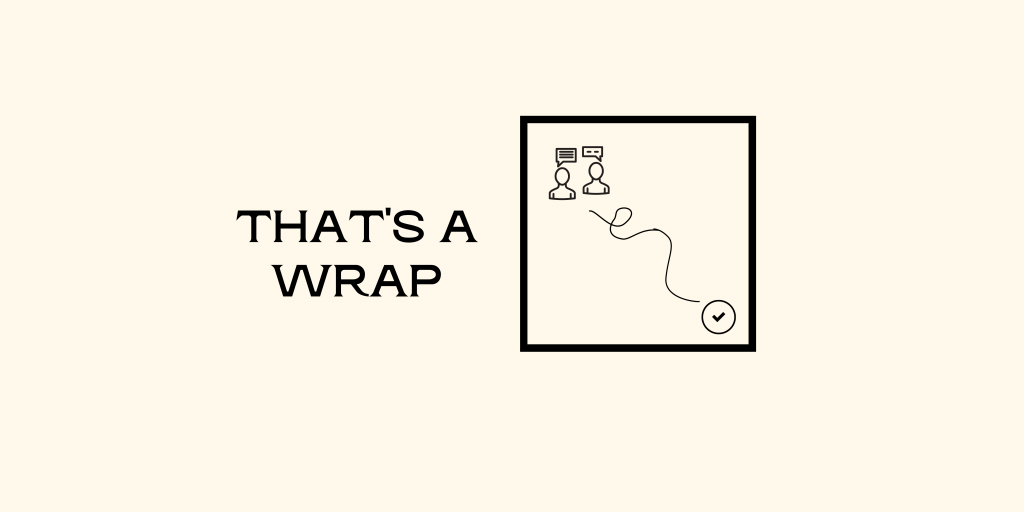 The experience customers have at the early stages of their subscription sets the tone for long term engagement. Therefore, create an effective SaaS onboarding process with a definite strategy to support the relationship between your product and your customer.

Including our 6 best practices in your strategy will definitely enhance your mind and strategy.

Wish you all a great day with great customer success!

Wanna get more successful on your SaaS onboarding process? Get more tips in Critical Tips for SaaS Customer Onboarding.

Did you see Waitwhile's Success Story with AnnounceKit? I highly recommend you to check our perfect cooperation!

Quick Setup, Easy to Use, and Many Integrations
Manage your product announcements from a single place and easily distribute them
across multiple channels.