My generation has been born into the start-up universe. Every day we hear lots of different success stories and encourage ourselves to achieve the same things as those stories. Why wouldn't we think like that?
Success stories attract people with all their sparkling pieces. Earning a large amount of money and participating in panels as a speaker sounds pretty cool.
However, there is another dimension of the start-up world. 90% of start-ups fail and go bankrupt. Also, 10% of startups fail within the first year around the world. This is terrifying, right? In short, only a small part of the startups are successful, and for some reason, these rates are not known to the people.
Let me tell you the essential thing for running a successful start-up: managing churn rates. You should monitor your cancellation rates, make sense of them, and keep them at a certain level. Otherwise, you can quickly get into the failing 90% group.
Sometimes I think we forget that churn rates are not just a rate, it's people. If we act based on human behavior, we will not fail. We are customers in our daily lives and we need to think like customers when we manage our SaaS business. That's to key point to reach to us our goals.
You are faced with an uphill battle when trying to convince them not to ditch your product for something else. It might seem like you are on your own in this battle, but as long as you know what works and what doesn't work then they won't be able to run away from you in no time!
Let the show begin! Upps, we need to get some information first.
Here's What You Need To Know About Churn Rates
Churn is a measure of how many customers have stopped using your product. This concept is used for users who do not extend the subscription period during an ongoing subscription or renewal period.
Choosing one of your competitors may be a reason why they stopped using your product. You should keep your product up to date and add new features to meet your needs.
An unsuccessful onboarding process can also cause users to cancel. You must tell them the rules as they are the new cowboys in your town! For example, even when you buy pizza, there are cooking instructions on the box. You should tell users about the features of your product. No one wants to pay for a product they cannot use effectively.
Sometimes even something very small can annoy your customers. You can't even understand why he canceled it. The reasons are different, but the result is the same: customers are leaving. So is it possible to prevent this? Of course, it is! Otherwise, why should I write 450 words so far!
PS: This article will include a large of memories of my work life!
1) The trick to reducing churn rates: offering discounts to customers
You can have a strict price policy. This is the pricing model that will make you profit as a result of certain analyzes. But in some cases, you should consider giving a discount.
For example, let's consider users who are your customers with the annual membership model and you think that some of them will terminate their membership. Because they have not logged into your site for a long time and are not active. So why not consider offering them a discount?
I'll explain why it's not a bad idea to discount with a small example and trust me it will be a real example! 😉
In the summer, my cousin and I were running a boutique hotel in a city in the Mediterranean region of Turkey. We had a rent to pay at the end of the summer, as we did not own the property of the hotel. We set a price policy because we didn't want to go bankrupt.
Guess what? Nobody rented our rooms. We were determined and tried to rent our rooms for the same prices for days. Then I thought: They can't make us money when our rooms are empty; why don't we give discounts?
Here's the trick: when your customers leave, they can't make you money. So focus on keeping them on portfolio by making small discounts. If the rooms in the hotel continued to be empty, we would not be able to earn money, but we made a discount and started to earn money.
You can apply a similar tactic to your users who have reached the end of their membership. Of course, I'm not saying to give a 50% discount; a rate that will make them happy will make you happy in the long term. Remember 1 is always greater than 0.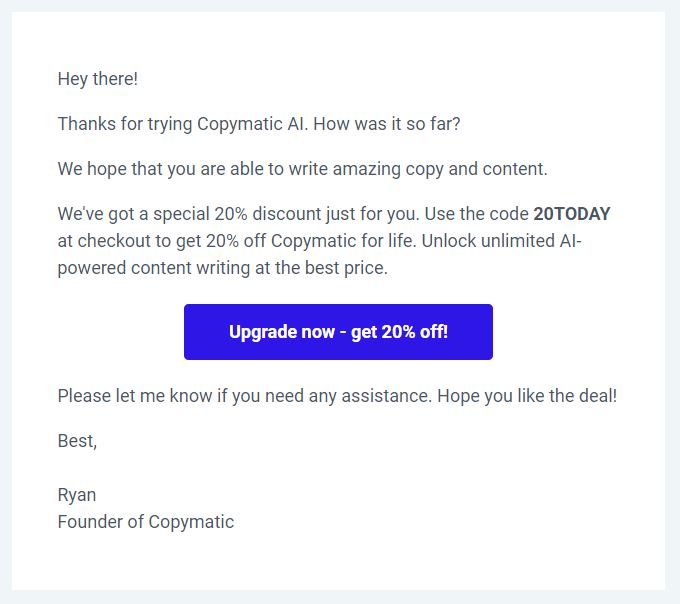 One of the topics I talked about in my previous articles was how to increase product adoption. One of these steps is to share your improvements and updates with your users. The satisfaction rates of your customers, who use your product to meet their needs, increase. In short, they will continue to use your product unless there is a very strong reason.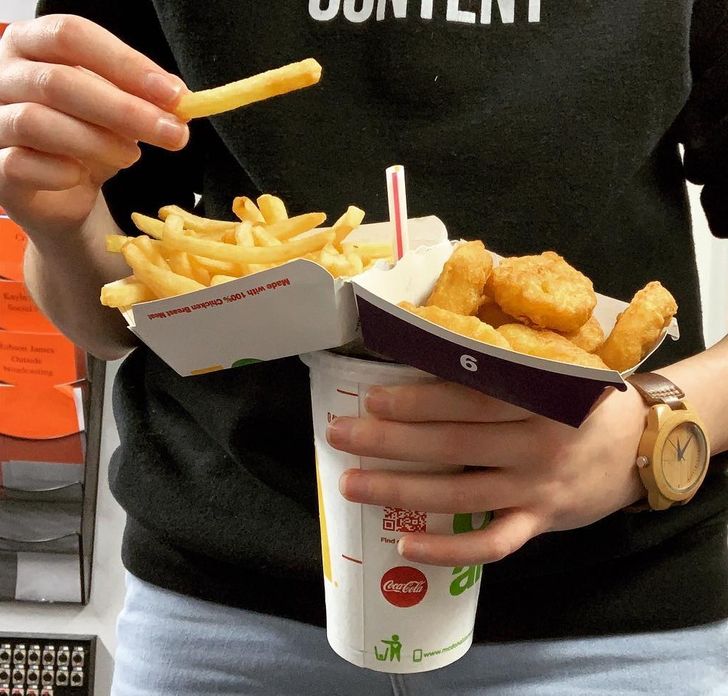 In recent years, it has become clear how McDonald's boxes should actually be used. (This may also be a myth.) We were all surprised when we saw the image above and most of us didn't consume McDonald's products in this way, right?
Let's assume this is real. If McDonald's told people the actual use of the cans, that's how most of us would use it. Let's apply this to your own SaaS business. Announce all the improvements and updates you make to your users. You will see that as product adoption increases, your churn rates will decrease.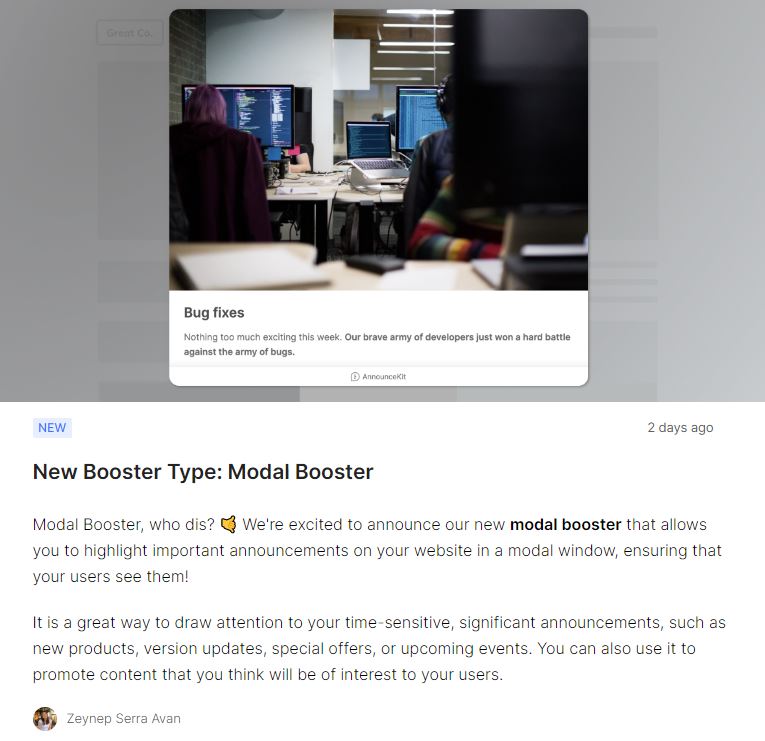 In addition to the website, sharing the improvements made via e-mail is another effective method. AnnounceKit does this monthly, explaining to people why and how to use new features.
Think of dominoes, if you ignore product adoption, the stones will hit one another and advance to the last stone. We all know what the final stone is: customer churn.
Many features offered by AnnounceKit increase user satisfaction rates and product adoption. Guess which rate drops as a result of this? You guessed it right, cancellation rates are decreasing day by day!
The newest feature of AnnounceKit: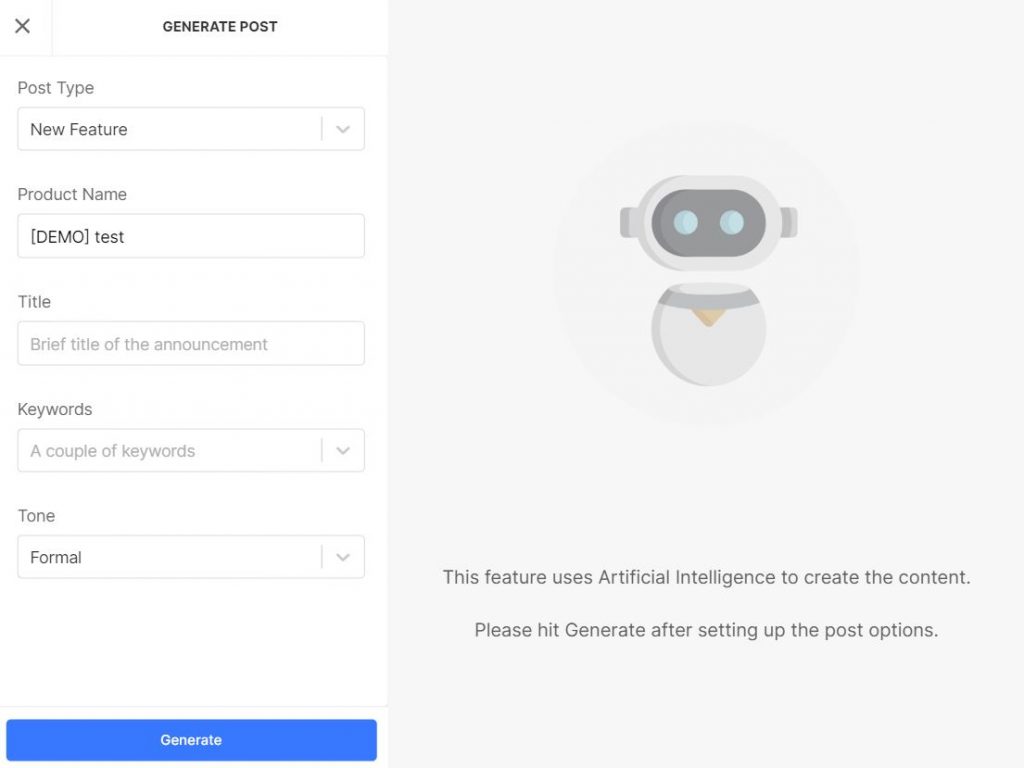 Welcome to the age of artificial intelligence! You don't have to spend hours on announcement texts anymore. Submit specific information to AI assistant writer and wait for great texts. Again, I must state; that texts are ready in seconds!
Listen to ideas: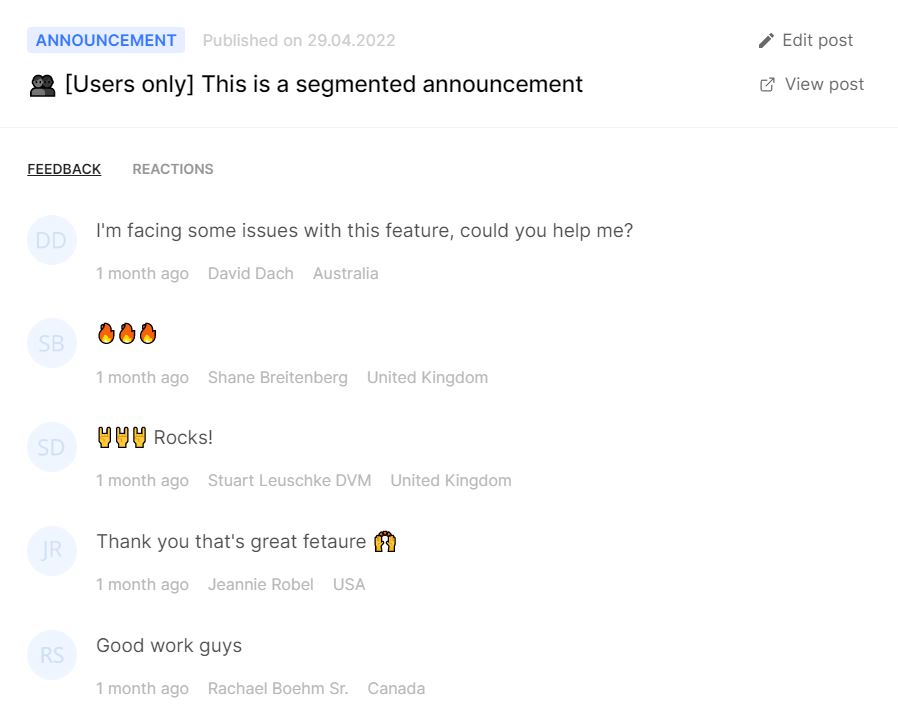 Did you know that you can get feedback for all the announcements you share? I can't think of a better way to progress than this. First, you make improvements; then you share these improvements with people and you make adjustments according to feedback. That's what I call user-based product development!
If you are not sure how to announce new product features and announcements, I suggest you take a look at this article. If you don't know anything about a subject, it's always better to start from the basics.
3) Discover the benefits of feedback
When a customer is frustrated, they have a higher tendency to churn. If they are unsure of the products and the services you offer, or if your support is lacking, then your customers will more than likely abandon ship.
But dissatisfactions you don't know the reason for will not help you learn what threatens your business. If you want to understand your company's problems and satisfy your users, you need to gather feedback frequently.
They offered a raise to prevent my decision when I wanted to quit my old company, but they didn't want to know why I wanted to leave. I turned down their offer and left. If they had asked, I could have shared with them that the money wasn't the reason and a list of what went wrong.
At the company I work for now, we apply a very different method. We hold situation assessment meetings with the people and culture manager every month. Our manager's goal is to collect feedback and solve the problem before it gets bigger.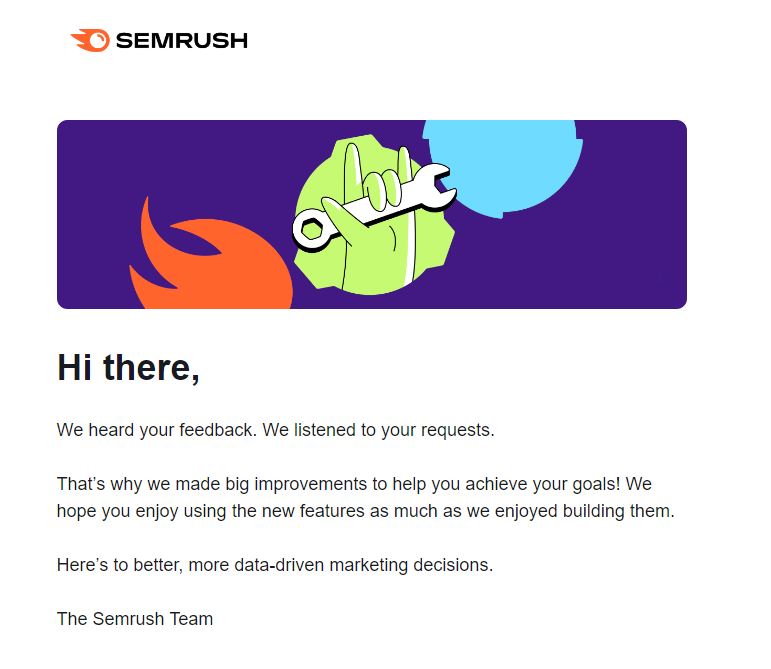 Semrush regularly collects feedback from its users. I received this e-mail shortly after I sent the feedback. They also explain the innovations they have made in the continuation of the mail. With a relevant team and rapid developments, you can keep your user loss rates at low levels. Just keep taking care of your customers!
4) Develop strong relationships with customers via various channels
One of the best ways to reduce churn rates for a SaaS company is to develop strong relationships with customers. This can be done through various channels such as email, social media, and customer support. Try to connect with them and use fun language.
SaaS companies can build loyalty and trust by developing strong relationships with customers. This loyalty and trust can keep customers using the product even if other options are available.
The hamburger shop located in my neighborhood that sent me small cookies as a treat won my heart even though it was more expensive than other options. That's what I mentioned.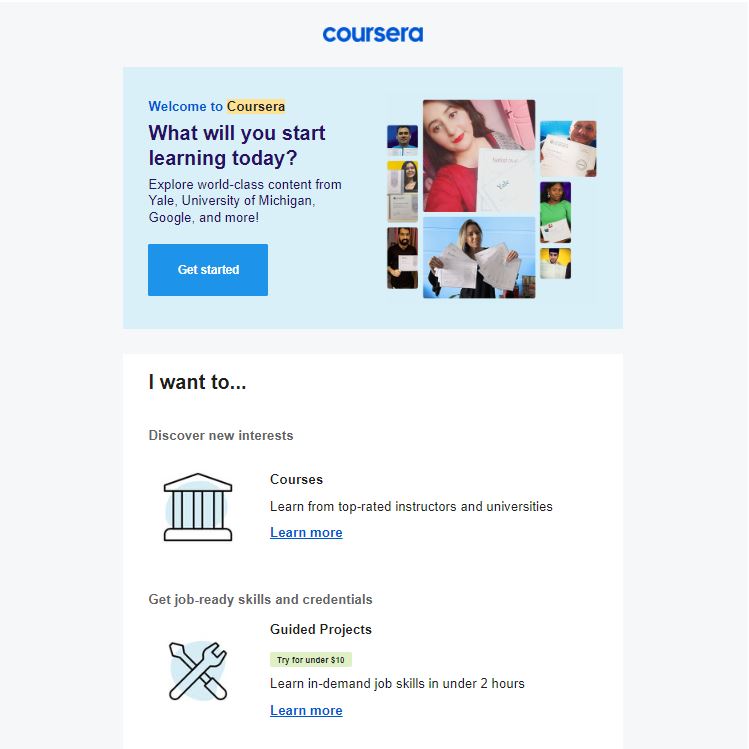 After registering on Coursera's website, they sent me a welcome email. They aim to facilitate my adaptation to the system with the knowledge of where to access the courses, the methods of obtaining a certificate, and various course suggestions. Here is a great example of communication with users. Guide your users, as Coursera did!
Wow, I have already given the four different tips for reducing the churn rates, and more are on the way!
5) Touch your users with great communication!
Our age is the age of communication. Companies that are poor at communication quickly become a thing of the past. How awkward we feel even when we meet someone with no social media account. With an effective and warm welcome and subsequent communication, we can turn users into loyal customers. Let me give a good example for those wondering how to do it: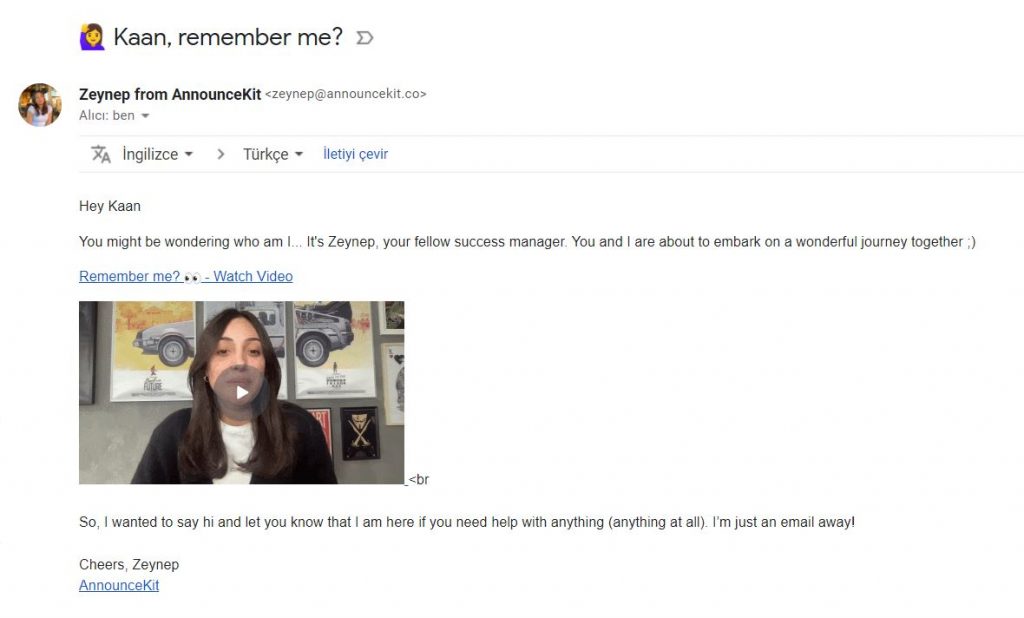 Every company sends an email to welcome new users. These emails are important in order to facilitate the onboarding process and establish a bond between the user and the company. But often these emails feel artificial because they are sent automatically.
How about sending a video like AnnounceKit? Seeing a real person in front of them always gives better results in terms of communication. Sometimes small but right moves can be more effective than big plans and strategies.
Always look for ways to do things differently than your competitors. Diversity will help you gain a place in users' minds. Do you have any better ideas for reducing customer churn? Keep them in mind until you hear my last two tips!
6) Follow the developments in your industry
You may have developed great business ideas and created a new business. But remember that change may not always be what you want. Over time, you begin to see new competitors in the business field you created yourself. And these rivals have great motivation: to take your throne!
Competitors who want to provide a better service than you will be included in the competition with new ideas. This is true for every industry. A firm that starts an express delivery service will only focus on delivery jobs, while the next firm may introduce a scoring system for deliveries.
Well, can I tell you what the next company will do? It will provide the same services as the first two companies and try to get ahead of you and your first competitor by adding great new features.
So focus not only on your business developments but also on the inventions and developments of your competitors. Because at the beginning of their journey, they made improvements according to your product features.
New features connect users to your brand. Old-style products cause users to move away from the brand. It means increasing churn rates. Open up your eyes and smell the inventions like DEA dogs! 🐶
7) Use the churn as a weapon against churns
Your sink has started leaking water. You call a plumber and watch the plumber take care of the repair. Let me tell you his first move: He will try to find the source of the leak!
If you do not find the source of the leak and fix it, the leak will continue. Losses in professional business life are similar. Unless you find and eliminate the causes, your customers will continue to leave.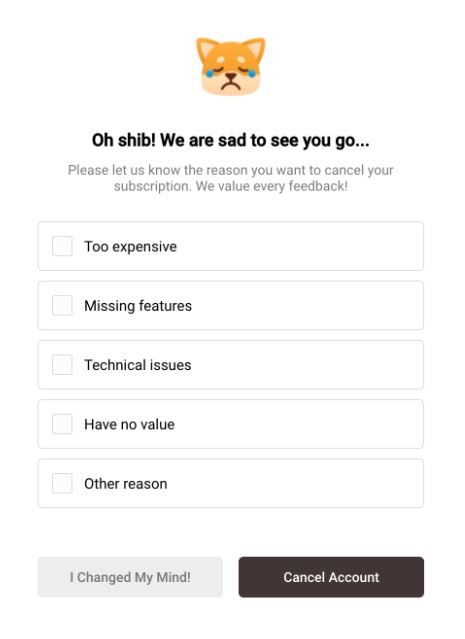 tulay is a tool that lets you create unique cancellation flows that require no code and helps you gather insights through these cancellation flows.
All you have to do is identify the cancellation reasons that best suit your business model and embed this widget on your cancellation page. Then sit back and watch tulay gather the insights for you.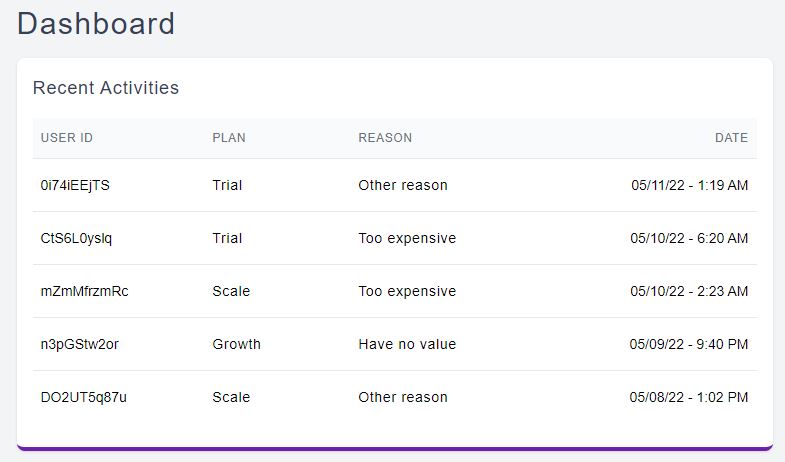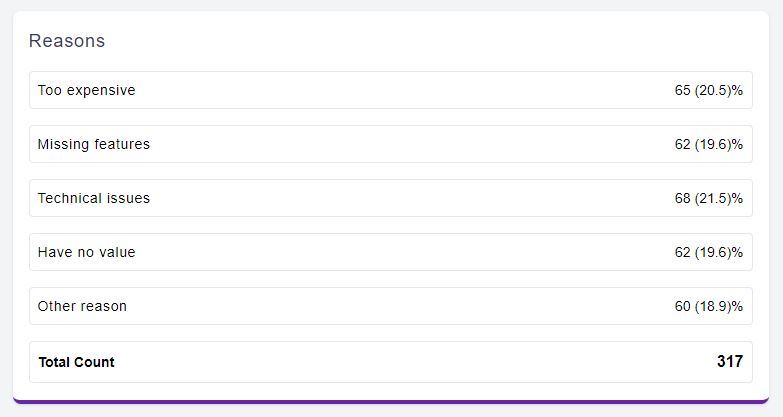 You have gathered the insights and you know what you should focus on. Time to move on! You can try tulay for a better subscription business model. Also, tulay free charge of until the end of the year.
The result:
Reducing churn rates is essential for any SaaS business. Without a steady stream of new customers, your business will quickly dwindle.
However, acquiring new customers is only half the battle — you also need to keep the ones you have. Fortunately, there are a few tried and true methods for reducing churn rates that can help keep your business afloat.
By following the tips in this article, you can give your business the best chance at success.
Farvel! 👋