Product update emails, are that emails which you send to notify your customers about your product updates. By doing a good job with them, you can greatly drive customer satisfaction and engagement. The best product update emails are those that add value and help improve your user experience.
You've developed a new feature! Great! It's time to take a nap and book a vacation!
Unfortunately, the SaaS world isn't that easy and developing features and updates without communicating their benefits to end users – is a waste of time.
We've talked earlier about smart ways to announce product updates, where we discussed what are the reasons behind updates publications and what are the most effective, the smartest way to keep customers in the loop. However, I believe that there is a big portion of actionable tips and tricks are left undisclosed.
People who believe that emails don't work, just do it wrong. Don't worry nobody is born with a talent to create powerful, converting emails. It is a skill that can be mastered and today we will discover together how to make it happen. Also we will look at some product update email samples.
So let's get started!

Quick Setup, Easy to Use, and Many Integrations
Manage your product announcements from a single place and easily distribute them
across multiple channels.
What is a great email?
A great email not only introduces update, bug fix report or new feature to people but also explains how to use it, how to benefit from it, what is the value coming with each new release.
A great email is not to praise yourself, but rather explain what the end user is going to receive by implementing an update.
Email can serve as a great meaningful touchpoint of interaction with a user. Make it clickable, nicely designed and simply interesting.
Also read our article about personalized e-mails notifications to learn more!
WIIFM factor you need to know about
The WIIFM Factor, WIIFM = "What's in it for me?"
WIIFM is the stuff that shows how or why what you have to sell or say matters to those who you are trying to sell or say it too. It's the value proposition, the thing that makes them realize that what you're offering is worth their money or their time.
We want to take you through our journey of discovering great examples, breaking them down, pointing to thing that is done great. You will learn what your product launch email should look like and tip and tricks to make it successful. Let's have a look at product update email samples.
Venmo card
A very great example of how to make a simple yet informative product announcement. Pay attention to the small description.
"Do you constantly have a few Jacksons lingering in your Venmo balance?" – Define pain point.
"You can buy coffee with that… Or a new book… Or shoes… You can buy almost anything, almost anywhere with the new Venmo card" – Provide a solution to solve the pain point.
This is one technique you can use to make your product update emails more powerful. By defining a pain point at first and then providing a solution, you help to retain an interest in your new product.
I also love that Venmo's email includes further explanation of features that shortly explains benefits that destroy obstacles & questions customers might face.

Prezi next
Prezi Next's email is an exceptionally interesting way to introduce a new product. It tells Prezi's story.
"When we founded Prezi in our Budapest apartment some eight years ago, we had no idea it would become the visual communication phenomenon it is today. Over 85 million people around the world have now registered to use Prezi".
I love how humble Prezi founders are. It is a nice introduction that helps to connect with their audience on a personal level. And stating the impressive number of 85 million people, who use Prezi serves as a social proof to build brand credibility.
And then the introduction of Prezi Next just warms my heart.
"Now we'd like to thank you for being one of them by giving you Prezi Next – our newest and most powerful presentation platform yet – for free."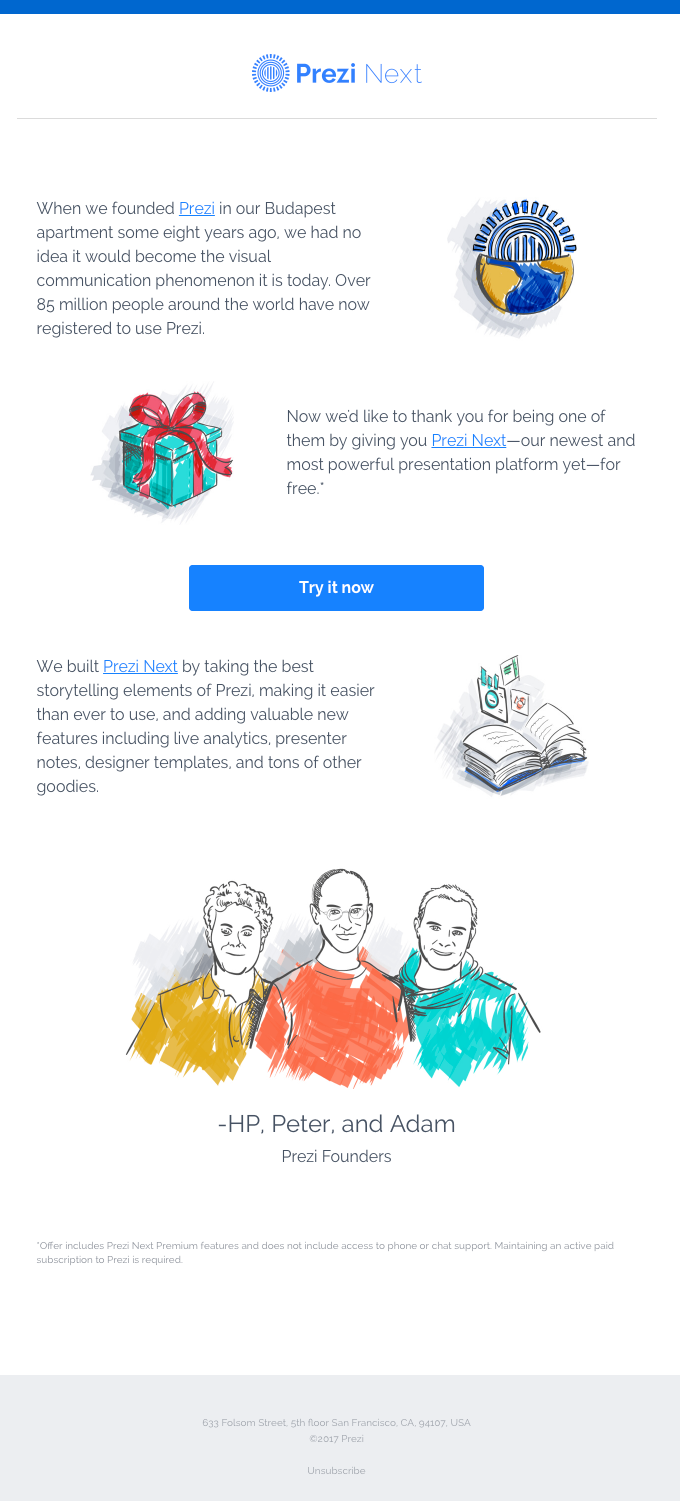 MailChimp – a king of email marketing
MailChimp emails are usually quite long and include tons of text. The usual recipe of MailChimp emails is the headline at the top, cool picture in between, long text and then call to action. (However, the written text doesn't include unnecessary information and is usually on point.)
What I like about this email, in particular, is the exciting short video. It is one of the fastest and interactive ways to explain details in a short period of time.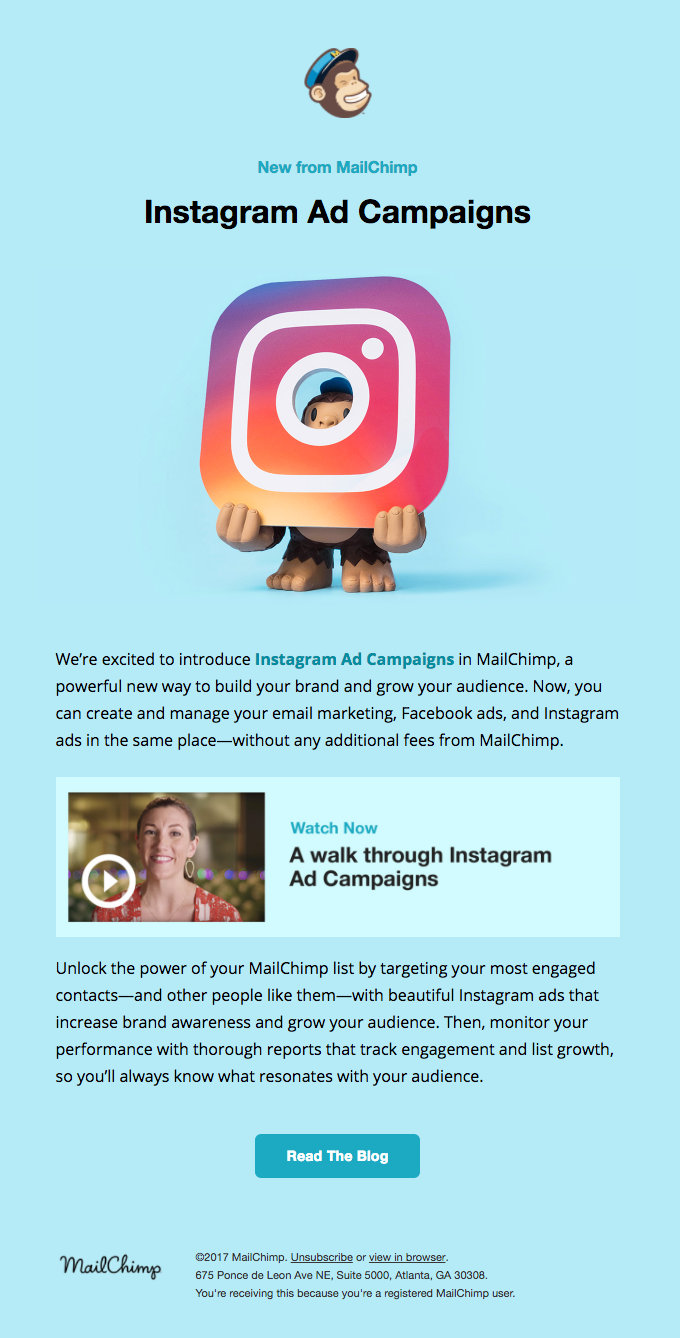 However, the simple email with text looks great and it is a format that anybody can implement.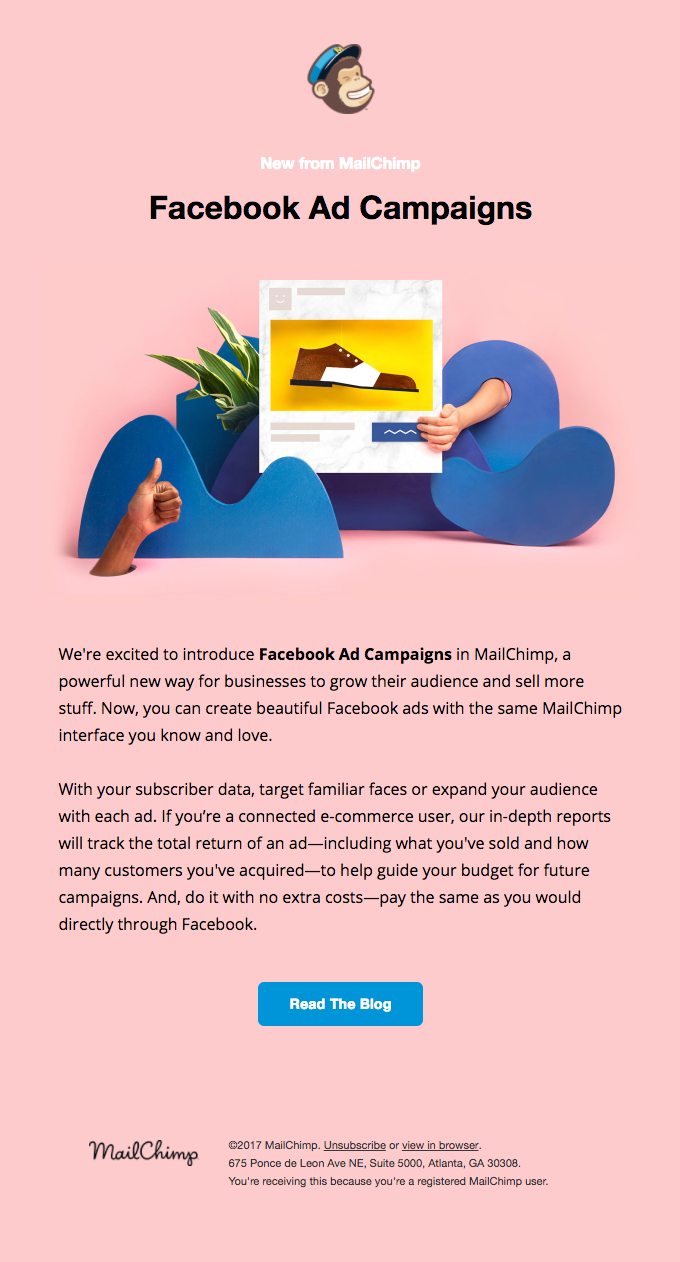 Benchmark
Dividing a long text into easy to scan bullets with headlines is a great technique to explain a lot of information.
What is automation Pro?
What does "Out of Beta" mean for you?
What did we accomplish during the beta period?
Join us for automation Fridays

Litmus
With every new feature you create, people are going to be hesitant to implement it right away. Did you know that only 21% of users install a smartphone update within the first 2 weeks? The majority know that each update brings new cool feature, optimizes some processes and overall make the user experience better. However, only 2 people out 10 clicks on the update button.
I love what Litmus did. They've included testimonials as social proof. When a new reader sees that other people are already enjoying it and receiving benefits from it, on an unconscious level they are more likely to try it out. And this is what you want to accomplish.

To wrap it all up
In the world of digital marketing, email marketing and content is usually considered not important because nobody reads anymore. People scroll… They scroll and miss the hard work you put into making your software better, faster, more powerful. You believe that a new feature will help users to save time, money and blah blah blah.
I hope that those real-life examples of how brands use emails to introduce products updates will help you to communicate with end users more effectively.
💡 Related articles: Why do you need a product updates page? & Best Release notes tools you need to know about