The definition of "best" is always subjective. A Release notes tool that suits multibillion-dollar enterprise won't work for SaaS startup. So, the market for changelog tools is rapidly growing and you see new companies coming up every two months trying to fill the niche. However, there are 5 release note tools or so-called changelog solutions that make the process not only more effective. But also boost engagement rates and build a foundation for long-lasting relationships with your customers.
Every time you update users about new features you've been working for days, you build trust in their eyes. Moreover, if they see more value coming their way they are less likely to seek out other alternatives.
Today we will talk about 5 great examples of release notes solutions (ReleaseNotes, Beamer, AnnounceKit, Noticeable and Headway) that can be used in-app or embedded to your website. You'll learn what solution is "best" for you.
💡 Related: Release Notes templates (+examples)
Disclaimer: Newsfeed, changelog, release notes page, updates page, etc are different names used in different industries. However, essentially they are the same. It is a page, where a company posts content that aims to inform customers about all recent changes in historical order. For the sake of simplicity, I am going to use "updates page" term.
What is the release notes tool? And how does it work?
Many companies create a separate landing page or even a website with release notes and company news. So, they create content and manually post it like any other content. However, the release notes process is already complicated.
Companies often face miscommunication inside the team. Often we see technical team explaining things to marketers in a way only they can understand it. Not to mention, that sometimes dev team simply forgets what was done at the end of a month.
So, release notes tools bring structure to the process. And paired up with widgets that gather users' attention – they become an ultimate hub for both you and your users.
How it works: You easily can create, edit, insert visuals product launch, update announcements. And then the announcement appears in a nice widget that is embedded to your website or in-app. The widget gathers attention and showcases your hard work.
The difference between solution lies in additional features such as segmentation, feedback & emoji reactions, email notification, push notifications and multi-language.
1. Headway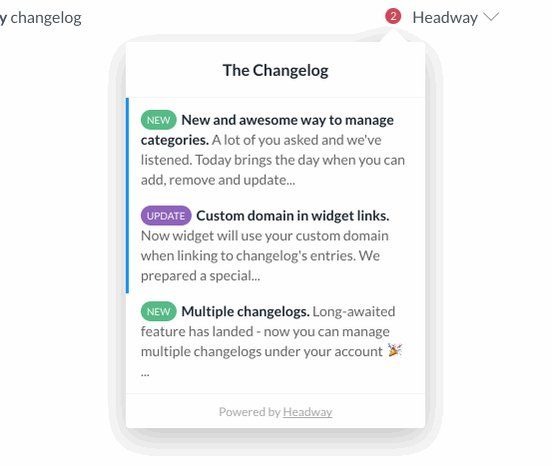 Headway is one of the first companies that entered the changelog tools market. It is simple. You have an updates page and one widget.
Additional feature arsenal is simplistic in comparison to what competitors do: custom branding, scheduled posting, widget, markdown editor, integrations, team management, private feed, custom categories.
Pricing is also very simple: Free and Pro ($29/mo)
Companies that are more likely to benefit from Headway: small startups (because their free plan is very simplistic but does the job), tech companies who are looking to just keep users informed.
Downsides of Headway: low control over updates page look, only one widget, no advanced features (segmentation, feedback, multi-language). A small number of languages is supported.
💡 Related: Headway VS AnnounceKit
2. Noticeable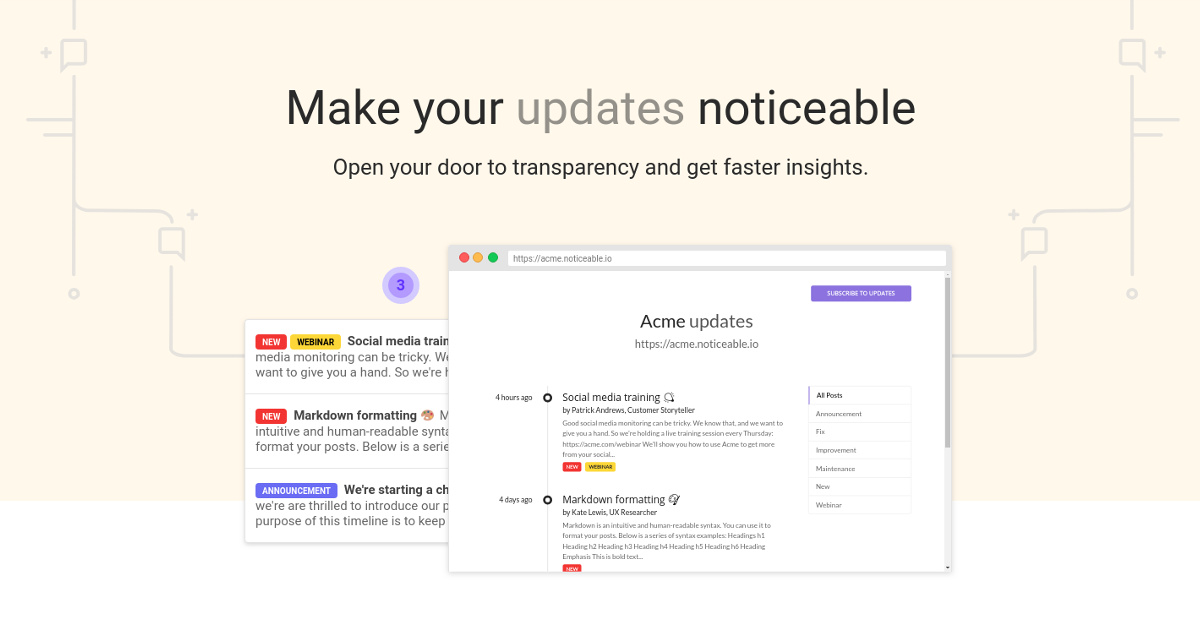 Noticeable is a changelog solution. Similar to other solutions, Noticeable offers widget and updates page.
However, in comparison to others, you can click on a product announcement post inside the widget, and it opens the entire post inside the widget. Colored labels make it easy to categorize bug fix announcement from new feature announcements.
Additional features: segmentation, feedback, multi-language, team collaboration, multi projects, custom branding, integration, markdown editor, post analytics, custom CSS, post scheduling.
Companies that are more likely to benefit from Noticeable: small and big startups, tech companies, e-commerce companies, and pretty much everybody who needs to keep customers updated. Because it has all the features you would need.
Downsides: only one widget, no user tracking, no email notification, no pinned posts, no expiry date, no push notifications.
Pricing: Free, Starter ($19/mo), Growth ($49/mo), Business ($99/mo).
💡 Related: Noticeable VS AnnounceKit
3. ReleaseNotes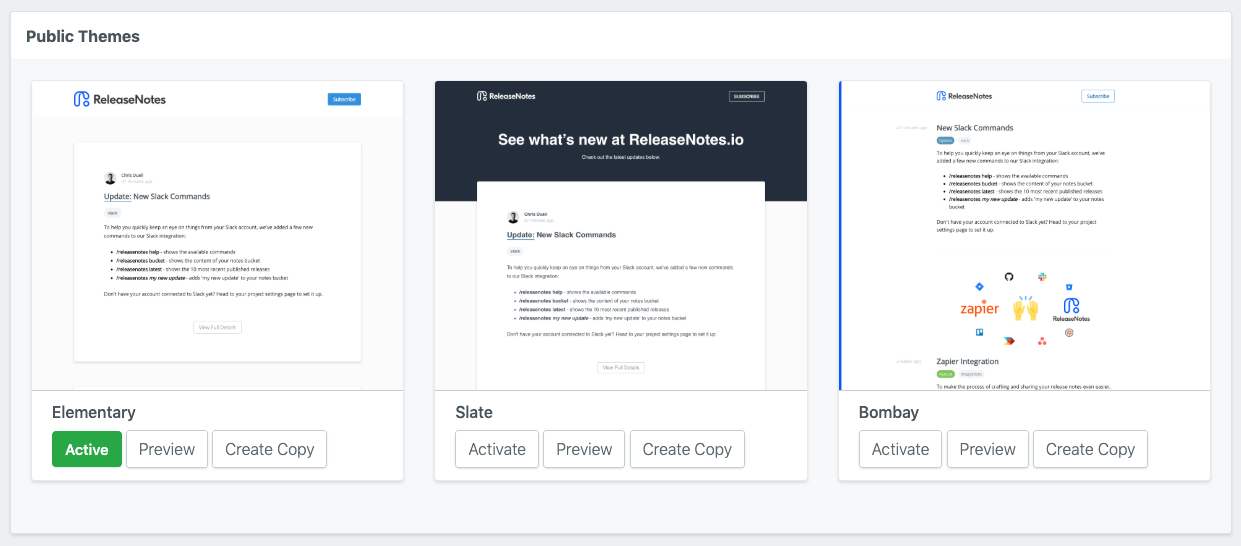 ReleaseNotes is a tool ideal for those who are looking for a pure release notes solution in its traditional form. Companies who's clients are developers or people with a technical background would benefit from ReleaseNotes the most.
They don't offer a wide variety of features. The pro plan, for example, has only social sharing, updates page, feedback via Disqus integration and Zapier integration.
ReleaseNotes has a Global bucket, where you can keep drafts and notes. Because many times developers forget about each and every bug they have been fixing through the month. So, a very handy product with developers team who have a communication problem.
Downsides: no advanced features.
Pricing is dynamic. It starts at $14 and then grows depending on how many subscribers your updates page receives.
💡 Related: ReleaseNotes VS AnnounceKit
4. Beamer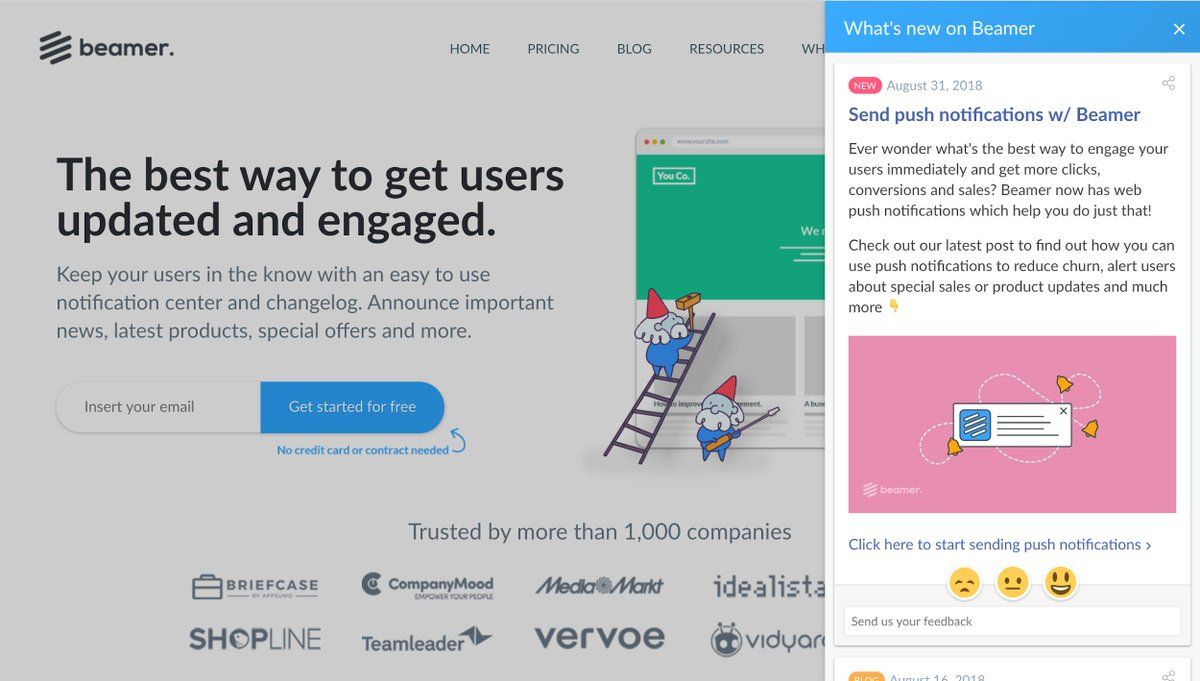 Beamer is one of the most comprehensive changelog softwares. It offers cool features such as push notifications, advanced analytics and segmentation.
Beamer has sidebar widget that appears from the right corner. And has mini-features like expiry date, pinned posts and many more.
However, Beamer is also one of the most expensive solutions. For example, even Feedback & Emoji Reactions fall into a Business plan ($99/mo). Moreover, if you need to Segmentation it costs $249/mo.
Companies that can benefit from Beamer: big e-commerce companies, tech corporations, and enterprises.
Downsides: most of "cool" features are in Business ($99/mo) and Enterprise ($249/mo) plans, no email notifications, no user tracking.
💡 Related: Beamer VS AnnounceKit
5. AnnounceKit – All-in-one platform to announce product updates and release notes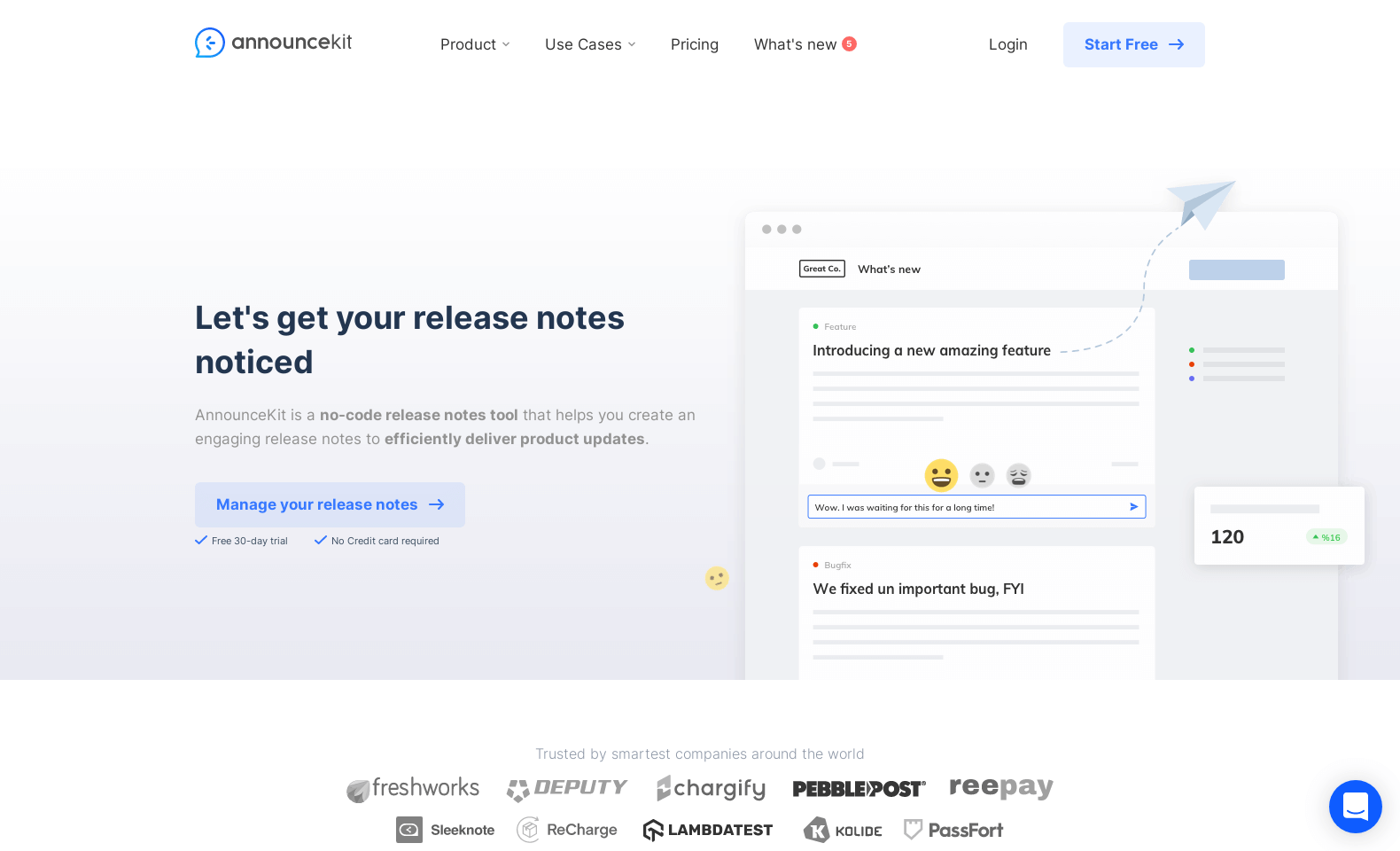 AnnounceKit is one of the most versatile and powerful release notes tool out of all 5 companies. It offers more unique and powerful features in comparison to Headway, Noticeable, Release Notes. And is similar to Beamer in features arsenal. However, offers all these features at a more affordable price.
AnnounceKit offers unique features such as User tracking and Email notifications. Sending product announcement emails is probably already a part of your product launch campaigns. So, why to spend extra time copy-pasting? AnnounceKit sends automatic emails to your subscribers.
Also, User tracking is a vital feature for those who want to know who left you a comment or emoji reactions. Almost all of our competitors offer Feedback and Emoji reactions features. But how do you interpret that data? With AnnounceKit you can personalize your direct communication by understanding their opinion about each feature separately. And in cases when users are unhappy and send you negative feedback, you can detect them and send them targeted notification via Segmentation or directly to their email.
On top of that AnnounceKit offers 5 different customizable widgets that perfectly blend into any website design.
Pricing: Startup ($49/mo), Business ($99/mo).
---
Each release notes tool has its benefits and downsides. We tried to introduce you the niche market of changelog solutions who believe that customers should be informed about every new product updates.