Companies announce their new products, new features, new releases, and/or an approaching event via product launch emails to their customers or subscribers. Because building anticipation for your launch is a key to attract your customers' attention and trigger their interest to buy it. Announcements through the email process always require a long email list. But when it is done properly, it is functional. This article provides some guidance on product launch email examples.
Surely marketing teams have expanded their vision to paid, organic social media channels, and PR. But email marketing still stands as an effective tool to reach out to prospective customers. If people are willing to sign up for the email list, they probably are waiting for a product launch email from your company. Or simply hear from you. So it is time to use that opportunity!
There are different types of product launch emails we can specify.
Different Types of Product Launch Emails
1.Product Release Emails
2.New Product Line Sequence Emails
3.Announcement Emails of New Websites
There are some great product launch email examples. Each has its own unique identity, featuring the highlights of the product as well as the company itself. So we are going to examine the three successful product launch announcements via emails.
Product Release Emails
Companies still use email as an effective tool to inform the subscribers and customers about the launching of their products. They spend a lot of money on this and marketing teams put a lot of thoughts into those product launch emails. Apple is considered one of the best product launch campaigners of our time. Their announcements are of straightforward and well-thought design.
Apple uses high-quality smooth and glossy imagery on their product launch emails. This reflects the quality work of the products. So, Apple creates a great product launch announcement with clear feature statements. They also use subject lines as a way to express the availability of the product from now on. This also brings the subscribers excitement. At the end of the product launch email, Apple states some additional information.
The other highlight of Apple's product launches is that they avoid boring and common subject lines. They use catchy lines that would attract the subscribers, trying to create a representation of social status. The perfect example for Apple to use ''The future is here'' subject line for iPhone X product announcement. Those catchy and promising subject lines trigger the subscribers to buy and use the product in order to get the promising subject line.

New Product Line Launch Sequence Emails
So if there is a new product that will be available soon, companies use these emails to inform the subscribers and customers. Everlane is an ecommerce company that produces ethically produced modern basic products for daily use. Their product launch announcement also reflects this ideology, with clear statements and soft colour use. They use minimalistic style in their design with pastel colours as backgrounds. But the highlight of their product announcement emails is definitely their carefully chosen phrasings. They chose their phrasings to align with their customers, reflecting their responsible and ethically made products.

Everlane also uses emails in sequences to keep its potential customers' up-to-date information and keep customer interest alive. To create an email sequence, at least 3 emails are needed. The first email is to build expectations which are also called teaser emails. For this email, the launch announcement email should include the release day and should state the sense of what's coming. But it is imperative not to reveal more information. Because this might kill the anticipation that you are trying to create. This type of email should be sent 2 weeks before the release date.
The second email should announce a new product. The subscribers should receive this email 1 week before the product launch. The email should contain the name, imagery, launch date, and the features of the product. You have the possibility to provide incentives to the customers too. Free shipping, Early Birds discounts, etc are some examples you might wanna add to this type of email.
Then, the last email is sent on the day of the launching. In this way, you have the chance to remind the subscribers about your product and the product launch. It is also important to add social media channels to your email. So the subscribers also have a chance to share your announcement. This will benefit you and the product launch a lot!
Announcement Emails of New Websites
When companies launch new websites, they want their subscribers and customers to know and use them. Nike's new website ha one of the best product launch email examples. Nike preferred to introduce the new website with a product launch announcement email. Their product launch contains the benefits of the new website and also the incentive. Free shipping was the incentive they decided to use to celebrate the brand new website! They also included a screenshot of the website so that the subscribers might be curious to try it themselves.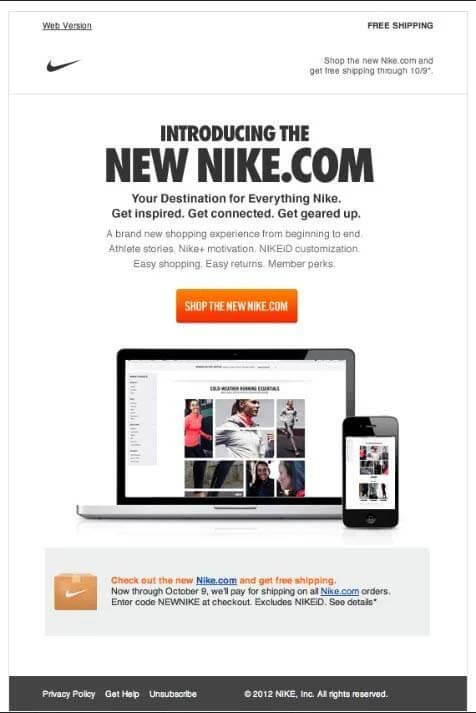 Nike also uses good product launching strategies for their product release launch as well. Like Apple's simplicity, their choice of colour is simple and consistent. Also for the choice of column layout, Nike shares the same strategy as Apple. They simply use a one column layout in their product launch emails with a really great imagery of the product.
Common Features of Best Product Launch Emails
So what do these successful emails have in common? We can come up with a product launch checklist that they all have as features or sections on their emails. Creative use of subject lines, clear and precise soft colours, close up attention to the details of the product and the incentives for the first-comers are the example of the features they have in common. The product email checklist should answer what's going on, what's in it for the subscribers and what the company does want the subscribers to do.
Seeking further ways for announcements that cover the launch checklist while getting creative? Check AnnounceKit to discover more.
You can read our previous post on https://announcekit.app/blog/product-led-growth-in-saas-major-benefits/

Quick Setup, Easy to Use, and Many Integrations
Manage your product announcements from a single place and easily distribute them
across multiple channels.