Product updates are a great way to keep your users informed of the latest changes and improvements to your product.
But inboxes are full of update announcements and every app has a section full of weekly changes.
If you're not careful, they can be a source of frustration and confusion.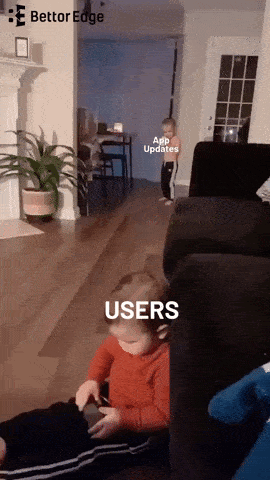 The goal? Create effective product updates that will engage and inform your users.
But how do you do that? What are the best ways to draw in customers and let them know about product changes in fun and unique forms? We're discussing what product updates are, when they are appropriate, and the best mediums to post them on.
Table of Contents

Quick Setup, Easy to Use, and Many Integrations
Manage your product announcements from a single place and easily distribute them
across multiple channels.
What Are Product Updates?
A product update is like a fresh coat of paint for your favorite app or software! It's when the people behind the product release a new version with improvements and fixes.
Here's what product updates are often used to announce:
Bug Fixes
Performance improvements
New Features
User Interface Changes
Security Updates
User Experience Updates
Sometimes these updates come out regularly, like every few weeks or months, and other times they come out when there's something important to fix.
When there's an update, they'll let you know with messages or notifications, so you can get all the benefits of the latest version!
Find the most attention-grabbing ways to promote your update.
The smartest way to announce an update requires an effective message delivered at the right time, through the right medium, where your audience is more likely to hear your announcement.
The announcement not only shows how the update benefits a person but it improves the credibility of your brand. Be aware that the medium that sends the message is just as important as the message itself.
If you think that crafting an effective message is impossible, and you feel lost, don't worry, it's where Announcekit comes in.
Our experts have created an entire guide on how to create product update announcements and keep readers interested — keep reading to learn more.
The Importance of Product Updates for Users
Product updates are incredibly important for users. They provide new features, improved performance, and increased security.
With regular updates, users can get the most out of their products and stay ahead of the curve when it comes to industry standards and best practices. Updates also ensure that users have access to the latest bug fixes, which can help keep their data secure and avoid unexpected disruptions.
3 Amazing Examples of Amazing Product Updates
#1: Spotify

Spotify has a way of learning, listening, and knowing what users want from their platform. That's why they announced in 2022 that they would be introducing a "Live Events" feed to their platform. 
This update tailored the listings to users' location and their interests. With this feature, listeners don't have to leave the app to go explore if and when one of their favorite artists are coming to a location near them!
This not only made it incredibly convenient for users to find new shows aligned with their interests, but it also fostered a deeper sense of connection with the platform.
In a world where content overload is the norm, this update truly stood out by helping users cut through the noise and effortlessly discover podcasts that resonated with their preferences.
#2: Shopify
When publishing product updates, you want to engage users and provide information that resonates with them.
It's not just about finding a solution for your users — it's about connecting with them so they feel heard and valued.
When you can evoke emotion, even from a product announcement, you're doing something right.
Spotify did this successfully when they announced their AI-powered assistant for merchants.
Spotify's founder hit users straight in the feelings when he acknowledged that every superhero needs a sidekick (in this case, AI) in his short product announcement video.
Rather than feeling as though AI could be intimidating or unnecessary — Spotify acknowledges that it's another necessary tool for entrepreneurs' tool belts.
#3: Slack

The Slack "Huddle" product update was a game-changer in the realm of team collaboration. The feature allows users to instantly initiate audio and video conversations with colleagues within the Slack platform, eliminating the need for separate meeting scheduling and call setup.
It catered to the ever-growing need for informal discussions and quick decision-making, mirroring the natural flow of in-person office interactions.
Slack's feature promotes real-time collaboration while keeping participants engaged and connected, boosting productivity and fostering a sense of togetherness even in virtual workspaces.
This is the perfect example of how a well-tailored product update can meet the evolving demands of the workplace and significantly improve the overall work experience for users.
The Importance of Product Updates for Business Owners
Product updates are essential for business owners to remain competitive in the market.
Making sure that products are up-to-date with the latest technology and trends allows businesses to stay ahead of the competition and provide customers with the best possible service.
Whether it's a software update or a new product launch, staying current is key to success in any industry.
3 Considerations To Make Before Sending a Product Update Announcement
#1: How Important Is the Product Update Announcement?
Don't notify your users about all small improvements one at a time. Show your customer some care by bundling up small bug fixes and framing them in the right way, then announce them periodically.
#2: How Many Customers Does the Product Update Impact?
Not everybody will care about an update, and that's alright. Go find and segment people and tell them specifically the updates they would be interested in. It is the best way to build connections with users and make them loyal customers.
If you know that they are the ones who are using the specific feature you've updated, create a personalized message to that specific segment of your audience. Tell them that you care.
A lot of small companies with a small customer base (who are actually capable of personalizing updates messages) miss here. Create an excel sheet with all customers and features they used the most, and add their feedback. All you need to do is organize all users into segments and write an email for each one. What may sound like a hard task, in reality, requires a few hours of work. Especially if your customer base is small.
#3: How Proud Are You About the Product Update?
Announce to the world how excited you are about the new update that involved a huge amount of effort. If it is something worth sharing, then do it, but smartly.
How Often Should You Publish Product Update Announcements?
Product update announcements should be done on a regular basis. Depending on your product, it may be beneficial to send them out monthly or quarterly.
If you have an actively updated product, such as a blog or news platform, then more frequent updates should be considered. It's important to keep customers informed of progress and changes to ensure they are able to experience the best possible version of your product.
Moreover, we highly recommend you read our article about communicating the price changes to customers if you want to deepen your knowledge about announcements!
Ready To Send a Product Update? The Next Step Is Choosing the Right Medium
You're excited to share the latest improvements and features of your product with your users — you're ready to send your product update
Pump the brakes for just a moment. Before you hit "send" it's vital that you've chosen the right medium to deliver your product update.
Picking the perfect communication channel can make all the difference in how well your update is received by your audience. Do you know which medium is right for your audience? We cover how to pick the right medium below!
Email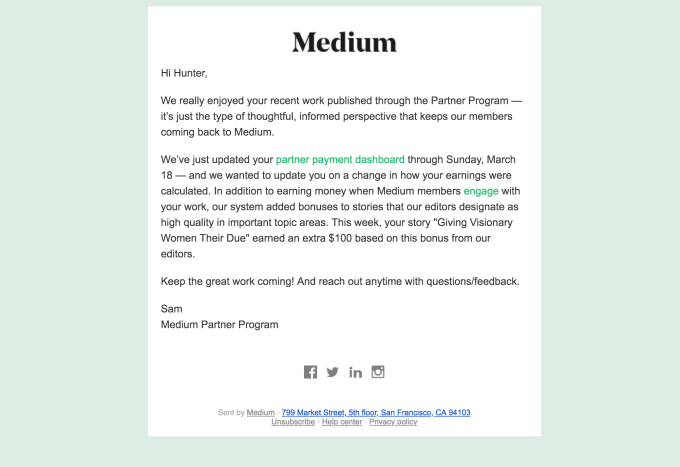 With billions of emails being sent each day, you don't want your important announcement to be buried and sent to spam folder.
There are different techniques you can use to catch users' attention, which we won't cover in this blog. But please use them. The era of mass emails is gone. And as we mentioned earlier, businesses have to learn to respect customers and stop annoying them with non-beneficiary junk.
Product update emails and feature announcement e-mails can serve as a great meaningful touchpoint of interaction with users. Make it clickable, nicely designed, and simply interesting.
Bundle up all small bug fixes and emphasize important additions in the features list. Don't just tell what you did, explain how the update will actually affect users' experience.
If you redid the whole software interface prepare a guidebook, videos, appropriate tour to avoid confusing a customer.
Most importantly, personalize your emails — leverage subscribers data to create more dynamic, clickable emails.
A great example would be " What we have accomplished in 2018″ or "What we have been working on this month."
In-App Product Update Announcements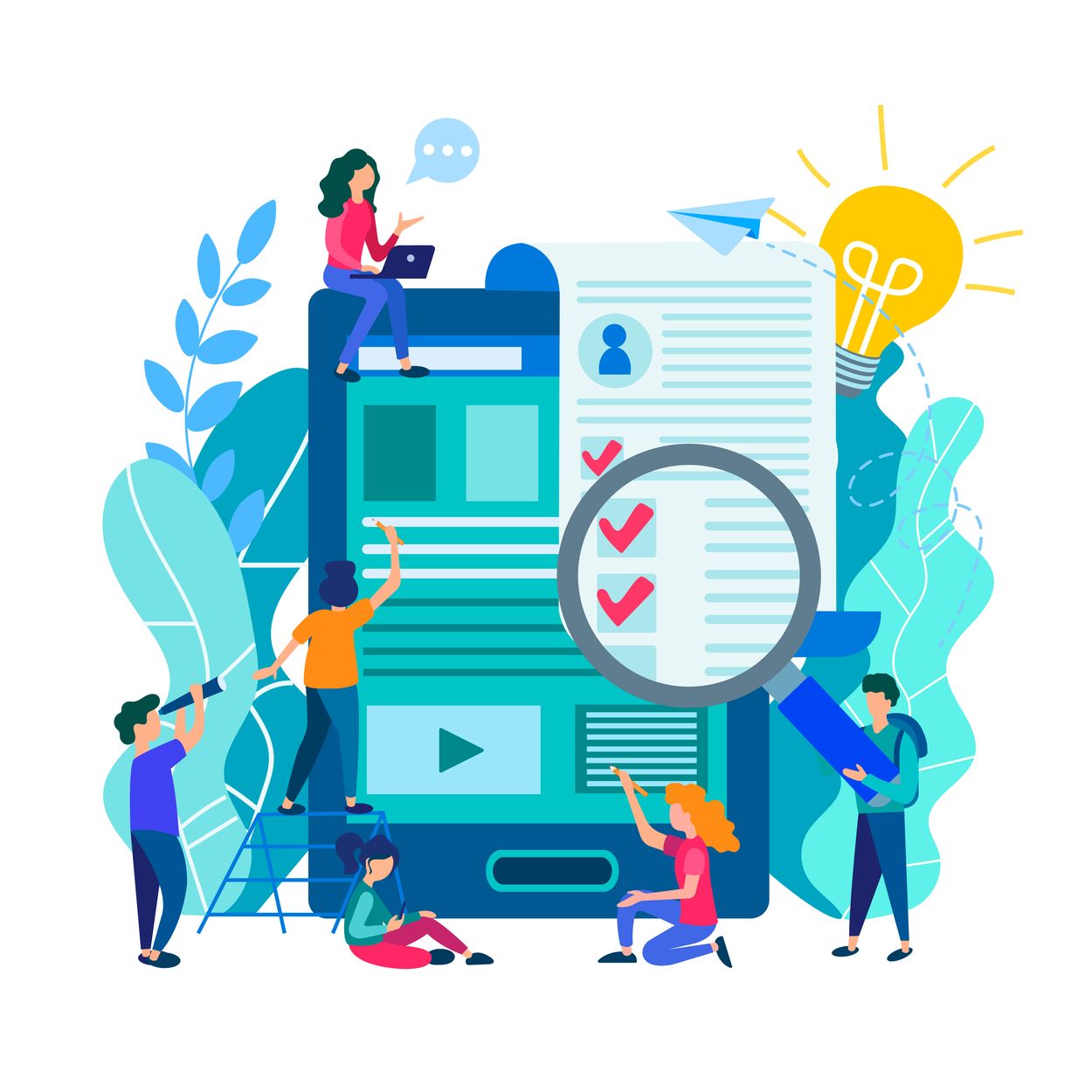 Just like in real life, no one wants to hear news they are not interested in. In-app product update announcements work because they are communicated to people, who are already using your service.
As mentioned earlier an effective product update announcement component is to send the message to the right audience. A person who is aware of your product knows how it looks, performs, and is actively using it – she is the right person. Then talk to her and tell her about all the effort you've done!
AnnounceKit believes in giving people space to decide whether or not to click on flashing colorful dot. It is a non-interruptive widget and welcoming at the same time. Moreover, the widget disappears after you clicked on it and doesn't bother a user anymore. Check it out yourself.
Product Update Announcements on Your Website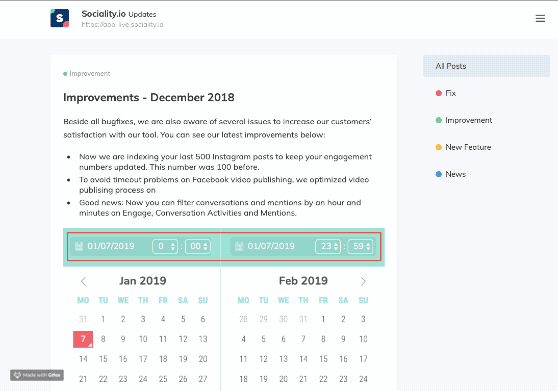 Check out the product updates above!
A good example, isn't it? Sociality.io is an all-in-one social media management platform. We love their updates page!
Product updates pages should be welcoming, caring, and be there in case somebody would be interested in.
Organize the page as an archive. Historical order is the best way to show all updates and to give the impression that you are continuously working on improving the software.
Will everybody see the page? Absolutely not.
But do you need the page? Absolutely yes.
Our customer Hasan Toprakkaya, Founder of Sociality.io shared his opinion:
"We've started to use AnnounceKit a few months ago. There are two main reasons why we need the tool. Firstly, our customers are asking us so many new features, but most of these feature requests have already been developed by us. So we need to inform our customers about them. Secondly, we want to show our development process to potential customers when they are visiting our website. It creates trust between us."
Product Update Announcements on Social Media
Your customer follows you on social media because they want to know about the news they care about and to have an opportunity to engage with your brand.
Taking a customer-first approach to your communication strategy will get your followers excited about updates and be aware of them. The way social media works is fascinating and not using it the right way is simply wrong.
Social media allows information to spread across the globe in seconds, and it is the fastest way to make people know.
But first, we highly recommend you to determine whether or not to share an announcement on social media. Ask yourself if the information (both positive and negative) will have an impact on your customers and followers.
Is your update announcement going to be just another noisy tweet or post? If yes, then reframe the message or bundle it up with other less important bug fixes.
Example of How Slack Used Social Media To Announce Product Updates
Did you notice a new Slack logo and change in the interface? Let's see how the tool used Twitter to announce new logo.
Slack gave customers a bite-sized preview of the coming news.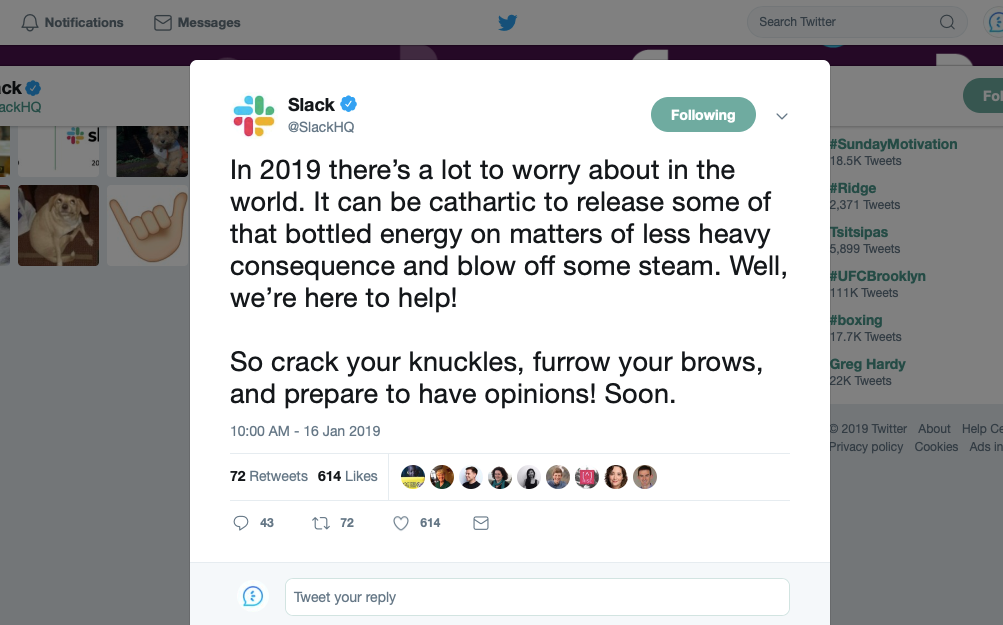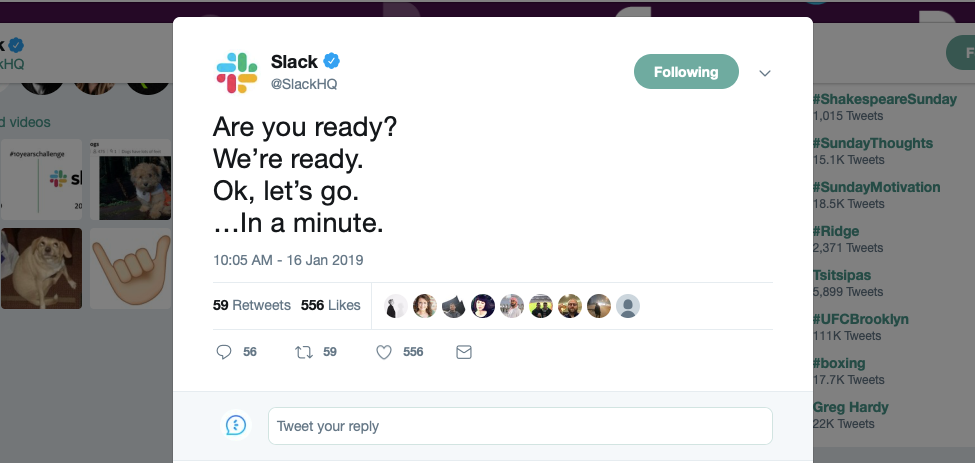 The replies were hilarious. It is a positive indicator that Slack was able to build a community of people, who cared about the company and was indeed excited to see the news.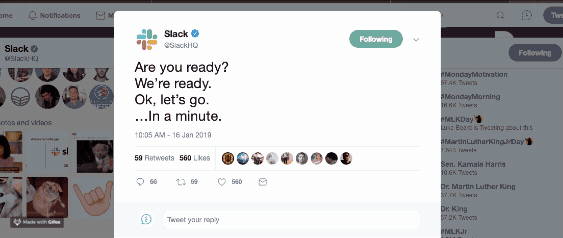 The announcing tweet is funny, and modified for the Twitter community. Look closely to the engagement rates! Impressive isn't it?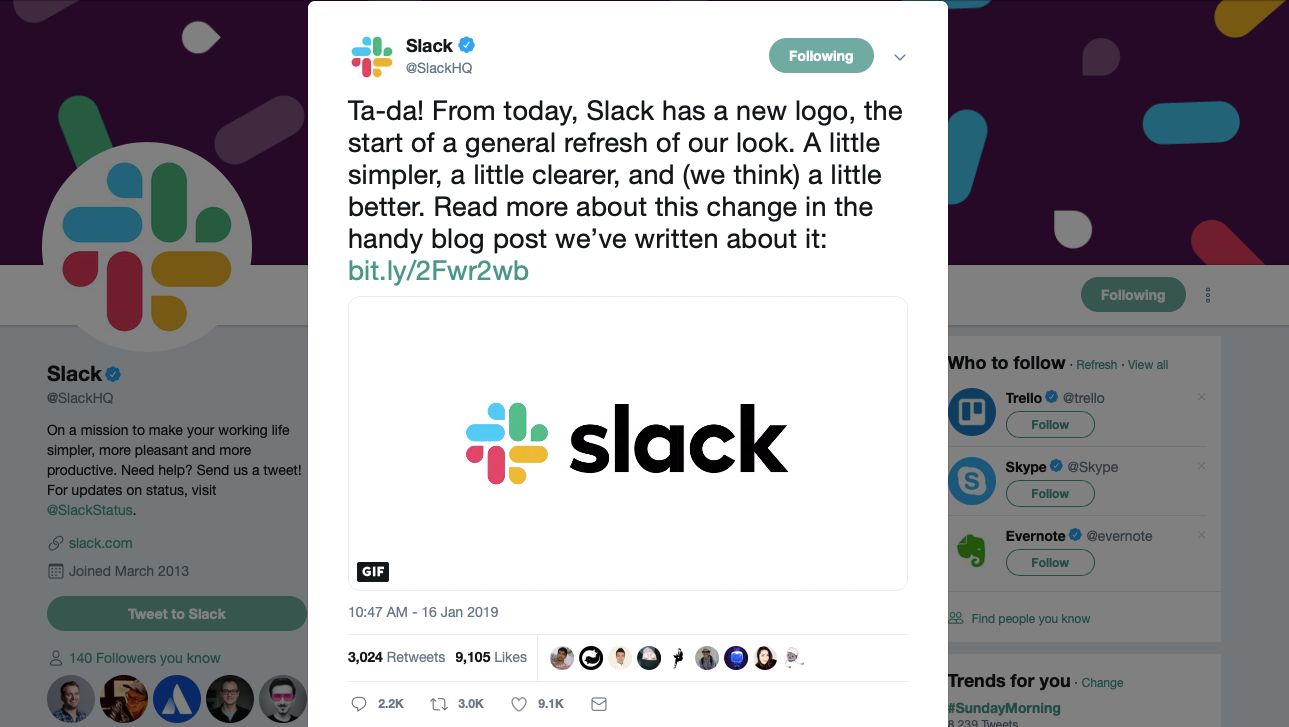 Product Update Announcement Blog Posts
Coming back to the question: "How proud are you about an update?"
In situations where you are tremendously proud of the work being done to release a new feature? Was something updated that will impact all customers? If so, it is advisable to take one more extra step and summarize the product update announcement in a blog.
In contrast to social media, where you are limited in words like Twitter, (or in general the message is expected to be short), creating a blog is a smart way to announce product update. A blog allows you to explain what you have done and how the product update will impact users' experience in greater detail. Also, a blog gives you more space to be creative.
In contrast to a website updates page, a blog allows you to add personal notes. Let the CEO or head of Marketing or Development explain why the update is important for your business. Add extra information on why it was hard to release it.
By emphasizing the importance of an update and how you have accomplished it, you first build the credibility of your brand, and second give value to readers by entertaining them and explaining pro tips and what could have been avoided.
Product Updates Blog Example: How Crypterium Uses Them
For example, Crypterium is a top writer in Finance on Medium. It's been bringing innovations to financial market since 2013, so blogging works for them because they are able to explain complicated news and announcements more effectively.
Crypterium's latest blog "Crypterium 2018 RoundUp" is a great example of smart updates summary. The blog answers 3 main questions "What we have accomplished in 2018?", "New important releases and how to use them?", " All important news that happened in 2018″.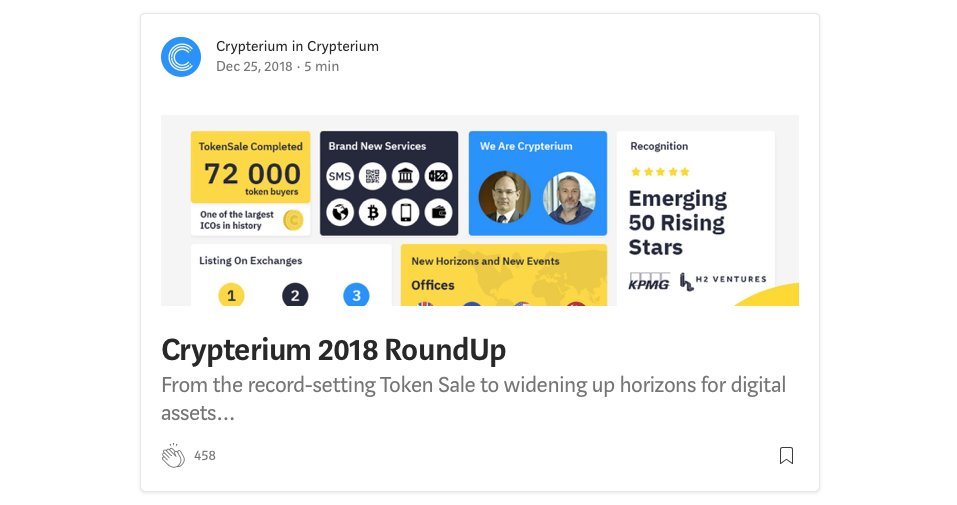 ---
AnnounceKit: Tools To Help Businesses Communicate Product Updates Effectively
Your biggest fans are likely to get excited about a new product update announcement regardless of how it is delivered.
Unfortunately, your biggest fans are only a small portion of the customer base. As a business owner, you want to reach users on a larger scale.
It doesn't matter how hard developers and product managers are working on creating perfect software, if your customers don't know about it, then well, they don't know about it. Not every update is noticeable, but every product update announcement should be communicated to a user in a smart and the right way.
By taking a thoughtful and smart approach to announce product updates you will receive the benefits and rewards you deserve while improving service and delivering a greater customer experience.
Cue AnnounceKit.
AnnounceKit is a smart way to create an updates page for your users and keep them engaged with cool widgets on your website.
Our all-in-one toolkit for product update announcements will not only get your message to your users, but it will help you do it in a way that is time, and cost, effective.
Crafting an effective message and distributing it through various mediums can be a tricky task, but with the right tools, you will soon discover that things are much simpler than they've looked at first.