You realize the value that customer feedback examples can create for your SaaS brand, right? Every SaaS product wants to stand out in the market in some way and stay ahead of its competitors.
Some products get ahead of their competitors with their pricing strategies, and some products offer great customer support; you can get an answer to your question within 5 minutes. Some products have already completed their product development and have become mature products. With the service they provide, they are ahead of their competitors.
What is the area where you differ from your competitors? You would probably want to differ in many areas instead of just one. Let me tell you the formula for this: collect and use customer feedback!
By listening to customer feedback, you can identify the deficiencies of your product, notice the errors, and decide on the projects you will prioritize in your planning. All you have to do is open your ears and value the ideas of your users.
In this way, your customer satisfaction rates will fly like a SpaceX rocket! According to research, acquiring a new customer is five times as expensive as retaining an existing one. Because of this, we will make our customers happy by listening to their feedback.
Since we also use the power of statistics, our plan is clear! We will use customer feedback to increase the satisfaction rate of our users and improve our product.
Of course, we will do this by examining customer feedback examples from the great leaders of the market. These brands are the best because they excel at what they do. Let's take advantage of them.
What are customer feedback examples?
Customer feedback is the process by which customers are asked to rate and comment on the service provided to them by a brand. The purpose of customer feedback is to improve the level of service and quality the brand provides.
Customer feedback can be used to improve the quality, speed, and reliability of your products or services. It can also be used as a marketing tool to build trust and loyalty among your customers.
What are five examples of customer feedback methods?
There are different types of user feedback for a SaaS company. Here are five examples:
Online Surveys
In-app Feedback Forms
Live Chat
Customer Interviews
Social Media Monitoring
I will not explain these methods. We will examine real examples from companies that we all admire. 🙂
Customer Feedback Examples
1. Uber – One of the great customer feedback examples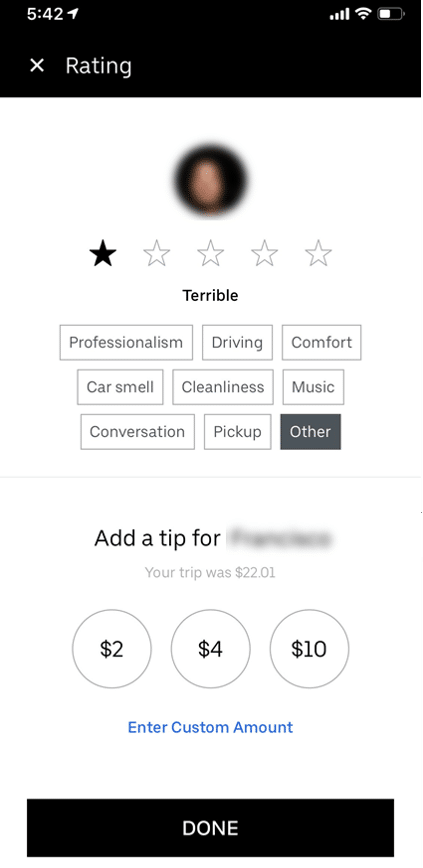 We all witnessed Uber ending the taxi hegemony in the transportation sector and creating a new model. Thanks to the app, users can find a vehicle for their transportation needs within minutes. Likewise, if you have a car and meet certain conditions, you can work with Uber as a driver.
Uber has struck a great balance on feedback. Users can evaluate their trips and share their opinions. However, drivers can also evaluate passengers and give feedback.
Mathematically, there is not much difference between the probability of you getting into a dirty vehicle as a passenger and meeting a racist passenger as a driver. So that your operation runs smoothly, value the opinions of the drivers just as much as you value the opinions of the passengers.
Uber does exactly that, and I like the two-sided feedback system. You can collect feedback from drivers in addition to customer feedback examples thanks to the two-sided feedback system!
2. YouTube – In-App Feedback Form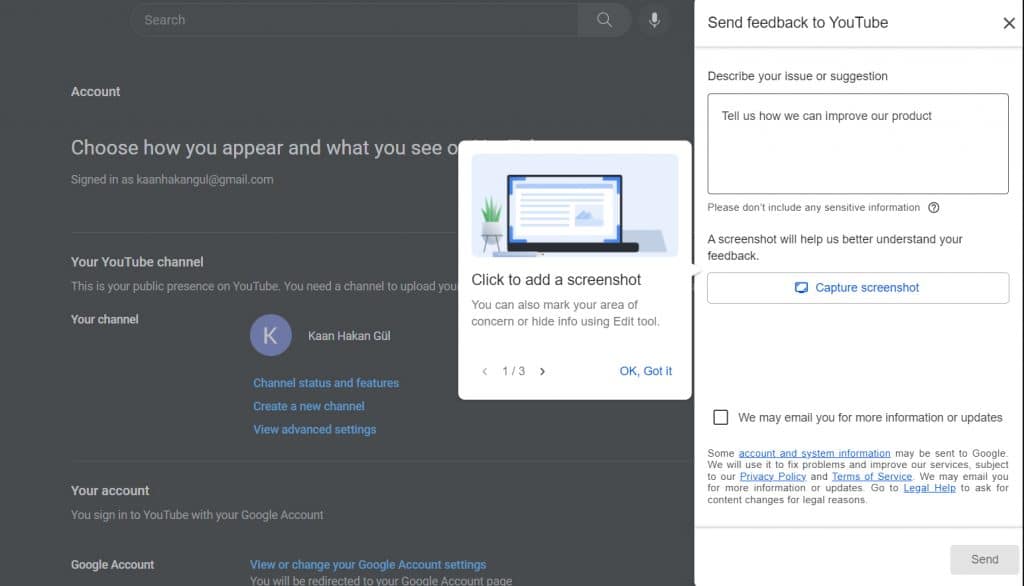 YES, YES. We've all seen the feedback surveys that appear before YouTube videos. However, with these surveys, you can only share your opinions on certain questions. What if you needed to give more detailed feedback?
YouTube has developed another solution for more detailed feedback. There is an area where you can write your feedback on the above page. If you want, you can mark the area where you are having problems by adding a screenshot.
In cases where you want to be informed about your feedback, simply check the box at the end of the page.
You left your feedback in three steps. Wonderful!
3. Slack – Social Media Monitoring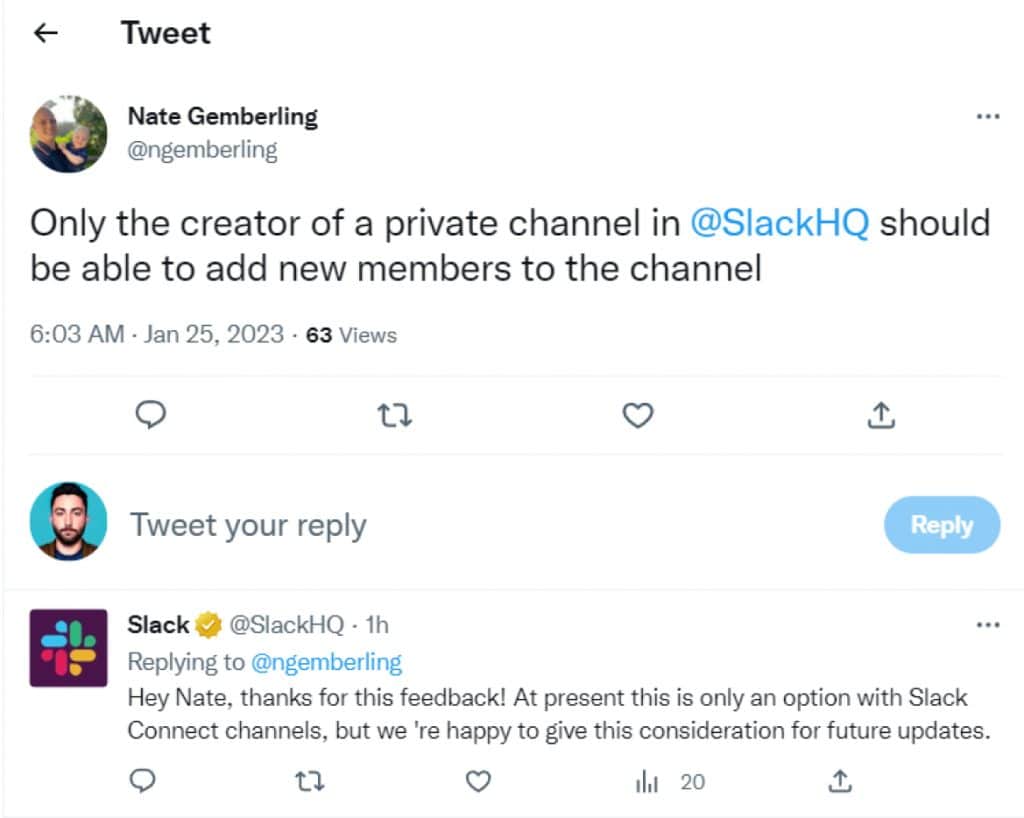 As you can see from the tweets above, Slack always adopts an active strategy toward its users and does not leave their demands and ideas on social media unanswered.
When we examined Slack Release Notes before, we mentioned that Slack is a little different from the usual company profile. Differences may not always help you achieve the desired results. However, the different approaches and active strategies used for Slack seem to have worked because I have not seen any unsatisfied Slack users.
Who wouldn't be happy to have their feedback answered and taken into account?
4. Figma – Another great customer feedback examples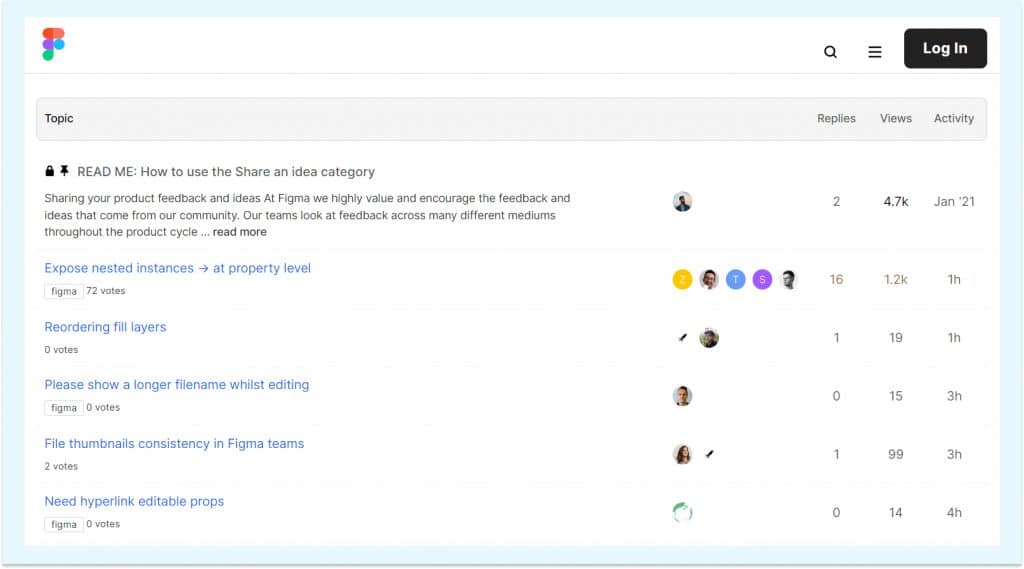 Figma was once considered Adobe's biggest competitor until it was acquired by Adobe. If you are involved in developing SaaS products, it is likely that one of your team members has used Figma.

Although I am not a designer, I have used it frequently due to its easy-to-use interface and the fact that it requires no setup. With the free plan, I am able to complete simple design tasks quickly.
Figma has created a feedback page on its website where users can share their feedback with the community. This page allows users to vote on relevant feedback, rather than leaving new feedback if they are experiencing a similar problem. Additionally, users can assist one another by responding and offering different solutions to problems.
Figma has created a community of feedback that allows users to help each other.
5. Canva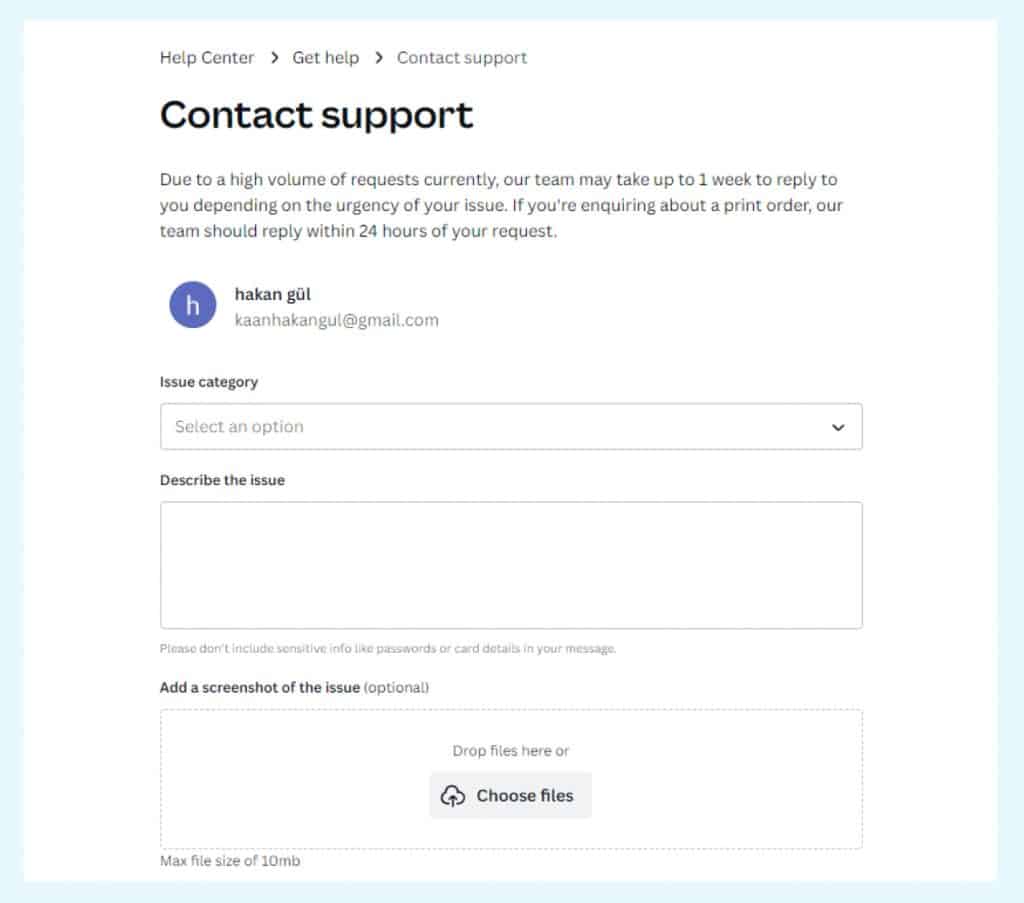 Do you need a presentation template? Most likely, you will use Canva whether you are a worker or a student.
Canva's customer feedback system is an efficient way for customers to provide feedback and contact the company. Customers can give feedback and make suggestions through a simple online form, which the Canva team then looks over.
The feedback is used to improve the overall user experience and make the necessary changes to the platform. Users can define a category for their feedback, then explain the feedback and detail their ideas by adding a screenshot. The system also lets customers know how their feedback is being used and when and how their suggestions are being put into action.
Up until now, we have seen different approaches to getting feedback from customers. If you still have questions about asking for feedback from customers, check out this article!
6. Notion
Notion is a productivity tool that allows users to organize their tasks, projects, and notes in a single workspace. I, too, keep track of my tasks with Notion, a platform that can be used for both personal and business needs.
The company has developed an in-app feedback system to gather input and improve the product. This system allows users to submit feature requests, report bugs, and provide general feedback. The Notion team reviews the feedback, prioritizes it, and uses it to inform the development roadmap.
Additionally, they maintain an overall roadmap that they regularly update to keep their customers informed of new features and updates. This helps to keep customers interested and informs them of the direction in which the product is headed.
7. ChatGPT

I have to admit I've become a ChatGPT addict. If I need to make breakfast, I ask ChatGPT what I should eat. When I need to write something creative, I use ChatGPT to build the structure. Moreover, I get advice on bitcoin.
I'm sure there are many people like me. Some days I can't even connect to the service due to occupancy. Some days I get very illogical answers. This should not be surprising because it is a service that is still in development and is only at the beginning of the road.
So what do they need for the product to develop? Of course, they need our feedback. So what did I do when I couldn't find a panel where I could leave feedback? Of course I asked that of ChatGPT itself! Then I just left my feedback to have a better service as a user.
I don't know if it will ever sit on the throne of Google, but ChatGPT seems to have already adapted to our daily workflow.
AnnounceKit
AnnounceKit is a powerful tool for creating and managing announcements for your website or app. One of the best things about AnnounceKit is that it lets you ask users what they think about your announcements and collecting great customers feedback examples.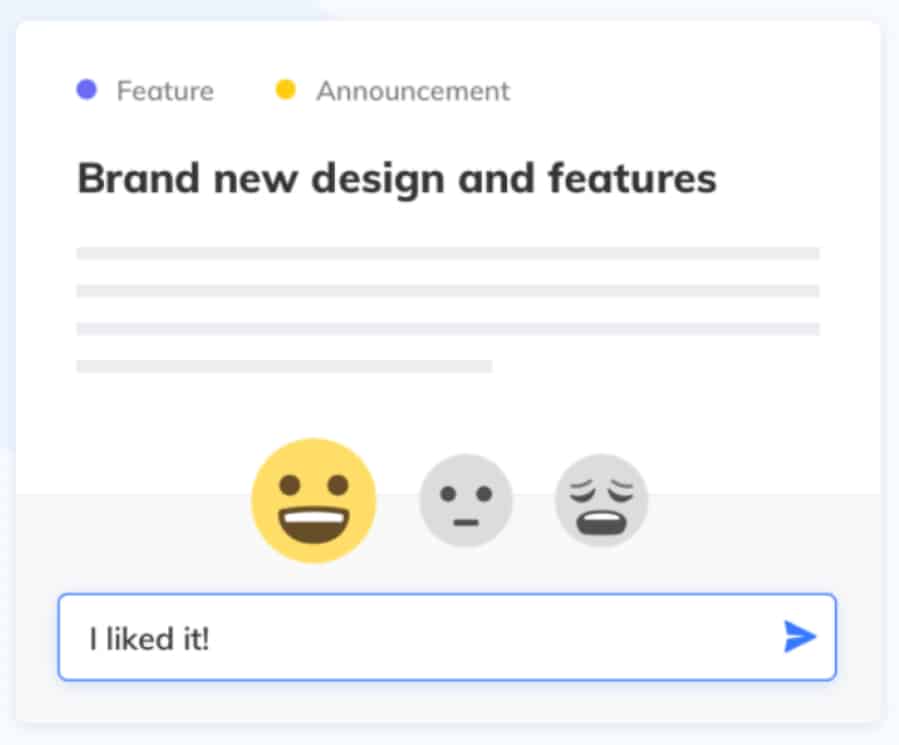 Instant feedback with emojis works brilliantly after you post something new to announce product updates or company news. Customers can respond by clicking on an emoji or sending a comment directly. This way, you show that you care about their feedback for each of your updates.
This means that you can quickly change your announcements based on what users say, making sure that they are always useful and relevant.
Overall, AnnounceKit's feedback feature is an essential tool for anyone looking to create effective announcements and gather valuable feedback from their users. With its powerful analytics and real-time feedback capabilities, AnnounceKit makes it easy to create announcements that truly resonate with your audience.
Wrap Up
In conclusion, it's important to gather customer feedback to make continuous improvements to your product and stay ahead of the competition. Your customers spend the most time with your product and have valuable insights to offer. Give it a try—it's free!
You have seen several examples from giant companies; pick one of them that can fit your business and start collecting useful customer feedback examples.
Adios!