We've wanted to review the Slack release notes for a long time in one of our blog posts. Most app release notes are boring. Nobody wants to read them and they write the same thing in different release notes. Slack makes these posts fun. So is this difference so important?
Nowadays, it is very difficult for people to focus on one subject for a long time. Various external factors cause us to be distracted. We are surrounded by stimulants. A notification from social media, a message from a friend, or some of your habits can reduce your focus time.
In every aspect of our lives, we come across written, shot, designed, or developed content and products whose primary goal is to attract our attention. It can be a book cover, it can be a series that has short minutes, or it can be a social media platform where you can share in 3 short steps.
It is not difficult to predict the fate of ordinary and boring things: they will not be consumed and used.
A similar situation applies to SaaS companies. They're split on the release notes. Some share release notes that are pretty fun and easy to read, just like the Slack release notes. Others post boring software release notes that consist of a single sentence or long paragraphs.
If slack release notes were boring, it wouldn't be the subject of this article, would it? Let's look at examples of slack release notes and try to find the details that set them significant!

Quick Setup, Easy to Use, and Many Integrations
Manage your product announcements from a single place and easily distribute them
across multiple channels.
What are release notes?
Release notes are a short overview of the changes that have been made in a new release of an app. They help users who have already installed your app to stay informed about changes and updates, while also helping to inform new users who may be considering downloading your app.
Slack also writes release notes for this purpose. But Slack release notes look different from regular release notes. How do they achieve this? We'll see.
Mobile apps often have different lifetimes. Users download an app, use it for a few days or weeks, then switch to another app or delete it entirely.
If you want to build a long-term relationship with your users, you need to continually improve your apps and add new features so your users can continue to use them.
Release notes allow mobile developers to share their changes in an easy-to-read format without much time or effort. But you can predict that developers are not good creative writers. 😀 On the other hand, developers share software release notes periodically. This is because there is no need to send an announcement message or email every time a change is made.
If you are wondering what should be included in release notes, you can take a look at this article!
Benefits of Software Release Notes
The release notes bring many benefits for SaaS products and software companies. Let's check out these benefits!
Release Notes Bring Transparency: The most obvious benefit of publishing regular software release notes is transparency. People want to know what is being developed behind the scenes and in which direction the product is moving, especially when paying for your product.

A customer doesn't want to be left in the dark about what changes have been made within the company or how those changes will affect them. Posting release notes helps build trust in your brand, which increases the likelihood that customers will continue to use your software over time.

Release Notes Build Trust: When you share details about what you're working on and why you're working on it, it builds trust with customers who use your software. Because they know that a team is working for them, that is, they know that they are working to have a better product.

This trust can translate into higher customer satisfaction scores and better customer retention rates

Also, your support teams can use release notes as a knowledge base to answer customer queries related to new features/improvements.
By the way, we've reviewed the best and worst release notes from major companies before. Don't forget to check out our post!
The stage is set for Slack Release Notes Example! 🧠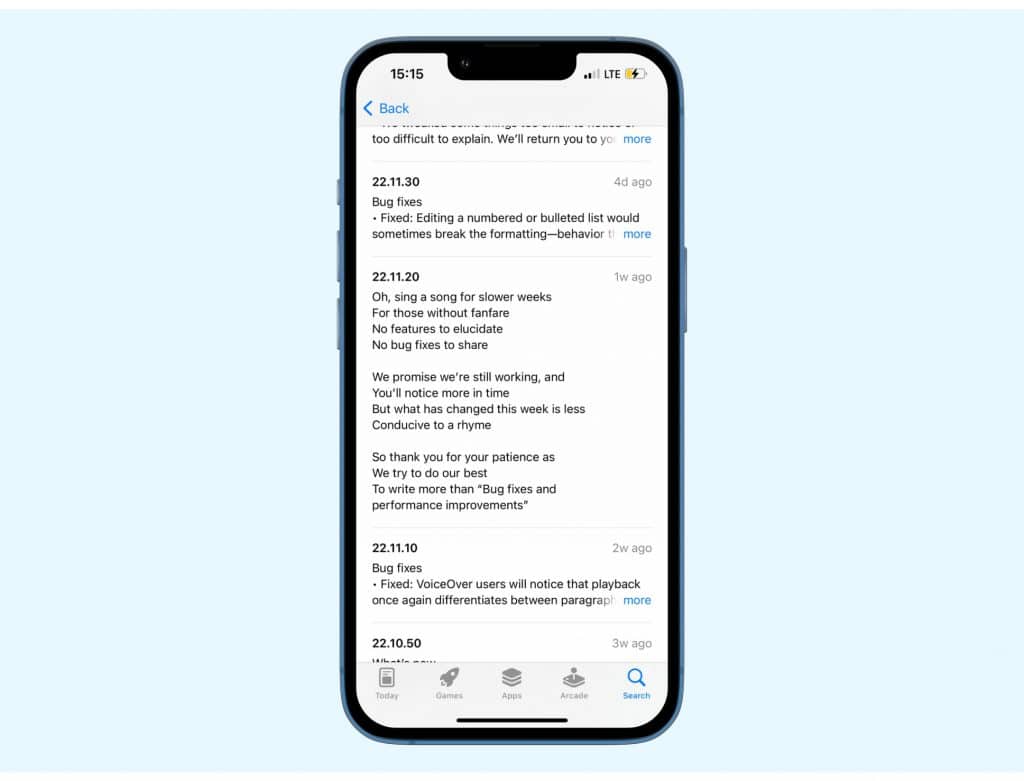 Forget all the boring release notes. Slack combines this business with creativity and art. Look at this poem!

"Oh, sing a song for slower weeks
For those without fanfare
No features to elucidate
No bug fixes to share

We promise we're still working, and
You'll notice more in time /
But what has changed this week is less
Conducive to a rhyme

So thank you for your patience as
We try to do our best
To write more than "Bug fixes and
performance improvements"
Slack has set the bar high for mobile app release notes. They're not just long and boring. They're also useful, informative, and fun to read.
Here's how Slack does it:
Write release notes unordinary way somehow
Give a quick summary of what's new in each version of the app since the last update (and maybe before that)
Use a friendly tone and make it conversational (like you're writing a letter to your friends)
Be honest when you write release notes — even if you did not do anything and this makes you look bad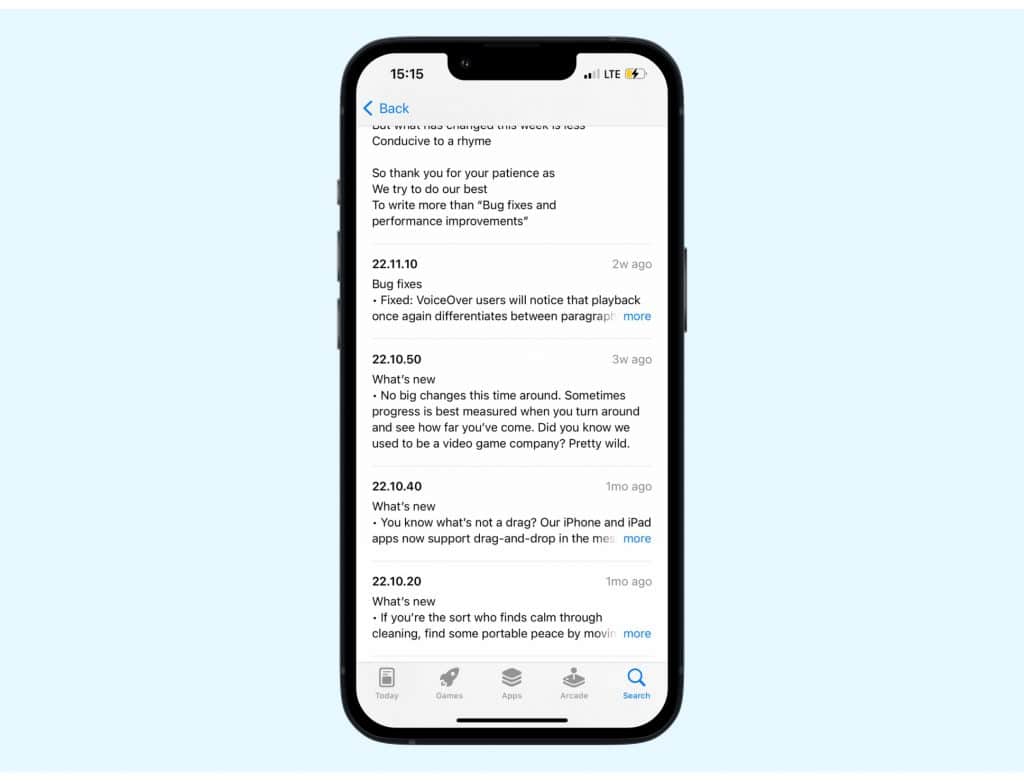 Sometimes you realize you haven't done enough to announce the change. So does that stop you from making an announcement? Of course not!

"No big changes this time around. Sometimes progress is best measured when you turn around and see how far you've come. Did you know we used to be a video game company? Pretty wild."
So how are things going on social media? As you know, we spend most of our time on social media platforms. Wouldn't it be weird if Slack didn't use its social media platforms well enough?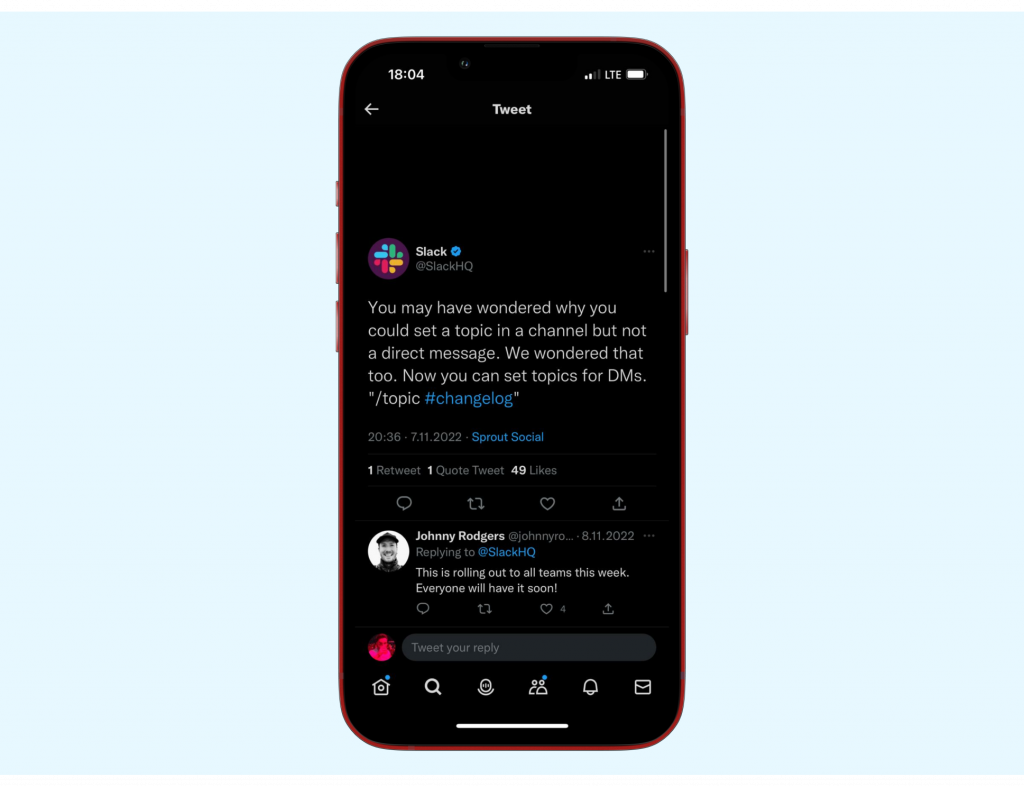 Software companies are constantly improving things and fixing bugs. If every change and fix had to be announced, a large team would have to be hired for these jobs!
That's why important improvements are shared periodically through release notes. What if you had to share a small but important improvement with your users?
I can't think of a better option than social media. That's the thing that Slack did!

"You may have wondered why you could set a topic in a channel but not a direct message. We wondered that too. Now you can set topics for DMs."
Slack shows a great example of how even small improvements can be shared easily where we spend our time most.
The best way to inform your customers about product updates 📣 AnnounceKit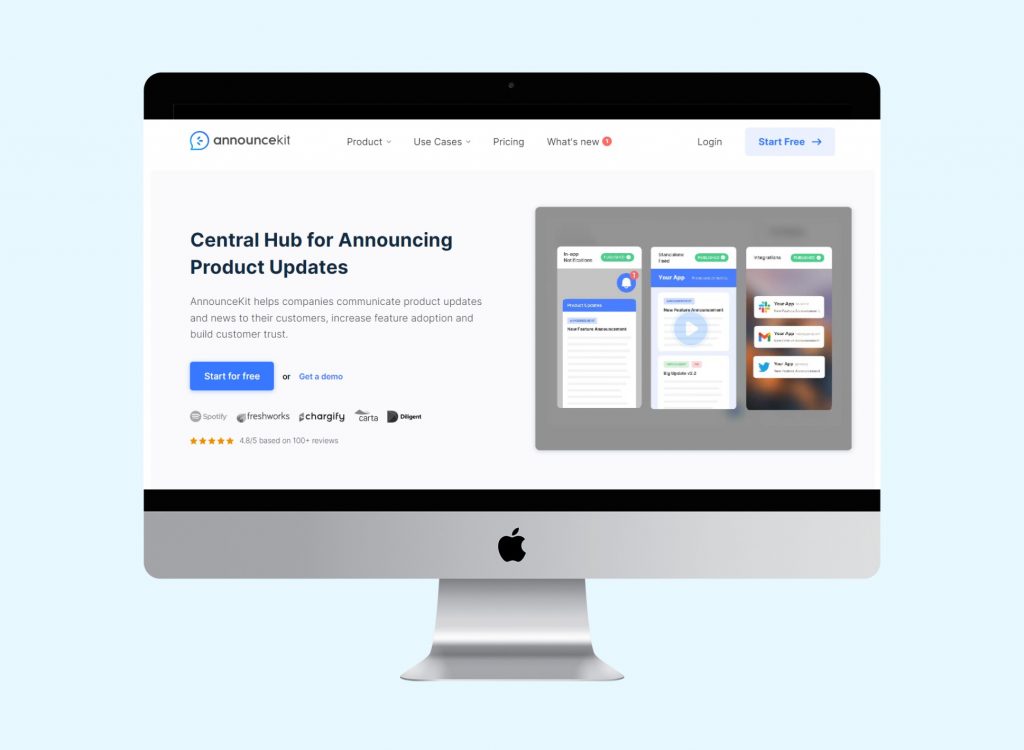 AnnounceKit is a tool that helps you to create new feature announcements, share them within an in-app notification center, send announcement emails and distribute them across social media channels.

By using Announcekit;
You can create in-app announcements for your product updates and increase your product adoption rates. Thanks to widgets and boosters, your website visitors are informed about product updates, new features, and announcements. In this way, the rate of use of new features and the product adoption rate increase directly.
Also, you can reach your customers through all available communication channels thanks to AnnounceKit. With Slack, email, and mobile notifications, you can ensure your customers are constantly in the loop, even if they don't visit your website regularly.
With artificial intelligence technology, you will spend less time writing product announcements and release notes. With just a few keywords and some context, you can create great announcement texts in seconds.
To manage your product announcements in one place and distribute them quickly across multiple channels, increase feature adoption, and increase user engagement, try AnnounceKit today!
Conclusion
Software release notes play an important role in enabling your customers to become more aware of what changes, features, and fixes there are in your product, but I've noticed that release notes are often written in the same boring way.
Slack's release notes look creative and effective, unlike other ordinary examples. While it's a useful tool for customers and partners, it's also useful for developers because they can look at the big picture and understand the long-term progress of the product through release notes.
I hope that after reading this post, you'll have a better idea of what to include in your next set of release notes. Use Slack's release notes as an example of how you can write funny, understandable, and exciting release notes to inform your audience effectively.