Cancellation Flows have been a popular method among SaaS companies for some time now. Every day, new companies sit at the table assertively to get a share of the pie. Competition continues to increase day by day.
Some companies offer the use of more affordable packages to steal customers from their competitors. On the other hand, some companies want to attract users' attention by developing very different features from their competitors.
So what are the users at the center of this race doing? They can choose the more affordable product by terminating their subscriptions. Or the product they use cannot meet their needs and they start using a more advanced product. Sometimes they just get angry at the customer support team and cancel the product.
In short; Users cancel SaaS products for various reasons. Previously, the relevant units of the companies tried to understand the reason for these cancellations by arranging one-on-one meetings with the customers.

Netflix had a tough 2022, losing nearly 1.2 million subscribers in the first two quarters of 2022. Can you imagine Netflix reaching out to every customer to find out why they're leaving? Sorry, but it is not possible!
As you can imagine, this operation requires both time and resources.
A popular method today is to create Cancellation Flows to gather insights with less effort and use these insights to reduce cancellation rates.

Quick Setup, Easy to Use, and Many Integrations
Manage your product announcements from a single place and easily distribute them
across multiple channels.
What is a cancel flow? 🧐
The cancellation flow is a process that is triggered when customers decide to cancel their subscriptions. Usually, customers encounter this cancel flow when they want to cancel their subscription, and they can give a number of reasons why they want to leave. If you have high churn rates, you should check out our article about the Top 7 Secrets to Reduce SaaS Churn Rates!
How can companies benefit from the cancellation flow?
There is not much you can do for the user who wants to cancel their subscription at that moment. Because giving up using a product is the last step of the customer cancellation process. Users who have had bad experiences with your product in the past will unsubscribe as a final step.
But as you begin to understand why they want to leave, you'll have a better user experience in the long run. Because the users who leave give you clues on what you need to improve.
The benefits of having a cancellation flow for a SaaS company 🏋️‍♂️
Cancellation flows are one of the essential assets to take your business to the next level. So, let's see what benefits cancellation streams can bring to you! 🤓
A cancellation flow gives you an opportunity to collect valuable insights 🧠
It is not the end of the world for companies to lose subscribers. Sometimes it is necessary to seize opportunities by looking from a different perspective.
No one cannot forcefully use your product. When a user decides to cancel, it is very difficult to change it. Now I will tell you what to do: we will use churning customers to improve our product! In this way, we will have a chance to prevent new losses much earlier.
Ask your customers questions at the steps they unsubscribe:
Why are they canceling?
What would you change if they would stop canceling?
Does your subscription plan expensive compare to your competitors?
Does your product have missing features?
Does your product have bugs that prevent it from working efficiently?
Try to gather feedback from them by preparing a series of questions where you can get answers to all these questions. In this way, you can identify the deficiencies of your product and focus on improving them. The key to having a great product is to use as much feedback as possible.
Yes, the primary benefit of using a cancellation flow is that it gives you insights and helps you improve your product. It tells you where to start. Now, you have a roadmap.
Cancellation flows can help you regain churned users ♻
Once you lose your customers, that doesn't mean you can't make them customers again. Users can use the same product in different periods. Various factors enable this; For example, they can steal your heart by offering you a special price. Customized emails and videos can also be persuasive.
So how can cancellation flows help you regain churned users?
First of all, you can say goodbye to them with a nice message in the last step of your cancellation flow. Your final state in the minds of your users will be very useful when you reach them again.
Let's go on with examples from an imaginary user; Your user requested that some features be added to the product. Because this is his need and the customer is always right. You may not be able to develop new features requested by your user. There can be various reasons for this.
Later, when you want to add this user to your portfolio again, you can base your communication on the fact that the missing features are now available and a better product experience awaits them. In this way, your user sees that the feedback he leaves is cared for by someone, and this facilitates the persuasion process.
You will be more likely to keep them as a customer thanks to the cancellation flow. How? 😎
As your customers progress through the cancellation flow, you will have the opportunity to make personalized offers based on their current plans and usage. To use this method effectively, you need to segment your customers.
In this way, in the last step of the cancellation flow, you can offer users personalized offers that suit their needs.
Once you have segmented your customers, you can start bidding on those who are most likely to cancel. For example, if a customer is on a lower-priced plan but has high usage, you can offer them a discount on a higher-priced plan. Or if a customer is close to their data limit, you can offer them an account upgrade with more data.
The key is to tailor your offerings to the needs of each individual client. By doing this, you are more likely to keep them as a customer and avoid losing them with cancellations.
The importance of having a cancellation flow for the customer success team 🐱‍👤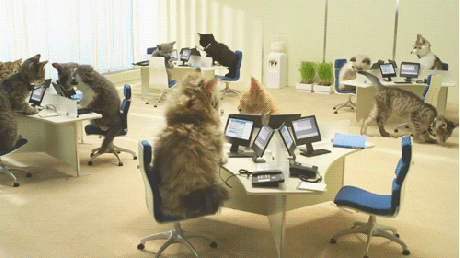 Cancellation flows are important for customer success because they help to prevent customers from leaving your product or service. Churn is when a customer cancels their subscription or service with a company. Once you stop losing customers, you can conclude that your customer success team is doing the right things.
There are many reasons why customers choose to cancel their service with a company. Maybe they're not happy with the product or service, or maybe they've found a better deal elsewhere. Whatever the reason, it's important to have a process that helps retain as many customers as possible.
A well-designed cancellation flow will give customers the option to provide feedback on why they're canceling, and then provide them with alternatives that can keep them from leaving. For example, if a customer cancels the product for not using it, you can define a discount by making a special offer for him. Later, your customer success team can take care of these users one-on-one so that they can tell your customers how they can benefit more from your product.
By offering alternatives and allowing customers to provide feedback, you can learn more about why they canceled and take steps to prevent future disruptions.
Let's continue with a real example: tulay 🚀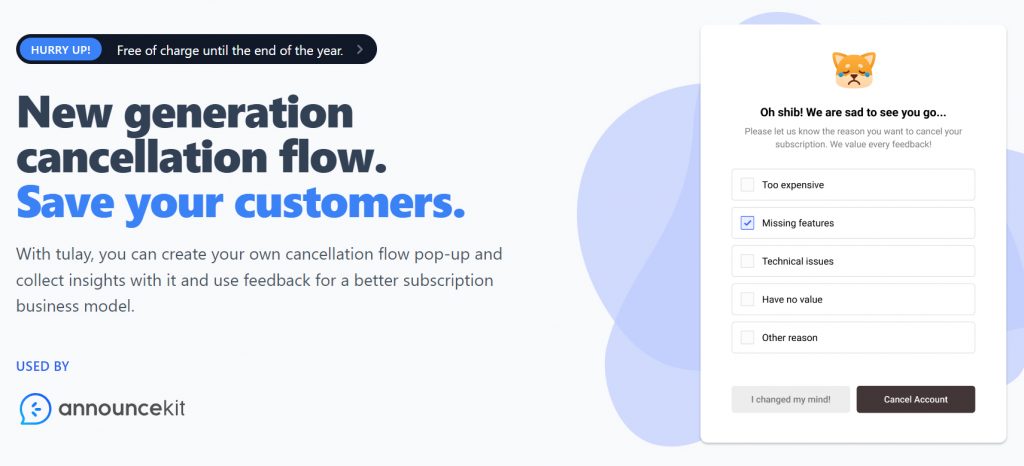 tulay is a tool that allows you to create unique revocation flows that do not require code and help you gather information through these revocation flows.
All you have to do is identify the cancellation reasons that best suit your business model and place this widget on your cancellation page. Then sit back and watch tulay gather insights for you.
You don't even want to imagine not having the cancellation flow. It will cost you a lot of money and time to reach out to customers one by one and ask why they are canceling. Instead of dealing with these, you can start trying tulay.
Your customized cancellation flow will be ready in minutes!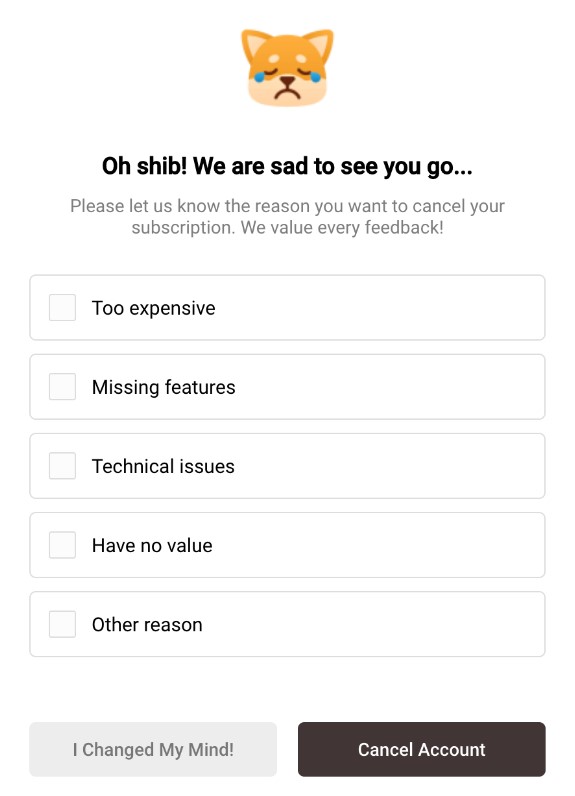 tulay is a practical SaaS product that does not require code. Within minutes, you can start collecting insights by adding your desired cancellation reasons to your flow. When determining the reasons for cancellation, be careful to choose reasons that are compatible with your product. Users may stop giving feedback when the reasons for cancellation are too many. For this reason, I recommend that you do not add too many cancellation reasons.
tulay provides identifies popular insights and focus points for your business! 👀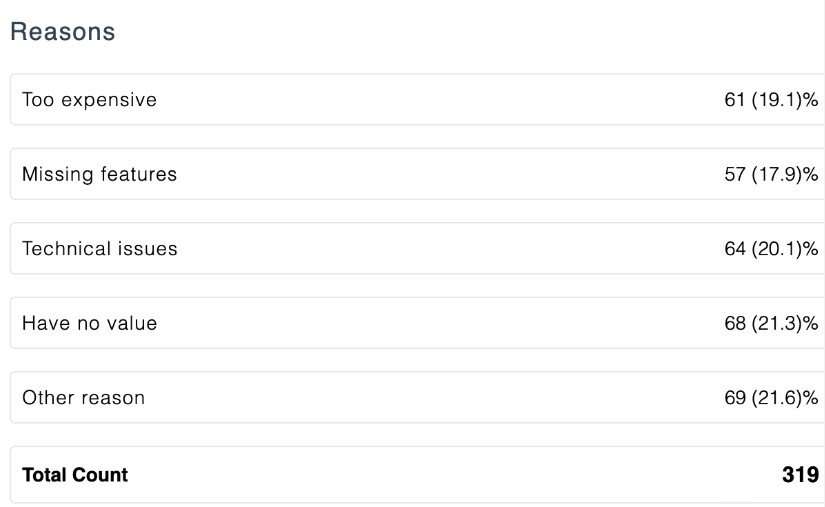 By collecting insights, you can decide what to focus on. It's time to act! You can try tulay for a better subscription business model. In addition, tulay is free until the end of the year.
The conclusion 🧠
Losing users is a big deal for any SaaS company these days when competition is so high. Even giant companies like Netflix are severely affected by the loss of users.
With cancellation flows, you cannot change your customers' cancellation ideas. But cancellation flows are a great way to understand what went wrong inside. Try using cancellation flows and identify areas for improvement to avoid the next churn of customers!
See you in the next articles, bye! 👋