"Speed and Freshness is the name of our business."
A tropical avocado doesn't start to ripen until picked from the tree, but the process happens rather quickly afterward. Once ripe, you have a narrow window of time before the fruit starts to spoil.
Tropical Fruit Box has a narrow window of time to announce its fruit updates, as well.
With AnnounceKit, they keep both their avocados fresh and customers updated!

Company
Tropical Fruit Box
Website
tropicalfruitbox.com
Headquarters
Miami, Florida
Industry
Food & Beverages
Features Used
Widgets
Standalone Feed
Email Notifications
Segmentation

Founded by Desiree Morales in Fall 2019, Tropical Fruit Box is the leading online tropical and exotic fruit seller in the United States. They grow and deliver tropical and exotic fruits from all over the world right to customers' doors, offices, or events.
"Because of my family's business, I was raised visiting farms in the Caribbean, Central, and South America. Our kitchen was always filled with fresh avocados, mangos, yuca, and other fruits. As I've traveled the country, I've learned just how hard it can be to find and enjoy fresh tropical produce; that's why I decided to start Tropical Fruit Box."
A true visionary in the tropical and exotic fresh fruit category, Desiree collaborates with farmers in Florida, South America, Central America, and the Caribbean bringing the freshest, high-quality tropical and exotic fruits and roots.
Tropical Fruit Box had to update their customers in a quick and timely manner
Unlike many businesses, tropical and exotic fruits are extremely perishable.
This means that when they get fresh tropical fruits to their distribution centers, their customers and shoppers need to know right away so that the fruits can be shipped as soon as humanly possible.
Tropical Fruit Box's main challenge was that they had to update their customers in a quick and timely manner every time they made a change to one of their fruit boxes, when fruits came in stock, and other timely general announcements.
They have a freshness guarantee, making it even more challenging because if any of their Tropifruiters gets a fruit box with bad fruit because of shipment delays or other issues outside of their control, this takes additional effort and cost, let alone the less than ideal experience for their customers that they strive to achieve every time.
This is one of the reasons it was imperative for Tropical Fruit to communicate rapidly when they get these fresh fruits.
They considered several solutions, including having a WordPress blog in a subdomain and feeding RSS to a widget reader, among many others. "But using the blog feature in our platform was cumbersome and not agile enough."
AnnounceKit has made it incredibly faster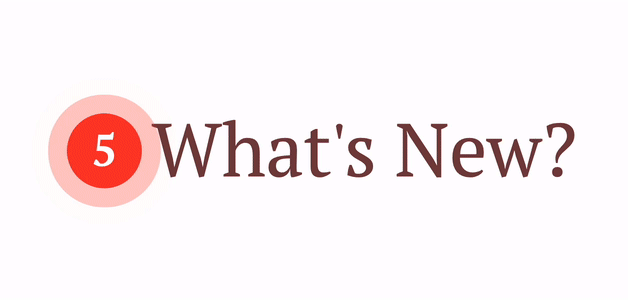 "After we tested AnnounceKit, we stopped searching."
AnnounceKit has made it easier and incredibly faster for them to make announcements when fruits come in the stock and when something related to the fruit boxes changes -"We love that we can quickly publish news and updates, and our Tropifruiters love it."
Tropical Fruit Box uses AnnounceKit in their What's New section as a front-end plugin. With this, they can create several updates in minutes, and their Tropifruiters can be aware of the updates when they visit the website or get email notifications.
AnnounceKit allows Tropical Fruit Box to save tons of time
Tropical Fruit Box noticed an increase in productivity the moment they started using AnnounceKit.
AnnounceKit removed the barriers of complicated formatting and cumbersome blog publishing and made the process of publishing the latest fruit boxes, new fruits available, and all other announcements a breeze.
AnnounceKit allows Tropical Fruit Box to save a ton of time from maintaining our high level of customer service and focusing on getting fresh tropical and exotic fruits to their customer's homes and businesses.
22% of their sales come directly as a referral from the AnnounceKit widget on their site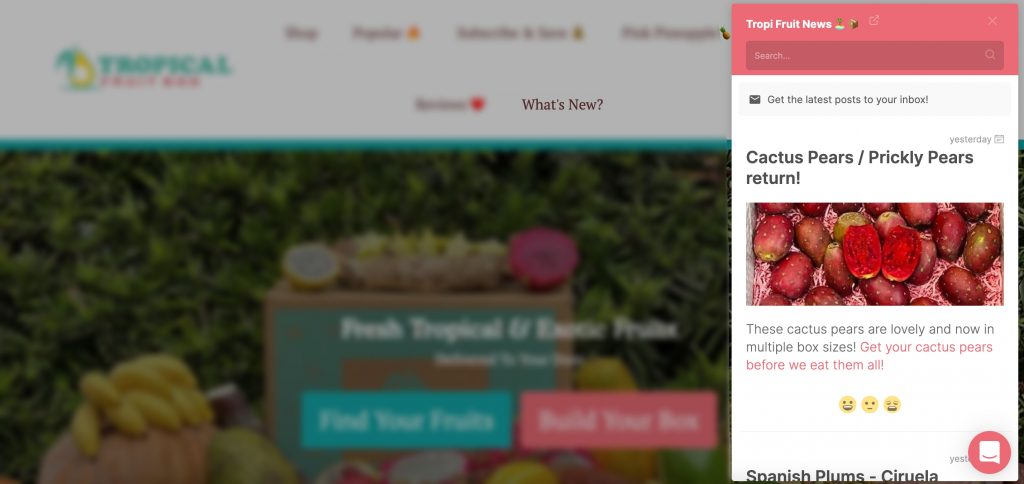 The most important metric is sales for Tropical Fruit Box.
22% of their sales come directly as a referral from the AnnounceKit widget on their site. They never thought the number would be this high but numbers don't lie.
The audience segmentation feature also gives them some really great insights they can apply to their brand strategy.
Message from Tropical Fruit Box team
When looking for solutions, go ahead and give the free demo a shot. See if it fits any or all aspects of your digital support needs.
AnnounceKit truly delivers top-notch customer support and is responsive and resourceful. They answer support tickets and chats in a timely manner and make sure the issues are resolved.
[Would you like to add anything?]
I can go on and on. We love AnnounceKit!
Inform your users about product updates and increase feature awareness