What is Grammarly?
Grammarly is a popular digital writing assistant that helps users improve their writing skills. The tool uses artificial intelligence to analyze text and provide suggestions for improving grammar, spelling, punctuation, style, and tone. It can be used on various platforms such as web browsers, Microsoft Word, and Google Docs.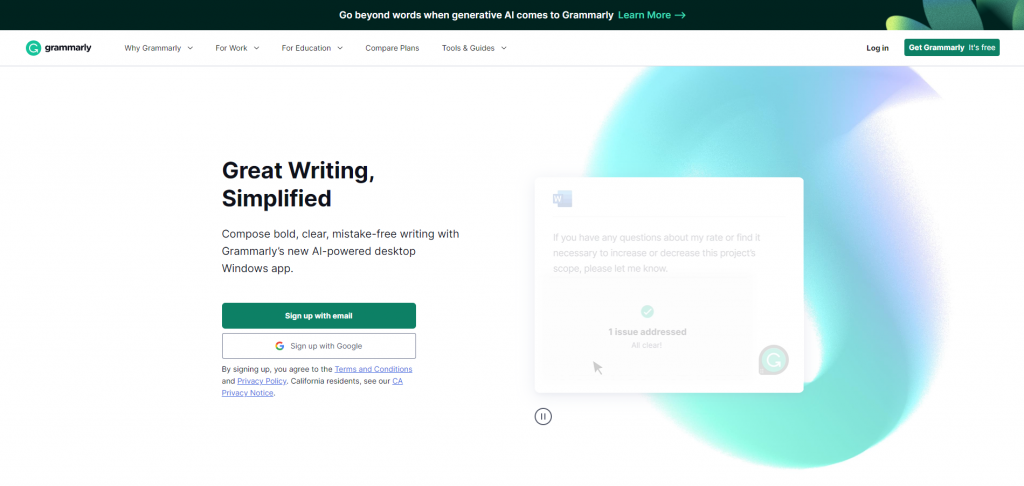 Grammarly offers both free and premium versions to its users. The free version provides basic grammar and spelling checks with limited vocabulary enhancement suggestions while the Premium version includes advanced features like plagiarism detection and genre-specific writing styles.
AnnounceKit has recently announced the Grammarly integration into its platform allowing users to access the premium version of Grammarly while creating announcements or news updates without leaving AnnounceKit's interface. This integration will help writers create error-free content quickly and easily without switching between applications.
How Does the Integration Work?
We're excited to announce a new feature for AnnounceKit – Grammarly integration, the spelling and grammar-checking tool. Now, you can use Grammarly to check all of your AnnounceKit posts for typos and grammar mistakes, free of charge. We know how important it is to have clear, accurate communication with your audience. That's why we're offering this integration to all of our plans. Whether you're just getting started with AnnounceKit or you're a longtime user, you can now make sure your posts are typo-free and look professional.
Benefits of Using Grammarly
With the Grammarly integration into AnnounceKit, users can now enjoy a range of benefits that come with using this popular writing tool. For starters, Grammarly helps to improve the quality and accuracy of product messaging. This is especially important for businesses that rely heavily on written communication such as emails, memos, reports and more.
Furthermore, Grammarly can help you to save time by identifying spelling errors and grammatical mistakes that would otherwise take much longer to detect. The tool also includes a plagiarism checker which can be useful for writers who need to ensure the originality of their work before publishing or submitting it.
Overall, the Grammarly integration into AnnounceKit offers users an easy way to enhance their writing skills while saving valuable time. Whether you are a student looking to improve your academic writing or a business professional trying to communicate more effectively with clients and colleagues, Grammarly is definitely worth considering as a helpful addition to your toolkit.
Impact on User Experience
With AnnounceKit's latest Grammarly integration, the user experience is set to become more seamless and efficient. The integration aims to enhance the quality of written content by providing users with real-time grammar and spelling suggestions. The feature is free of charge; therefore, it provides an excellent opportunity for users to improve their writing skills.
The impact on user experience will be significant as it will save time spent checking for grammatical errors manually. It will eliminate the need for third-party tools that may slow down the workflow. Additionally, users who might have been hesitant about sharing their content due to grammar mistakes can now share them confidently knowing that they have been thoroughly checked.
Overall, AnnounceKit's integration of Grammarly is a game-changer in terms of improving user experience. The feature shows that AnnounceKit continuously seeks ways to provide its customers with top-notch features at no extra cost ultimately resulting in an enhanced customer satisfaction rate.
What Else Does AnnounceKit Offer?
AnnounceKit offers more than just embeddable announcements. It also provides a range of analytics, including engagement metrics and customer feedback tools. Furthermore, it has an intuitive user interface that makes it easy to customize the look and feel of your announcements and track their success. Lastly, AnnounceKit integrates with a variety of other services, allowing you to seamlessly add content from different sources directly into your announcements.

Quick Setup, Easy to Use, and Many Integrations
Manage your product announcements from a single place and easily distribute them
across multiple channels.