Unveiling a new product or feature is like setting off fireworks of anticipation and enthusiasm. Product announcements are a great way to generate excitement and buzz around your new product. But if you want your announcement to be effective, you need to do it right.
But how do you write an announcement that's effective?
Isn't it just as simple as letting people know what you've done?
Not quite.
In this blog post, we will cover everything from choosing the right platform to writing a compelling headline and crafting a persuasive call to action. Whether you're just starting out or you're a seasoned pro, our tips will help you make your next product announcement a hit!
Table of Contents

Quick Setup, Easy to Use, and Many Integrations
Manage your product announcements from a single place and easily distribute them
across multiple channels.
Why Are Product Announcements Important?
Product announcements are primary manners of keeping stakeholders updated about important information such as product updates, new features, and so on.
Announcing a new product is a crucial step in any product launch. It is not only a way to keep the user informed but also helps you generate new leads. Your accomplishments don't mean anything unless people know and talk about them. For this reason, writing an announcement is a highly crucial task.
But for some, writing a product update isn't a cakewalk! Just announcing what's new isn't enough to do the job by itself.
And how you convey your product update announcement is essential.
You can fine-tune your new product announcement in specific ways to drive more value. This article will show you the top 6 actionable tips that can help you and your team write better feature announcements.
How To Write an Announcement: More Than Putting Pen to Paper
Did your mom ever tell you…
"If you're going to do something, then do it right the first time."
Sidenote that I think is hilarious:
I'm not the best with quotes and I looked up this quote to make sure I had it right and Google came back with an even better quote.
"If you're going to do something, do it well. And leave something witchy"
You know who said that? Charles Manson. Yep, the cult-leader. I'm sure you didn't think that, when reading an article on how to make announcements, that you'd have to channel your inner Charles Manson.
Anyway…
The point that I was trying to make is that a lot of folks, when writing announcements, immediately put pen to paper and just write something as quickly as possible.
Making announcements is much more than that, as you'll see. You need to deeply understand your audience. Do they even care about the announcement you're trying to make and is it even worth making it? If so, what parts of the announcement do they care about more than others and how can you highlight those?
Keep reading to see 7 tips.
7 Tips on How To Make an Announcement That Is Interesting & Reader Friendly
#1: Segment Your Audience
Before writing interesting product announcements, it is essential to consider your audience.
Your website or web application may be catering to different audiences. You shouldn't be sending updates to everyone about every new feature. Why?
Think about it if Amazon starts displaying notifications and updates around kitchenware to a set of solely interested consumers in buying sportswear. They are going to start ignoring notifications from Amazon after a while.
Similarly, your product might have a varied catalog, and understanding your audience will help you determine the right set of users for which your new product announcement revolves.
You should divide your audience into small groups based on their information and do audience profiling and segmentation. User segmentation will allow you to write interesting announcements. Audience segmentation analysis is a great point to start!
You can pitch your product announcements accordingly once you segregate your product audience based on your interests. Tailor-made product announcements based on the right audience will lead to better engagement over your product announcements.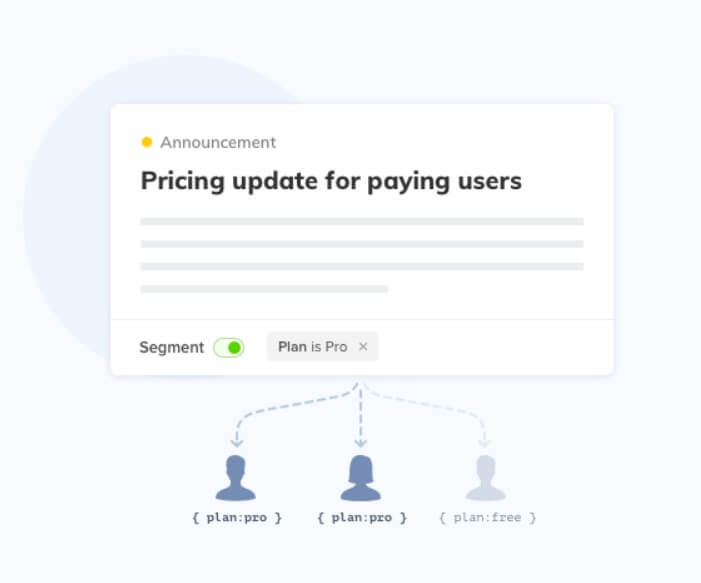 Remember, being interesting is not an objective thing, and there is no right and wrong way to go about it — the best thing you can do is know your audience and target that audience.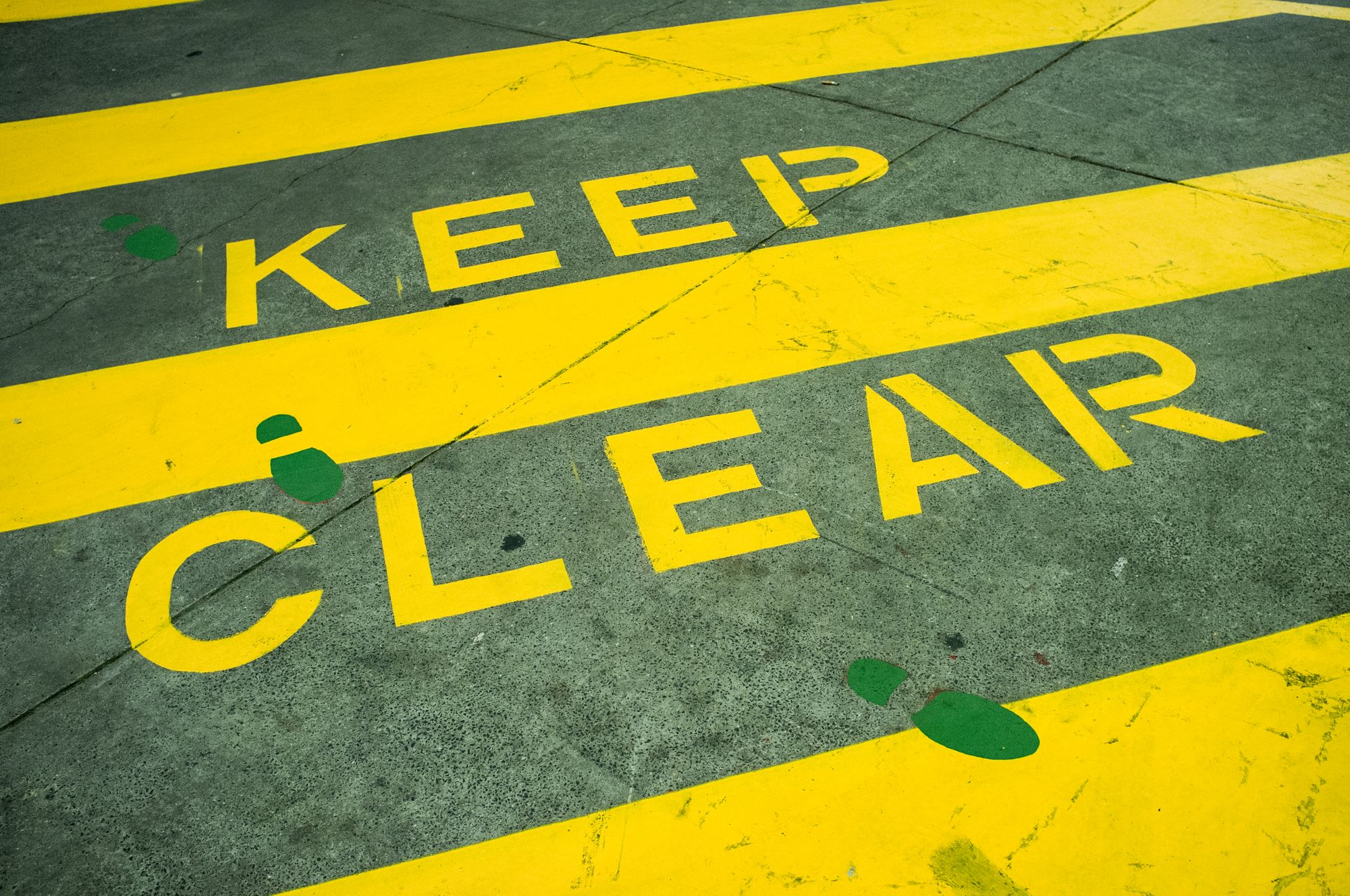 #2: Be Clear and Concise
Keep your messages brief and purposeful. Explain the core information and message you want to deliver to your audience. In other words, go straight to the point! Why is this so important?
An average reader will spend only 15 seconds on a web page. Meaning the moment you have your user's attention over the product announcement, the 15-second countdown begins. If you waste this time narrating something evident to them, the majority of users will bounce away from the new feature announcement.
Make sure you present a concise introduction that builds up the user's interest and compels them to read more. Be direct and straightforward. "We are up with a new third-party integration to fast-track your workflows."
Note: Don't be "salesy" with your intro. Build up the reader's interest first. Once they are inclined to read the product update further and find value in it, the sale may automatically kick in.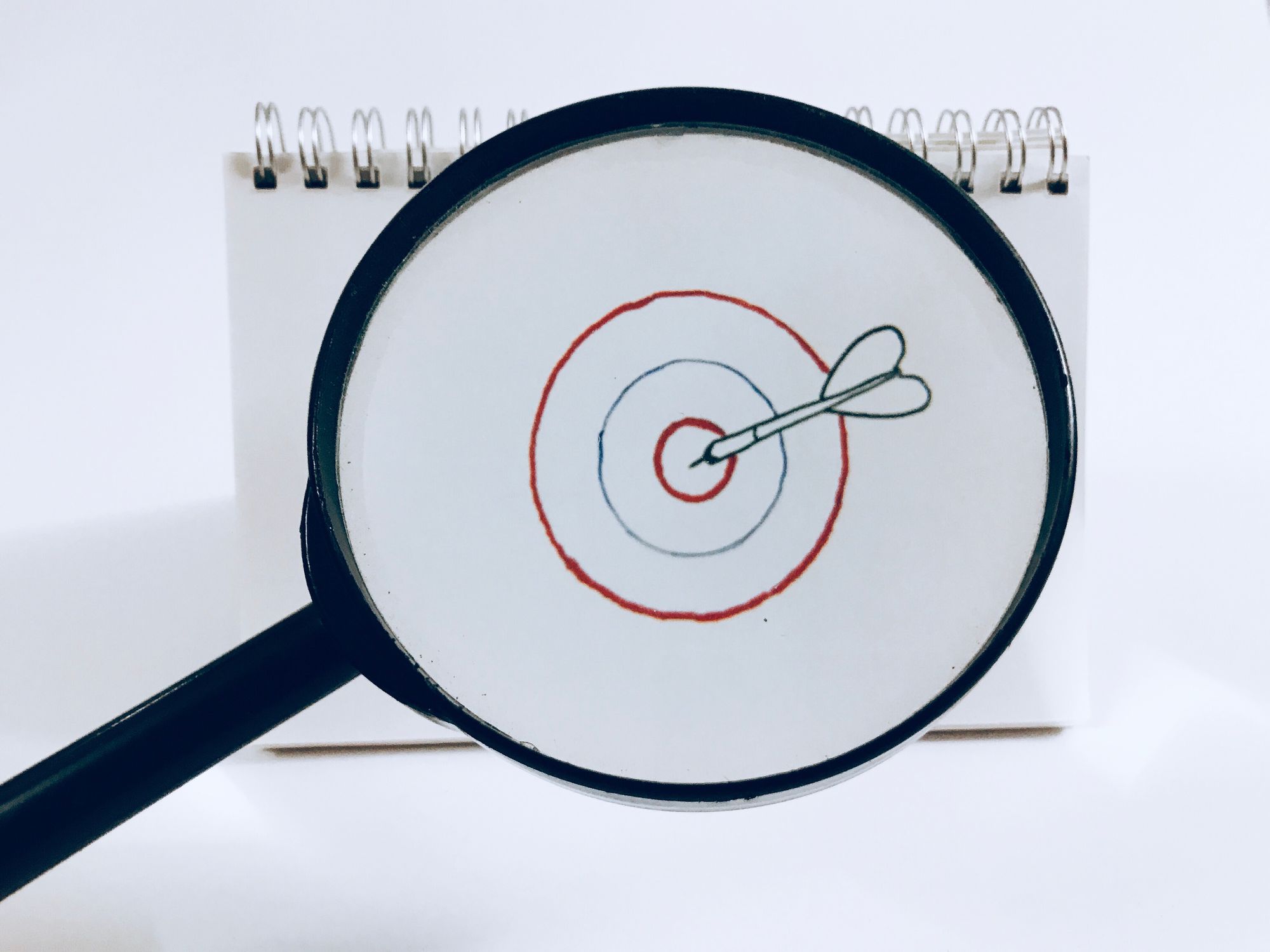 #3: Find the Best Tone of Voice for Your Audience
After you divide your audience into different groups, try to understand what tone of voice is right for them. Some people might say, "Speak out of both sides of your mouth!"
Consider the different ways to speak to your target audience!
Here are some tone of voice types your audience might enjoy most:
Cheerful
Conservative
Casual
Conversational
Additionally, If you are making the announcement for your brand, try to keep your brand's voice as much as possible.
#4: Highlight the Most Important Details When Making an Announcement
Use bold letters for the most important keywords.
Even though it is a straightforward method, it is one of the most important details to get the attention of the audience when you're writing an announcement.
Additionally, consider trying to take advantage of emojis.
#5: Use Different Writing Structures
Break your content into shorter paragraphs using headings to make your announcement easier to read. It may also be helpful to break your key points into bullet points and number lists.
When you use this type of writing structure, you're making those concise, to-the-point details that we mention earlier easier to read.
Headers and short paragraphs make the content easy for readers to skim.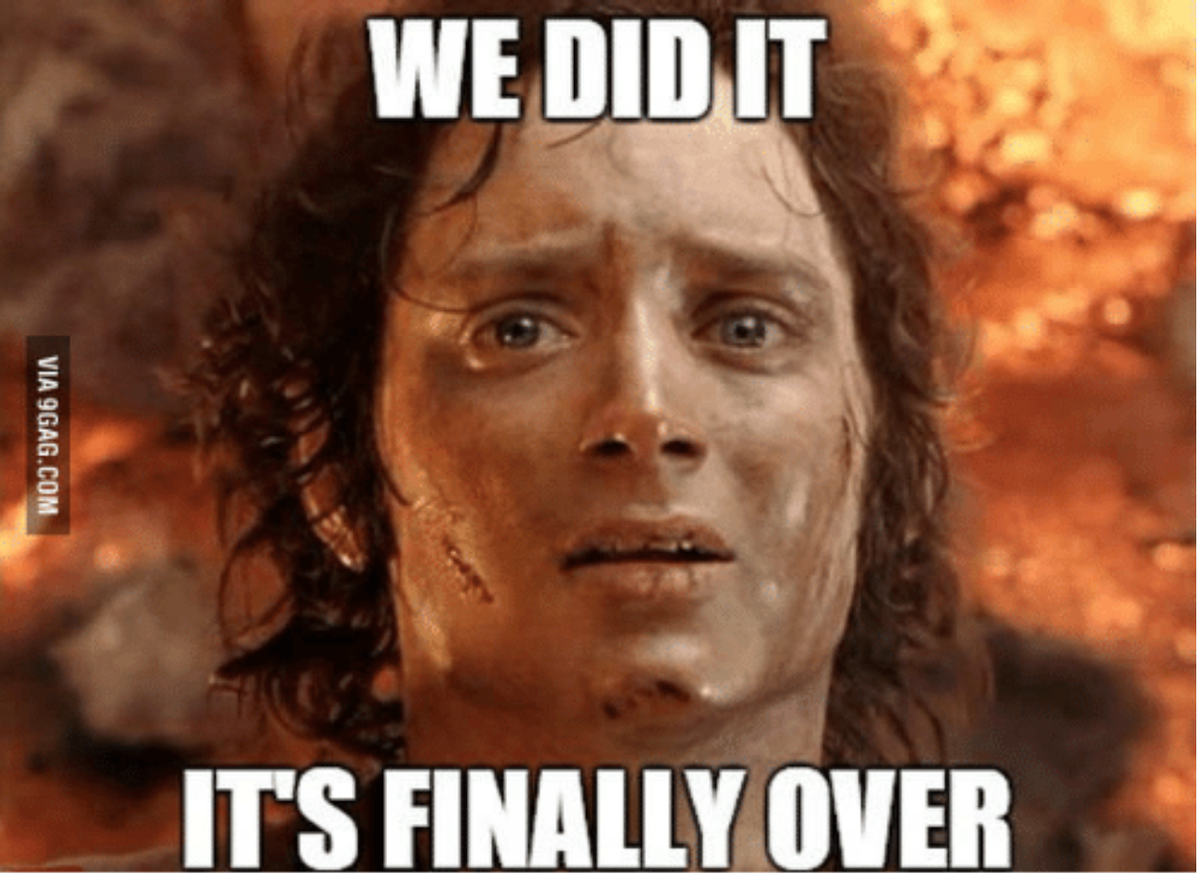 #6: Use Trending Memes and GIFs
MEMEs and GIFs are alternative ways of communicating nowadays. People find Memes engaging and relatable. MEMEs will help you to get your audience`s interest. Remember to pay attention to your target audience and avoid MEMEs that might be offensive.
Remember the 15-second rule? Rich media is another way to better user engagement, but that's not all. By incorporating images, video, GIFs, etc., you're able to showcase your product UI. Your customers can quickly see where & how the new features are fitting your existing product.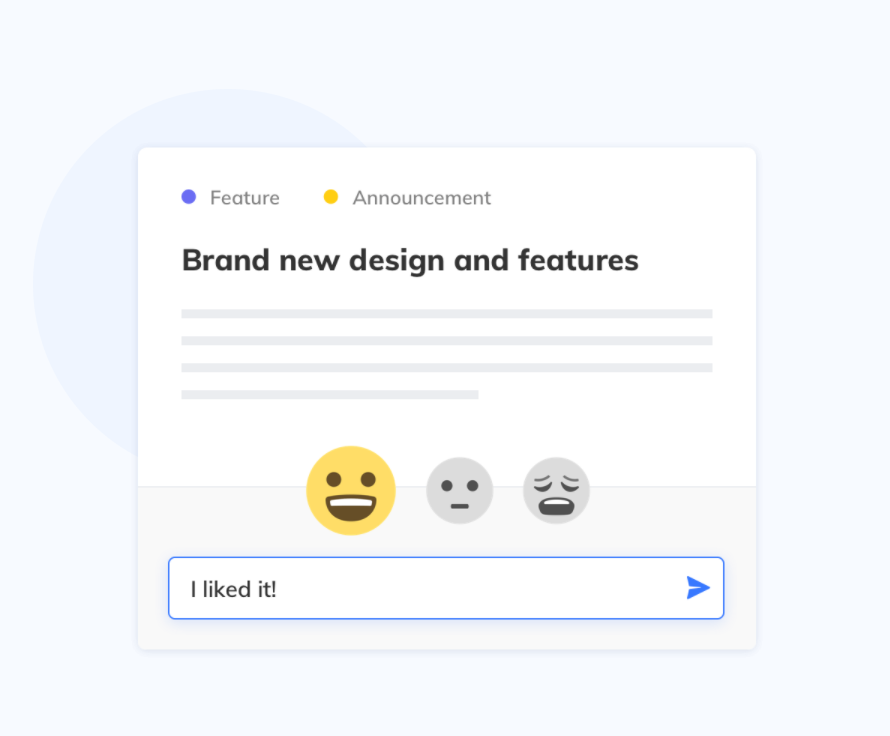 #7: Collect and Evaluate User Feedback
After you publish your announcement to your audience, never forget to ask for feedback.
Every product-first company values the importance of customer feedback. Encourage your users to share their feedback about the new product announcement. Ask your users opinions in an effective way to hellp you understand your target audience better.
Even a note as simple as this can help you get the feedback you're looking for:
"We hope you liked our recent additions to the platform. Let us know in the comments what you liked and where you feel we could have been better. Your feedback is invaluable to us."
AnnounceKit: The Tool To Help Your Company Write Announcements
By taking the time to craft an effective announcement strategy, businesses can effectively introduce their new products to the public and maximize their success.
AnnounceKit is a powerful customer experience management and release note tool.
We help you to make announcements efficiently. Collect and analyze customer feedback to help you grow your business. Ready to use this excellent service?
With AnnounceKit's robust features and user-friendly interface, you'll streamline your communication and captivate your audience effortlessly.
Embrace the power of AnnounceKit today and watch your company's announcements shine.