Customer feedback is important, but many business owners and managers don't fully understand how crucial collecting quick and effective user feedback really is.
If you ask business leaders how they improve the customer experience with feedback, what methods they use to collect it, or seek an explanation of their overall strategy, you may be met with blank stares or mumbled answers about sending out an email survey every once in a while.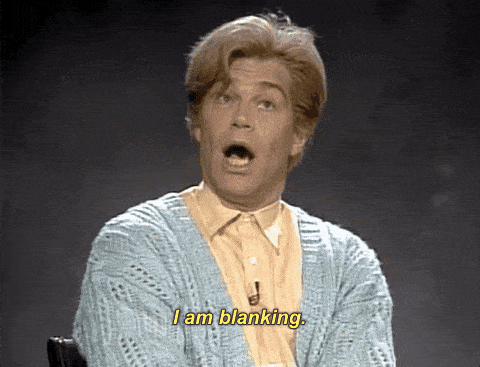 It's important for business owners to rethink the situation and realize how vital user feedback collection really is.
But what are the best ways to go about doing it? How can you incentivize customers to engage and give you the information you need?
In this article, we'll talk about why collecting user feedback is so important, the most effective methods of doing it, and how AnnounceKit makes collection easier than ever.
Table of Contents
What Is the Purpose of Collecting User Feedback?
Collecting user feedback — the information, input, and insights that your customers share about their experiences with your company — is crucial because it's a guiding resource for growth. You should frequently try to find out what you're getting right (and perhaps even more importantly, getting wrong) in the eyes of users.
When businesses collect user feedback and examine the good and bad, they can find trends that make it easier to improve the customer experience over time and keep their community front and center.
Essentially, collecting user feedback is a great way to take a step back and see the product or service with fresh eyes.
It is all about customers. Studies have shown that 84% of companies working to improve their customer experience report an increase in revenue.
Everyone agrees that customer feedback is essential to improve customer experience. However, many companies just don't know the best way to collect and analyze feedback.
So let's start by addressing how, when, and where you should collect feedback from users.
The Essentials of Asking for Customer Feedback
As you improve your product and features to please a larger pool of customers, there will come a point where your feedback methods will need to grow as well.
At this pivotal moment, you may ask yourself questions like:
"How can I ask for feedback efficiently without annoying my customers?"
Or
"What different methods can I use to improve my feedback strategy?"
You can start by identifying these three things:
How to ask – First, you need to prepare the right questions by identifying the best people to ask for feedback. After that, you can focus on keeping it short and simple. Ask for honesty — remember, you don't want to focus on collecting positive feedback. Instead, you should focus on collecting valuable feedback.

When to ask – You need to identify the right time to make sure you're not bothering your customers too often. 

For example, you can send surveys about the whole product once or twice a year to the most loyal customers. Or, you can basically allow any customer to give feedback any time they want with a user feedback collection tool embedded in your website.

Where to ask – As you identify who you will ask for feedback, you can choose the right channel. Is social media the best place for you to request feedback? What about email surveys or live chats? Later, we'll give you some great tips about where to collect user feedback on your website.
AnnounceKit has many features that will be helpful to your business, including components that will help you collect user feedback. Contact us today to find out how to get started with our app.

Quick Setup, Easy to Use, and Many Integrations
Manage your product announcements from a single place and easily distribute them
across multiple channels.
What Motivates Customers To Leave You Feedback?
In general, users are motivated to provide businesses with unsolicited feedback if they have extreme experience with your product, meaning they really loved it or really hated it.
This is probably why you receive either "your product is great" or "it is absolutely awful" messages.
If, as a consumer, your experience with a product was just average, it's not likely that you're going to leave feedback. his behavior represents the majority of your users, who probably think that your product is just fine.
They won't tell you that, but listening to their opinion and feedback is still very useful for you to improve your UX strategy.
Let's look at some creative ways to break the wall between you and your users.
8 Effective Methods of User Feedback Collection
#1: Using NPS Surveys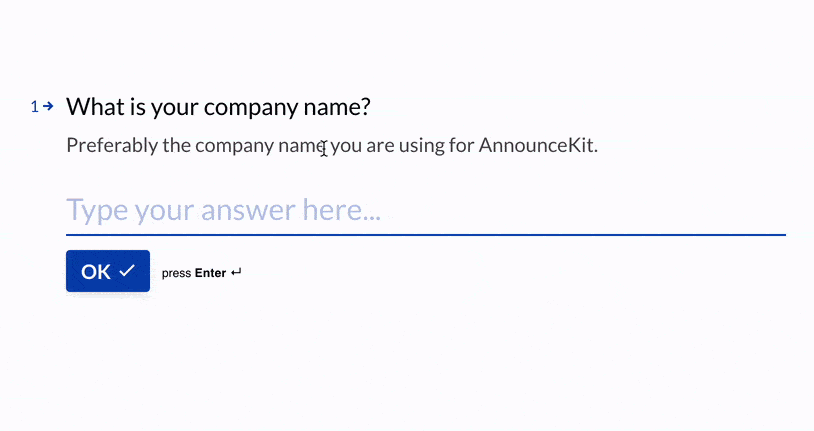 Traditionally, using Net Promoter Score (NPS) surveys is the most efficient way to ask for feedback.
Why NPS?
Because NPS questions provide meaningful feedback, not just to understand how your customers feel about your product but also how you can improve their experience.
NPS surveys give you valuable information on what your customers really think about your product, including:
Opinions
Suggestions
Pain points
Etc.
An NPS survey is the best option to use for long-term customers.
#2: Using Social Media Channels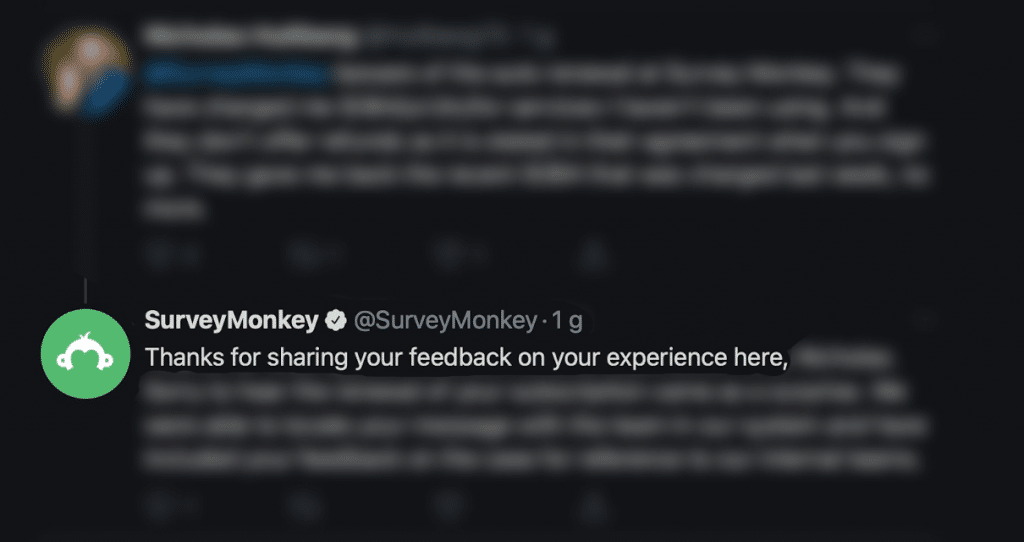 Recently, we have seen many big companies developing conversations with their customers on X/Twitter as a way of supporting and collecting feedback from users. Every time a customer tweets or posts something about them, they instantly answer back.
Social media has become a perfect environment to collect feedback.
Your overall existence on social media can provide a wealth of information related to your customers and their opinions. Using social media to communicate is an efficient way to show that you care for their feedback and want to improve their experience with your product.
#3: Using Live Chat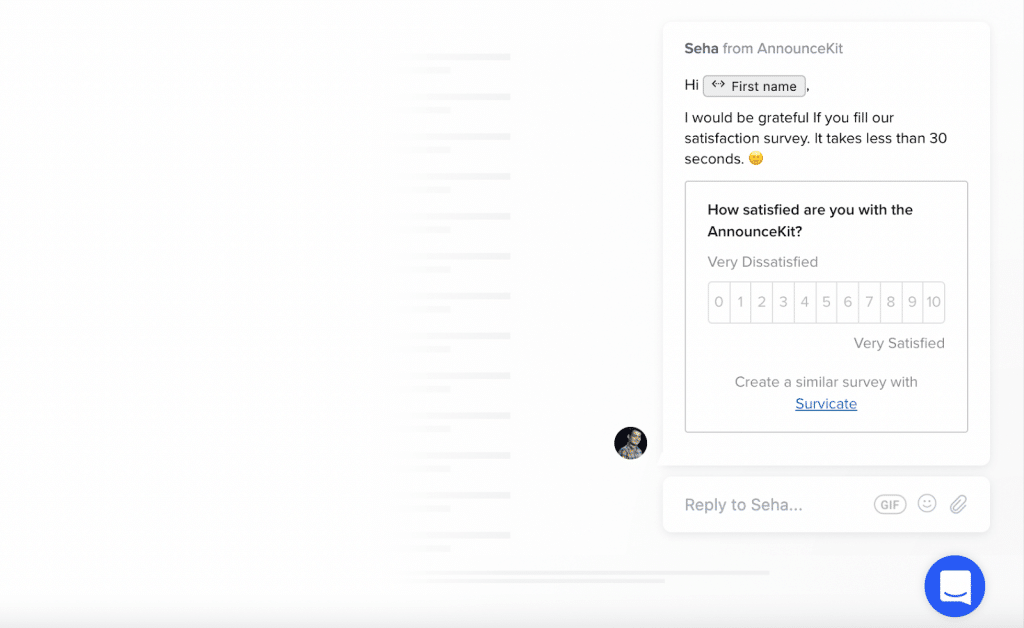 Live chat support has many benefits, one of which is the ability to ask for feedback.
When your customers face a problem with your product, they probably won't even bother giving constructive feedback. They are likely to just close the tab and never come back.
But with live chat support, you can identify these customers and catch them before it's too late.
After having a conversation and solving your customer's problem, you can send them short satisfaction surveys or basically ask for a few words describing their experience. This will not only shows that you care for their feedback but that you are willing to improve their interaction with your product.
#4: Offering Survey Rewards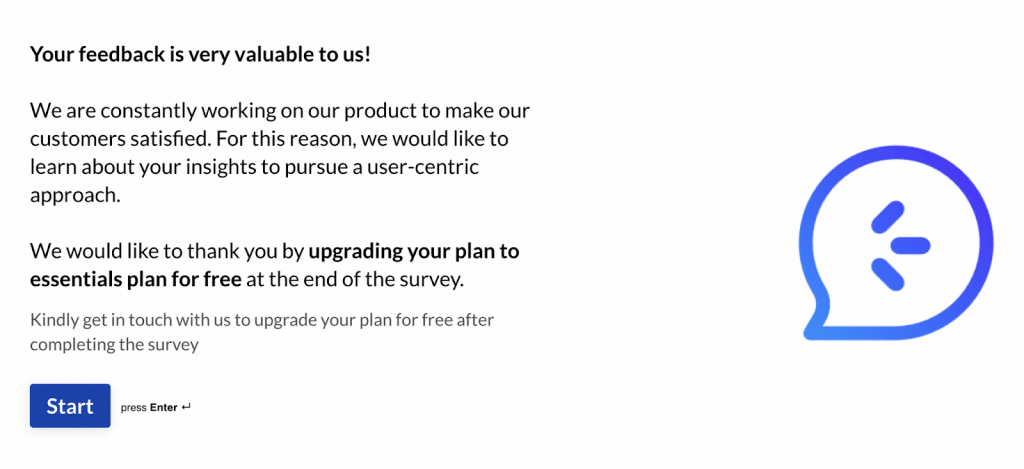 Who doesn't like rewards?
Receiving a reward in return for completing a survey will probably get your customer's attention. That reward is an incentive to get them to take the survey.
The most important thing about offering survey rewards is to decide on the right reward. You don't want just anyone to fill out your survey; you want your loyal customers to respond with valuable feedback. Therefore, offer rewards that will improve the customer experience with your product.
#5: Using Feedback Tools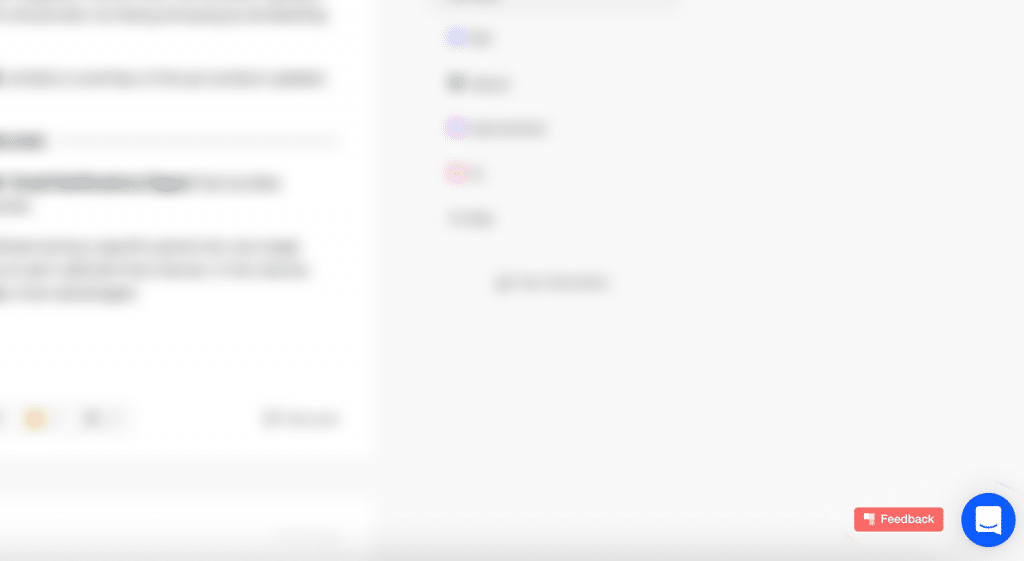 As in the case of live chat support, using feedback tools is also one of the most traditional but efficient methods to ask for feedback.
Place your feedback tool on your page where it is familiar and discoverable — no need to hide the feedback option in the depths of your page. If you care about your customers' feedback, make it visible and easy for them to interact with.
#6: Using Public Feedback Discussion Pages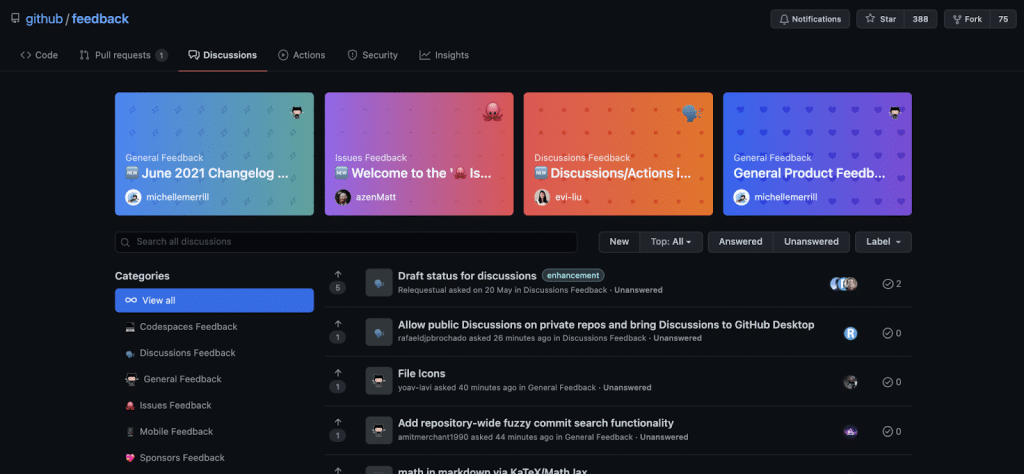 Public feedback discussion pages provide your customers and users with an environment where they can freely express themselves, as seen in this example by GitHub. This platform allows your customers to discuss or comment on anything they want.
What's perfect about these pages is that you don't need to do anything; these pages are run by other companies and users seek them out to share their experiences.
When you utilize pages like these, Wyour customers enjoy their freedom and you can improve their user experience with little data collection effort.
#7: Using Tools With Instant Feedback Features

X/Twitter, Facebook, Instagram — they all have it. Why shouldn't you?
Instant feedback with emojis works brilliantly after you post something new, announce product updates, or share company news.
Tools like AnnounceKit allow your customers to respond by clicking on an emoji or sending a comment directly. This way, you show that you care and want their feedback for each of your updates.
#8: Collecting User Feedback by Email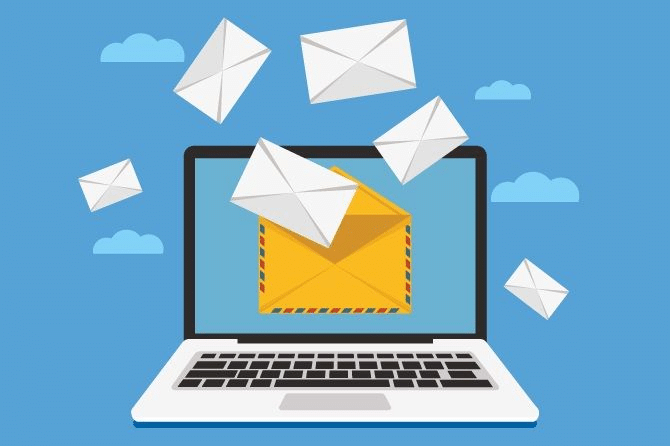 Collecting customer feedback via e-mail is a common method used by companies today.
First, the characteristics of the targeted customer base are determined for personalized emails. Later, if the company is curious about the opinions of its customers, it can prepare pinpoint questions or certain templates to send.
To see some examples of how this works, check our post on testimonial request templates.
The best way to get to know your user base is to stay in continuous contact with them. Email feedback will allow you to get to know your new customers and follow your existing customers' changing demands.
Combine Collection of User Feedback and Real-Time Automation With the AnnounceKit App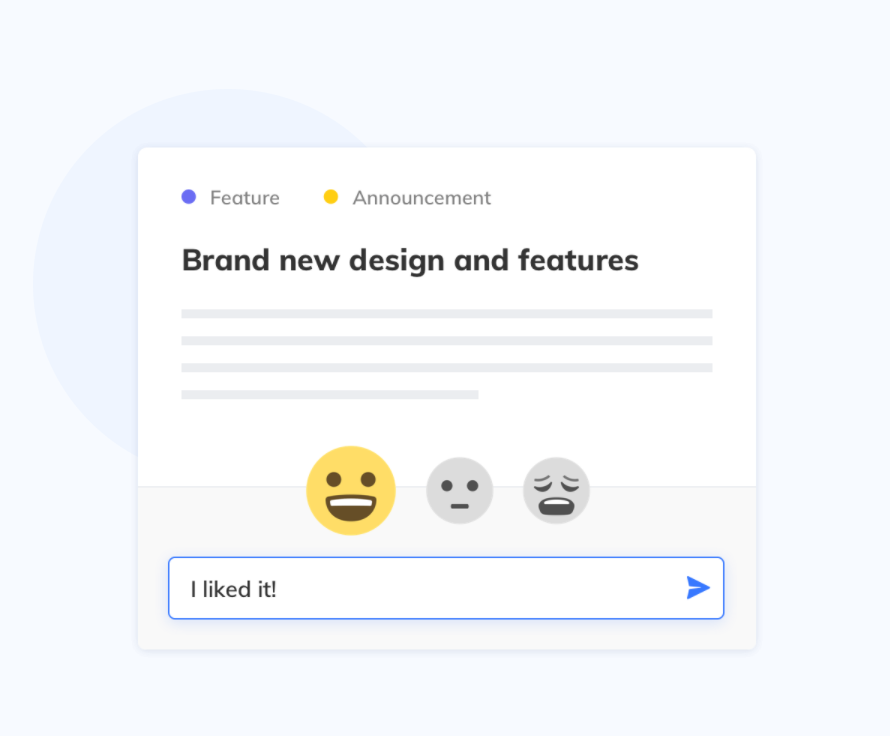 With AnnounceKit, you can collect user feedback directly and in real time.
The purpose of AnnounceKit is to correctly perceive customer needs and demands and determine marketing strategies according to feedback. People who receive one-on-one service are the factors helping move your business in the right direction.
AnnounceKit is a powerful customer experience management tool. We collect and analyze customer feedback to help you grow your business.
Ready to experience the best way to collect user feedback? Register for free today.

Quick Setup, Easy to Use, and Many Integrations
Manage your product announcements from a single place and easily distribute them
across multiple channels.