A public roadmap is our today's blog subject. Of course, we will start with daily examples because I like this method. I have a vacation plan for a long time. I'm going to jump in my car and drive to different cities. What will make this holiday different is that I will stay in each city. Reach a city – wander around that city – stay in that city for the night and set off again in the morning to visit a new city.
The plan is quite simple, but I have limited time to implement this holiday plan. I want to visit as many cities as possible on my annual leave. What do you think I need to do to realize my dream vacation?
Of course, I must have a roadmap! I should list the cities I want to visit according to their proximity. I must determine the hotels I will stay in each town in advance and make reservations. I have to set a budget for each city and not go beyond it. Moreover, if I want to see more cities, some days I have to visit 2 cities. Which means I have to plan my time as well.
As you can see, I tried to plan every single detail. From the outside, I have a road map, and by following this road map, I will be able to realize my dream vacation exactly as I want it.
I tried to explain the importance of having a public roadmap with daily life examples. What does a public roadmap mean for the technology world? "If you can't describe what you are doing as a process, you don't know what you're doing." This quote can give you an idea of why roadmaps matter.

Public roadmaps provide a high-level view of the key milestones of a project. This allows you to quickly measure progress and clarify what the team will work towards in the short-term and the long term.
What is a Public Roadmap?
A public roadmap is an action plan that guides their target for the relevant company or SaaS tool. It can be defined as a digital document showing the progress and results achieved by an organization in a given time period. Important milestones are set to reach a goal and progress can be tracked through these points.
A public roadmap is a digital document that defines an organization's overall goals and strategies, including its strategic priorities, key milestones, expected results, and tactics. It helps managers manage their organizations effectively by giving direction to employees. This helps them know where they are going and how to get there. It also helps them anticipate potential problems before they arise.
Should I have public roadmap?
A public roadmap is a great way to keep track of what a company is working on, to identify progress being made, and whether work aligns with the overall strategy and vision. Thanks to the public roadmap, problems can be easily detected at certain stages and the works can be revised.
What is the main purpose of having a public roadmap?
Roadmaps allow everyone on the team to act as one body. Different disciplines and units adopt a common understanding and continue to work in line with the focused target. The main purpose is to follow the progress and share the same understanding.
Having a public roadmap that everyone can follow makes it easy to quickly update tasks and focus on the new version of the project when critical changes need to be made while projects are in progress in a SaaS product.
Public roadmap tools also contribute positively to the evaluation of the performance of projects. With the overview, project stakeholders can easily monitor their performance.
The most important point is to include milestones for progress instead of unnecessarily long information on the roadmap.
Although roadmaps basically fulfill the same function, roadmaps are divided into two in terms of some features. There are two kinds of roadmaps; project roadmaps and product roadmaps. Let's examine the differences between these.
Project Roadmap vs. Product Roadmap: Why do we have two different concepts?
Project Roadmaps:
A project roadmap is a plan for how to get from point A to point B.
It has a specific start and end date. It also has milestones that define how many tasks have been completed by the due date. When all stages are completed, the project is completed.
The success of a project is measured by how well the objectives are achieved. The project roadmap is also very important for tracking this progress.
Another contribution of the project roadmap is to allow tasks to be listed and prioritized in order of time and importance.
Product Roadmaps:
Unlike project roadmaps, product roadmaps are open-ended. Because development continues all the time.
Details on the roadmap are constantly updated. You should update the roadmap as feedback is gathered, as other products in the industry add new features, or as you develop new features yourself.
Prioritization for tasks may vary depending on the importance of features to be developed or their potential for user adoption.
Success can be measured by how close the product is to the target point.
Also, if you're wondering what you can do about product management, you can check out this article!
What are the positive contributions of having a Public Roadmap?
Public roadmap tools ensure that all team members in a project or SaaS product move along the targeted path in the same line, in terms of goals and time. In addition, teams can be directed in a new direction very quickly and content can be easily updated when a change in focus is required.

If you are creating a roadmap for the first time, this may be a bit of a challenge for you. Don't forget to check out this article to create an effective roadmap!
Why did we develop the Roadmap feature in AnnounceKit?
At AnnounceKit, we decide what features we can improve by following the expectations of our users and their users with different metrics.
Thanks to AnnounceKit, our users can share their completed developments or important news with their users. Thanks to the Roadmap feature, we are expanding the product cycle a little more and we can share the details of the planned and currently working projects with the users.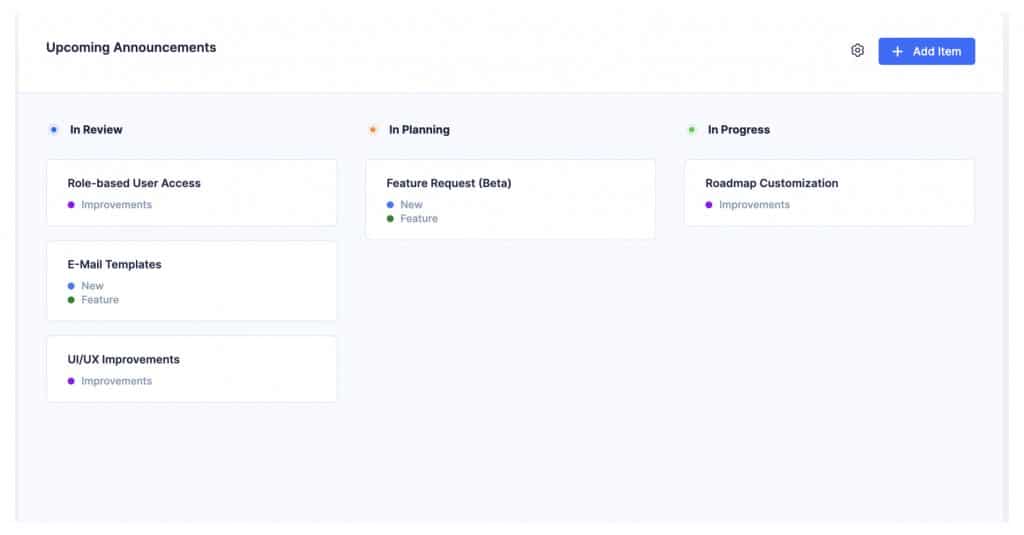 You can think of it this way. Thanks to the roadmap, we are able to share new features that are planned and worked on with our users.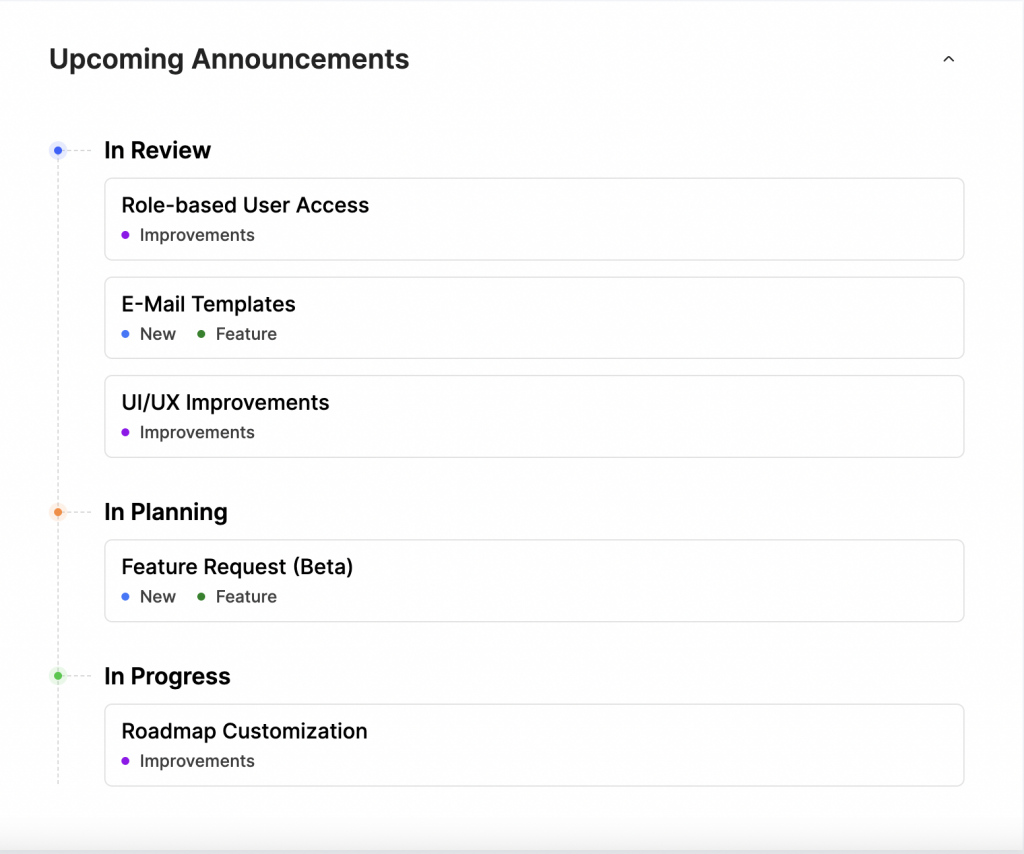 AnnounceKit users will be able to share their project details with their users on the roadmap, just as we shared them.
In fact, the roadmap can also be called as a visual representation of all works.
Final Shot:
Public roadmaps are a critical way for companies to not only inform their team members but also engage them.
As a result, a roadmap can ensure that core business goals and progress are kept in the same vision.
By creating a roadmap and sharing it with project members, companies can avoid miscommunication and increase overall project success rates, giving shared understanding every step of the way.