Slack is an application that helps teams at companies of all sizes to communicate and do their work in a more transparent and productive manner.
Slack has been growing at incredible speed reaching the sky of the SaaS world. Valued more than $7 billion it is certainly a role model for other industry players. 10 million people use their software around the world. It is true that their collaborative platform is the greatest in the market, but before all these millions of customers turned their hands to Slack, its team have come a long way, implemented various marketing strategies to make it great.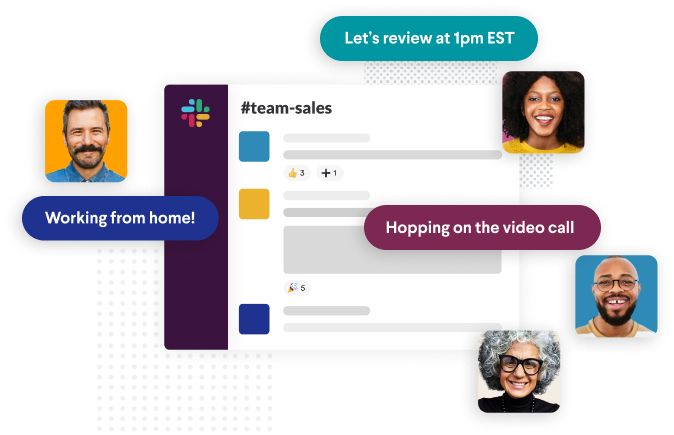 We want to bring your attention to hidden Slack's actions, that people often dismiss. But in fact, those small actions play a vital role in building Slack's brand.
"Look, your goal is not to get someone to buy from us — It's to get them to recommend us, The voice of the customer has never been more powerful." – Slack CMO Bill Macaitis.
The platform is a rare example of a SaaS company that was able to build its own brand. Instead, they focused on spreading goodwill like butter on a hot toast. Notifying users about product updates and company news is one of the hidden examples.
We will discover together how Slack successfully managed to engage with customers, keep them updated to recent news and bring their attention back to a feature that for some reason was neglected.
Slack incorporates different mediums to announce product updates and their strategies can be easily implemented by you. If you are confused about finding the right distribution channel for your new feature updates, keep reading.
In short (from the most common to the least) Slack uses release notes, updates page, in-app notifications, social media, blog/blog page, and have some unique techniques. What may seem like a common list of channels (that pretty much includes every possibility), but it's the ability to use every channel to its highest potential makes Slack's team efforts outstanding.
Let's end this long introduction and move to actual examples.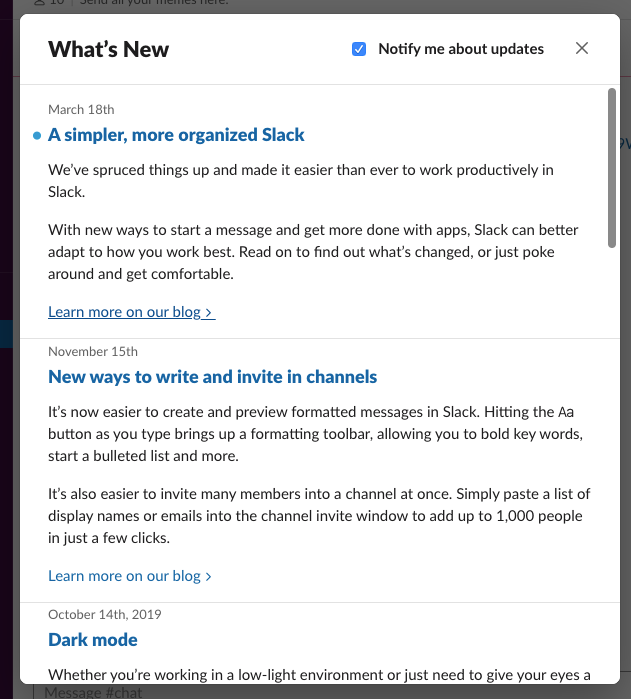 Do you pay attention to What's new aka release notes section before hitting the "update" button? If not, maybe you should. Because Slack prepares hilarious app release notes, that will definitely make your day.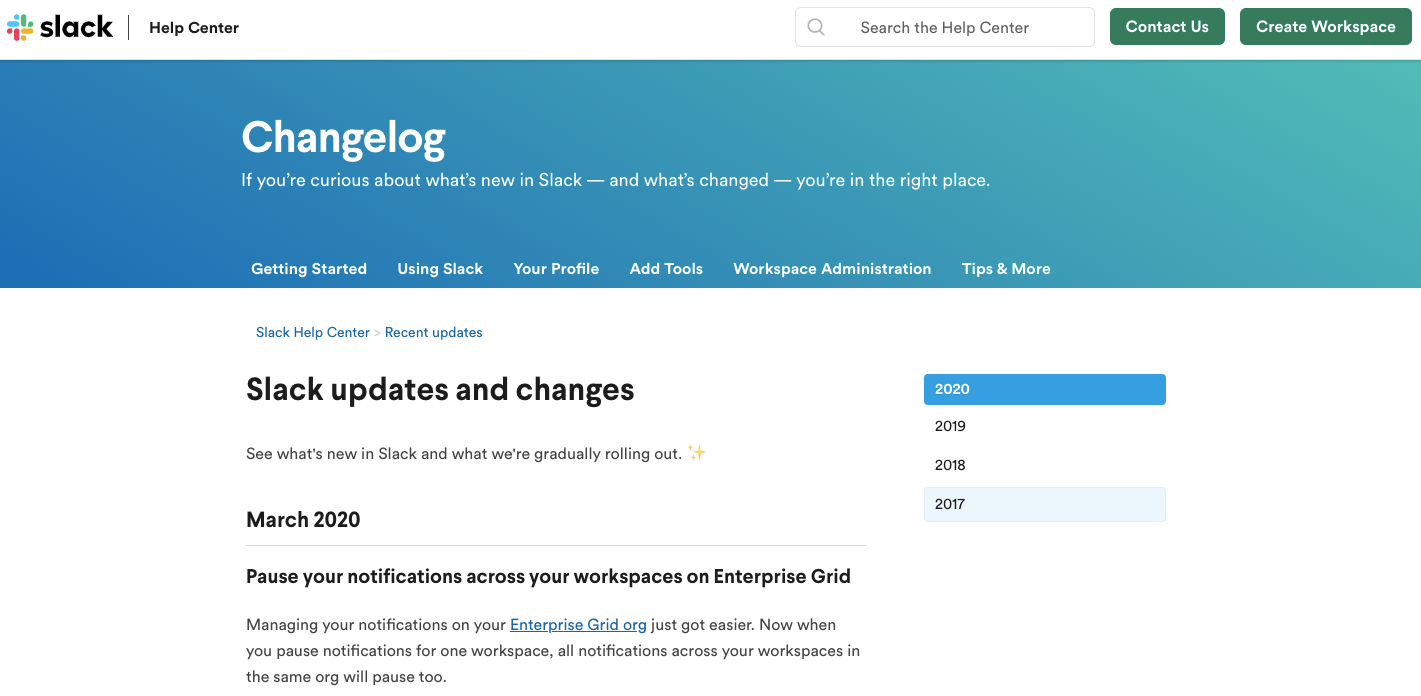 All updates, bug fixes, and new features are documented on separate updates page in easy to follow format. A simple solution that a lot of companies use. But instead of saying and stating what has been changed, Slack also explains how the change in software will affect your user experience. With screenshots, short videos and GIFs everyone can understand that Slack is doing their best to improve the product.
3. In-app announcements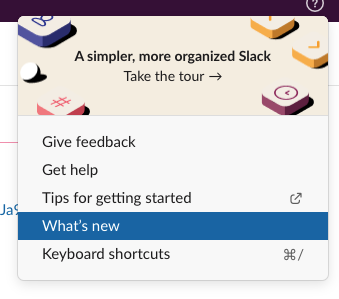 Slack's in-app notification is probably one of the least annoying, non-disturbing new updates notification icons. Designed in form of a present, you truly feel like they've made it for you – a new present from Slack.
4. Social media
To this current day, Slack's following base is the following:
Instagram: 17.1K followers
Facebook: 114,6K followers
LinkedIn: 134,5K followers
Twitter: 389K followers
Slack founder and CEO Stewart Butterfield said: "We bet heavily on Twitter. Even if someone is incredibly enthusiastic about a product, literal word-of-mouth will only get to a handful of people – but if someone tweets about us, it can be seen by hundreds, even thousands."
No wonder why Slack usually uses a Twitter account to announce company news or new features. Not only because their Twitter following is the biggest, but also because they've managed to build a true community there. Each of every announcement has high engagement rates with hundreds of comments under a single post. And due to the nature of Twitter social media, we recommend you to pay attention to the comment section and how Slack responds to it.
Let's take as an example the apology post, that was published only on Twitter. Slack announced an apology and prepared a detailed post page explaining the situation.
5. Blog/blog page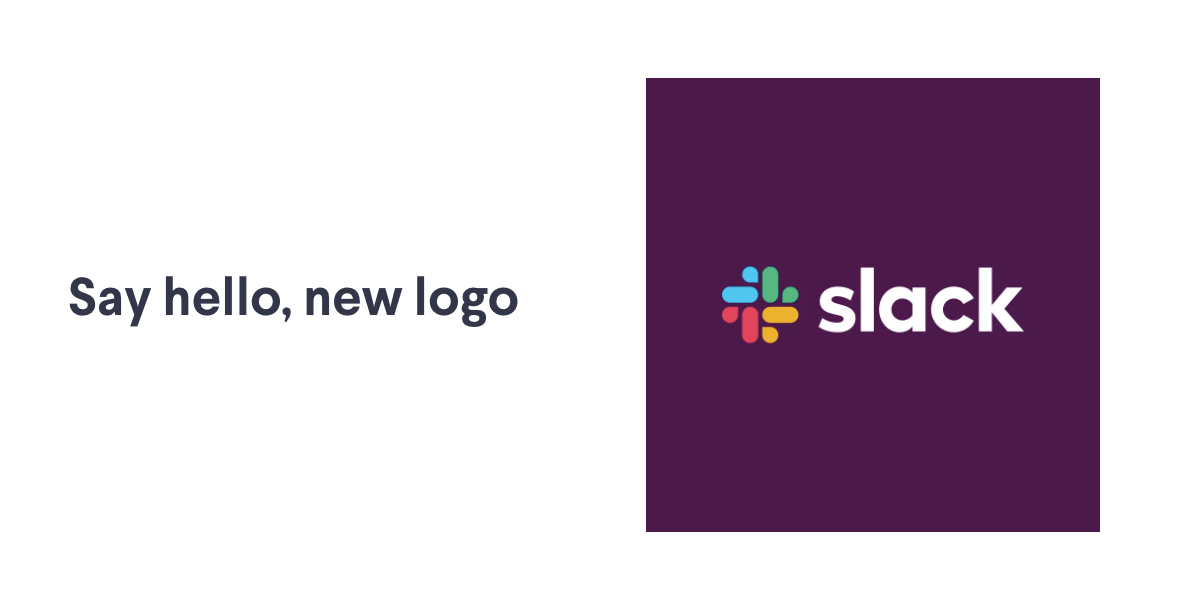 "We'd like to do something that we are really proud of, that we can pound our chest and say, 'We made this.'" – Stewart Butterfield, CEO at Slack.
When you are proud about the new feature what do you do? Make sure everybody knows!
When recently Slack updated their logo and a detailed post was prepared and shared across all channels: Instagram, Facebook, Twitter, in-app, release notes, updates page etc.
Blog channel is used by the team to explain in details about something important, worth describing and providing in-depth information.
6. Slack tips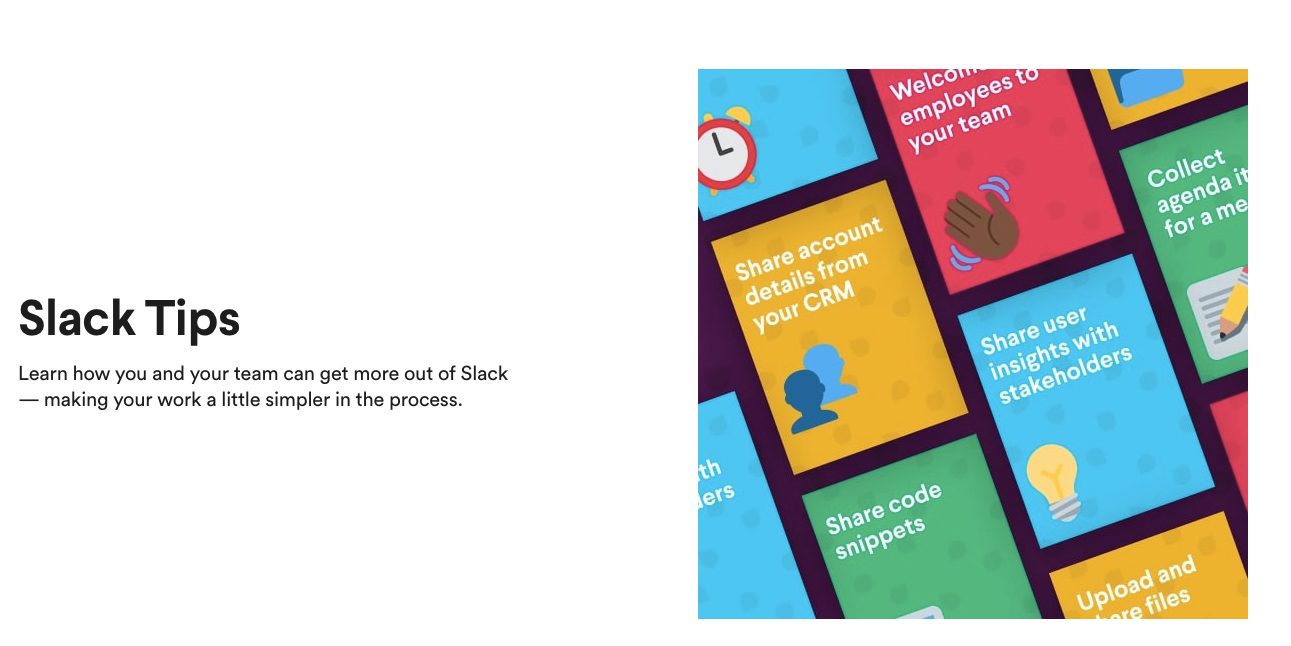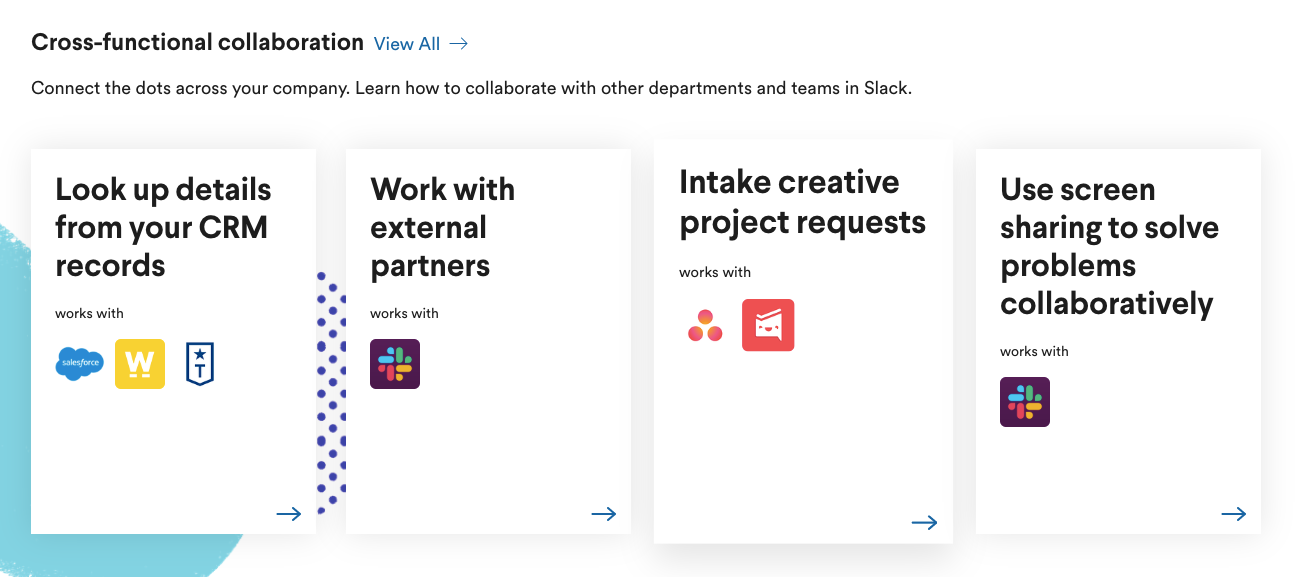 If your new update or feature didn't receive anticipated attention, Slack has a hack for you to try out. Slack tips is a library of tips that aims extend the common functions you use. You will discover that the platforms allow you to do way more than simply chatting with colleagues.
"That in itself can make work more pleasant, but there's a whole range of deeper features and possibilities inside Slack that can make all kinds of tasks easier, faster, and more efficient: things like hosting a video call, collecting project feedback, running polls—even directly communicating with your customers—all in Slack."
You should have noticed that on their social media profiles sometimes #Slacktips show up.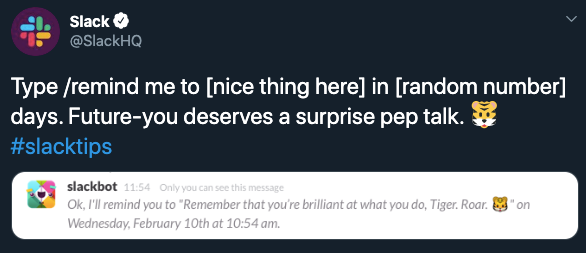 Back at work? Too many unread channels? Shift+esc is your friend. It clears everything. EVERYTHING. (Warning: No take-backsies) #SlackTips
#Slacktips brings attention back to new updates, features of Slack.
Traffic research

One could argue that Slack creates all those updates pages, release notes and social media posts, blogs etc to generate traffic and facilitate the word of mouth. Although, partly the argument can be correct. Let's look at data, shall we?
The biggest portion of traffic comes from direct visitors. This happens to all websites, but mostly because social media following or advertising budgets are low. But not in the case of Slack, with almost 350K followers on Twitter and loyal engaging online community the traffic figure should at least be few percents.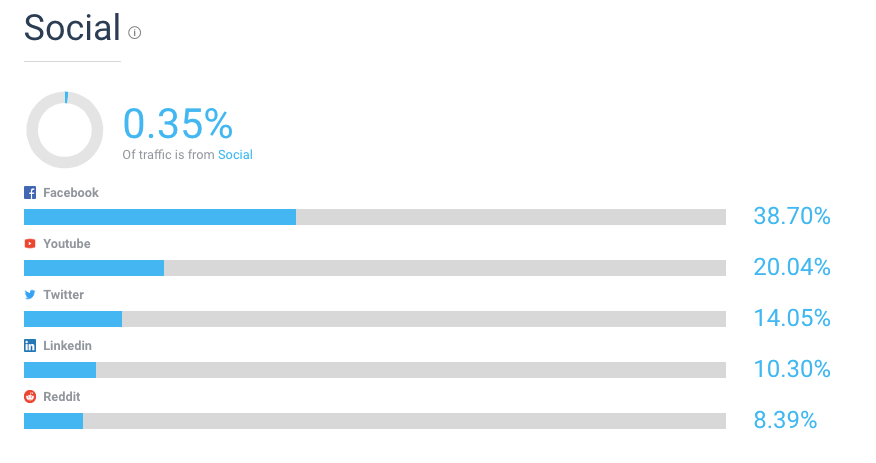 People know what Slack is. So they google it. Notice that Slack's second most common traffic comes from Japan. That 5th row is Slack in Japanese. 🙂
From Japan to the USA the platform is well-known.
"For most companies, the hard thing is making the product work well enough to convince a single person at a time to switch to it. We have to convince a team, and no two teams are alike."
It's Slacks hidden small actions that bring all team together and pay attention to the smallest details that contribute to "not pissing customers off" mentality and building a worldwide recognized brand.
From app release notes to detailed description about new updates – you see expertise, professionalism, dedication and desire to make the best they can to get you to recommend Slack to others. This is the hidden reason why Slack was able to reach 10 million active users in a short period of time.