Have a new SaaS product project? You need to review changelog example. Already have a SaaS product and business has grown faster than you thought? You've probably made your product even more advanced by adding many new improvements and features. Yes, you still need to review changelog examples.
You ask, "Why?"
In the beginning, you bring your product to life with a small team of software developers. At this stage, you can control all the developments in your product. Over time, you start adding new features. You need to keep your product up-to-date by following industry trends. Your product starts to look different from the first day. As the number of customers increases, your feedback and feature requests increase exponentially.

Yes, you are right! Your product has become quite different from the first day. New features and functions have been added. Perhaps you have acquired a much larger customer base than you intended. So why are changelog examples so important?

So, you do not have a digital document where you can follow the development of your product. Changelogs come into play here! It helps you monitor the progress of your SaaS product and the changes you have made since day one.
Why do we use a changelog example & What is its main goal?
The definition and purpose of the changelog are quite simple because they come directly from its name. A changelog is a digital document of all changes, additions, and revisions made to a product.
Changes are saved chronologically. Thanks to these digital documents, users can easily follow the changes that the products have. Moreover, it is also very useful for the product team. It serves as a document in their hands that they can follow and feed on when deciding where the product will go in the future.
Think about it: you are negotiating an investment. Thanks to the changelogs, you can easily tell your investors about the past versions of your product and all the changes it has undergone.
What makes a good changelog?
Changelogs are very important in software development. They help you communicate with your users about the changes that were made in your application.
Here's a look at what makes a good change log:
Be transparent about bugs that were fixed
Keep it brief and simple
Use language that is easy to understand
Version number
Date of release
New features or improvements
3 key advantages to having a great change log 🗝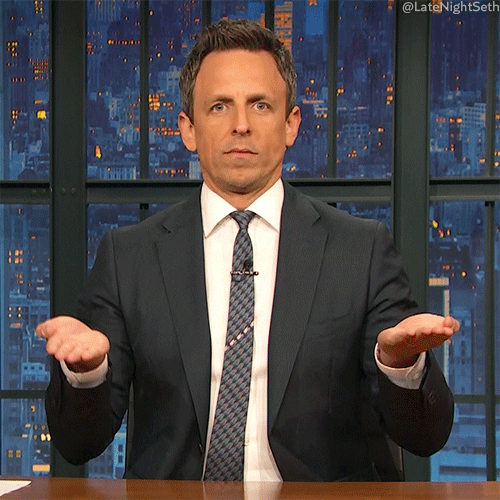 Here are four tips to help you write a changelog that is so effective it will make your readers want to follow your changelog. To have the best changelog examples, scroll down more, please! 👇
List the latest changelog example at the top
You should follow a chronological order and list the latest release note at the top. Users always want to access the most up-to-date information. They only want to look at updates from previous years on rare occasions.
When you sort the changes chronologically by date, you can quickly gain popularity among your users. This shows your customers that a good team is constantly working on improving the product.
Simple is the best!
Avoid long and complex sentences. Giving people fairly simple information should be your primary goal. You can also use bullet points, bold words, and italicized text to enrich the text while writing content.
Someone may want to access more information
While the change logs are not exhaustive, they should not be so short that the reader cannot learn more if they are curious. Change logs can be linked to detailed blog posts, videos, etc. must contain links. Sometimes, your colleagues may also want to review your release notes. Please do not ignore them!
Twitter Changelog Examples 📋
We reviewed Slack release notes in one of our previous blog posts. There is a social media application that has been on the agenda of all of us for a while and comes up with a new discussion every week. It is not difficult to guess; in this article, we will take a look at Twitter's changelog examples, which laid off almost half of its employees after Elon Musk's acquisition. Let's start!
Twitter app changelog example 📲
We can definitely say that Twitter has used chronological order in its app release notes. By writing short and simple notes, they met many of the criteria we mentioned above. However, using the same sentence each time may make users less likely to review the release notes next time.
As I said above, they used the same sentence in the release notes except for one! 👇
"Starting today, we're adding great new features to Twitter Blue, and have more on the way soon.

Get Twitter Blue for $7.99/month if you sign up now.

Blue checkmark: Power to the people: Your account will get a blue checkmark, just like the celebrities, companies, and politicians you already follow."
I guess it's no coincidence that the only different release note was shared after Elon Musk arrived, and this release note is about blue-tick pricing. 😏
Changelog examples of Twitter on the web 💻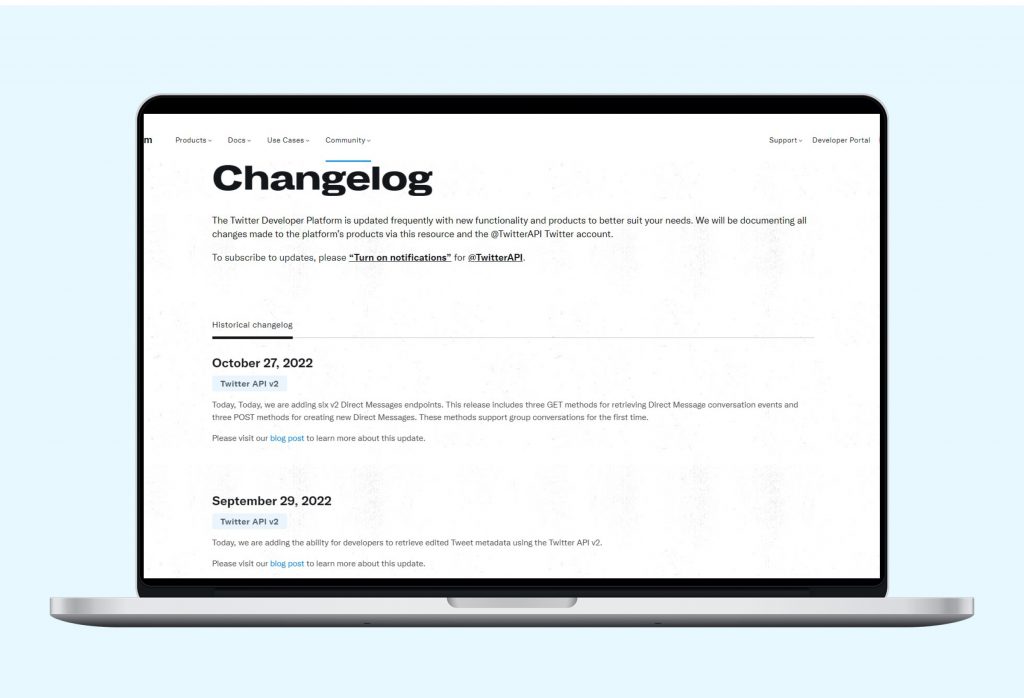 Sharing the release notes on developer.twitter.com, Twitter listed the change logs here, just like the application release notes, with the latest release note at the top.
"Today, we are adding the ability for developers to retrieve edited Tweet metadata using the Twitter API v2. Please visit our blog post to learn more about this update."
Unlike application change logs, more technical details are shared here. They also explain at length the changes they have made by directing them to the blog page. This looks more like a page created for developers.
More detailed explanations, blog posts, and technical information seem to satisfy those who want to reach more details.
Another changelog example of Twitter on the web 🖥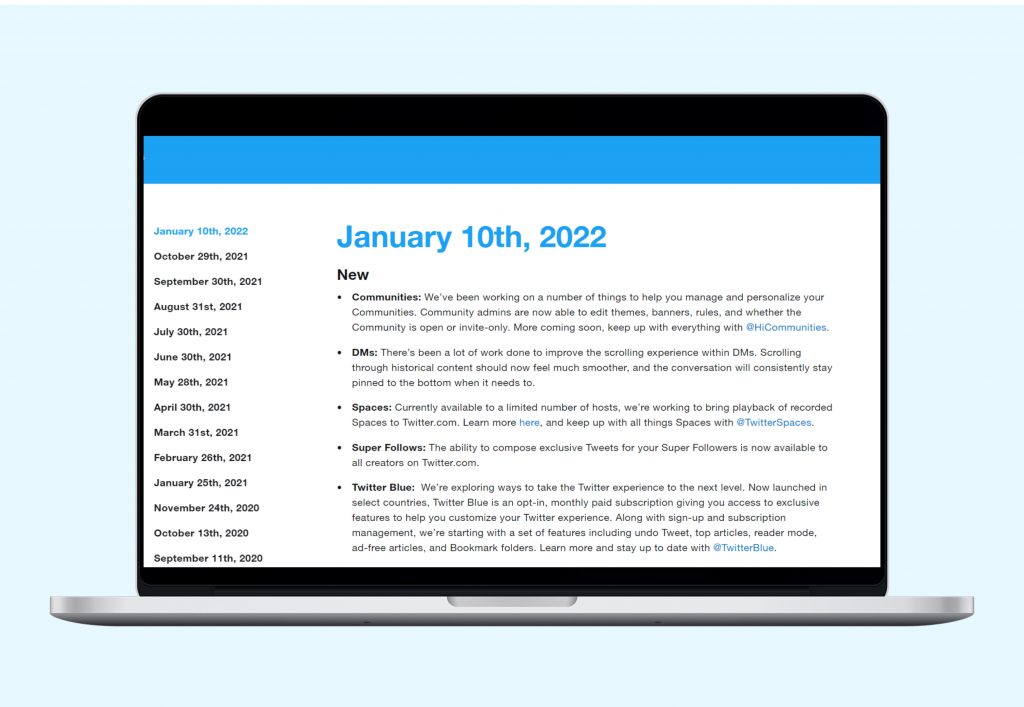 Changelog examples are shared under many topics at twitter.com/i/release_notes. So, this looks more like a page created for customers.
Updates and changes to communities, DMs, spaces, superfollows, Twitter Blue, and tweets are shared.
However, there is a problem: the date of the last shared changelog was January! This page deserves to be a little more updated. at least for users. 📅
Unusual announcements from Twitter's CEO

Most of us have not seen the CEO of a company personally announce new features to be developed. This is unusual. Anyway, Elon Musk is not an ordinary CEO! Also, Twitter's boss has said that the microblogging platform is serving 90 billion tweet impressions per day. Can you think of a better platform for changelogs?
Elon creates surveys for new features on his Twitter account, asks users for their opinions, and announces it on his account when the software team develops a new feature. This method can be useful for user interaction and feature adoption because, although I do not follow Elon Musk, many of his tweets appear in my Twitter feed thanks to the interaction he got.
Twitter used to share the changes made through its website, app stores, and Twitter accounts it had created for the changes. Unlike these, the changelogs shared by the CEO were also included in the game. This new method seems to have worked, judging by the interaction the tweets garnered. Moreover, I really like the language used!
Conclusion
As I said above, change logs are a great way for software and SaaS companies to track their progress and figure out their plans for the future.
Also, SaaS products that share changelogs through different channels can reach different groups of customers.
I think it is very helpful for companies to keep changelogs when they release both new features and updates, just as Twitter does through many channels. It helps companies keep users informed and is a great tool when updating your products.