The release notes topic is contentious and app changelogs are quite important. A big debate started when Facebook decided to keep app release notes generic and stopped notifying users about bug fixes and product updates. A developer from the social media release team argued that:
It is a tedious task.
Features are typically are not released to everyone. There's no point in putting in a release note for a feature that you can't yet use.
Logistical hurdles: translating release note to multiple languages to hundreds of million people.
Users don't even bother to read about new updates and features.
In the conclusion of the Reddit post, the engineer ended with "Release notes are useful for small applications with a few changes each release but are useless for large, complex applications with hundreds of developers. We're not trying to keep secrets from you. There are just simply better ways of telling you what's interesting when those features are ready for you."
Today, if you actually pay attention to "What's new" section on App Store release notes or google play store release notes, applications have two approaches:
1-They don't care to notify users about new changes
2-They make it funny and eye-catching
Before we move to examples of both approaches in writing release notes, let's define what we mean by release note and a commonly accepted structure of it.
According to Wikipedia (Aka, a well-trusted source on the internet), application release notes are technical documents that accompany software products in beta stages or software products that have been enhanced or repaired. These notes explain to the customer or client the details of the particular version of the product they are using. They attempt to assist the customer in installing the update as well as provide confidence to the user regarding the product.
Preparing release notes can be a tricky endeavor for this reason. Release notes are required documents, so they should be efficient to create and informative to the reader.
Depending on who your end user is – the notes can be technical or generic. But regardless, the common rule is to include the following:
Build number
Additions
Removals
Changes
Fixes
The best example for technical release notes is Firefox.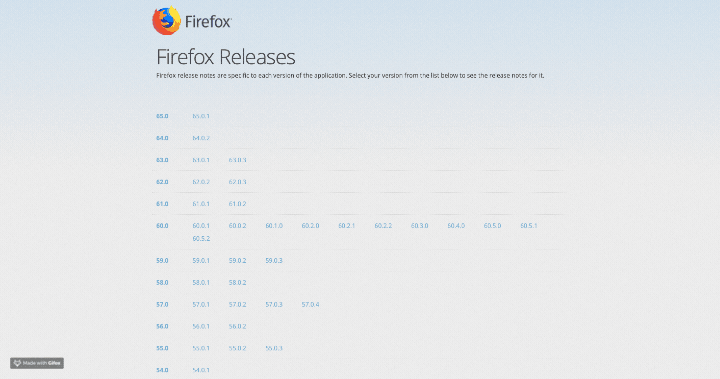 App release notes
Release notes for the apps usually don't have a technical background and are more interested in how the update will affect their user experience. Thus, in app release notes have to informative, entertaining to read, and easy to understand.
Note that some people are hesitant to update because they want to know that their favorite feature will still be available. Some people don't like any changes at all, and those consistency seekers can't get used to new colors, new interface, new navigations drive them crazy. The majority of people are hesitant to updates because they don't like surprises and don't update within good two weeks.
Your customers want to know what's new before they hit the download or update button.
Reddit users disagreed with Facebook's actions:
"There's nothing "contentious" about release notes. People want to know what's new, and Facebook has a terrible reputation for sneaking in really horrible "features" that do nothing but serve their own needs and strip people of their privacy."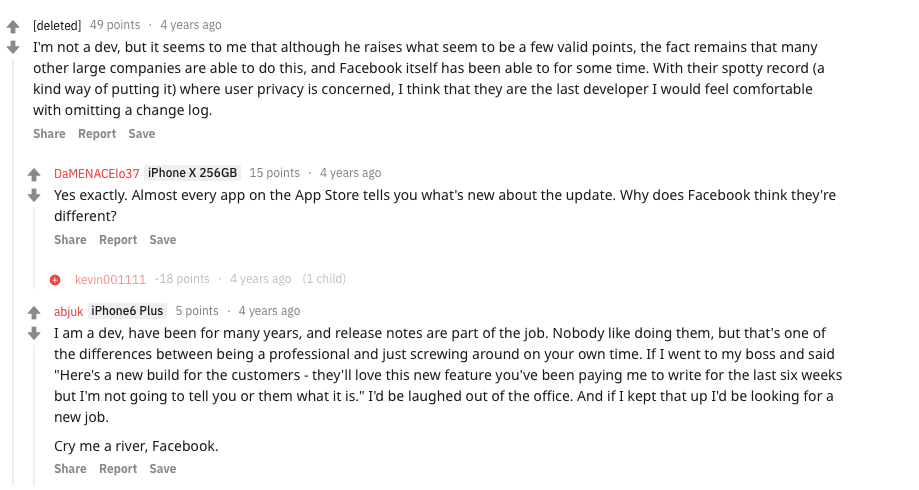 The blog's purpose is not to offend some companies (Instagram, Facebook, Uber, Google Drive..) that create boring release notes. Obviously, they have their own reasons to keep things generic and simple. Instead, we want to inspire you to take a creative approach and change your boring What's new section and make it interesting and entertaining. Here are some app release notes examples.
The worst mobile app release notes
It is more common to see simple "bug fixed, performance improvement". Seems like many companies followed the example of Facebook and have decided that in their "league" updating customers is not cool.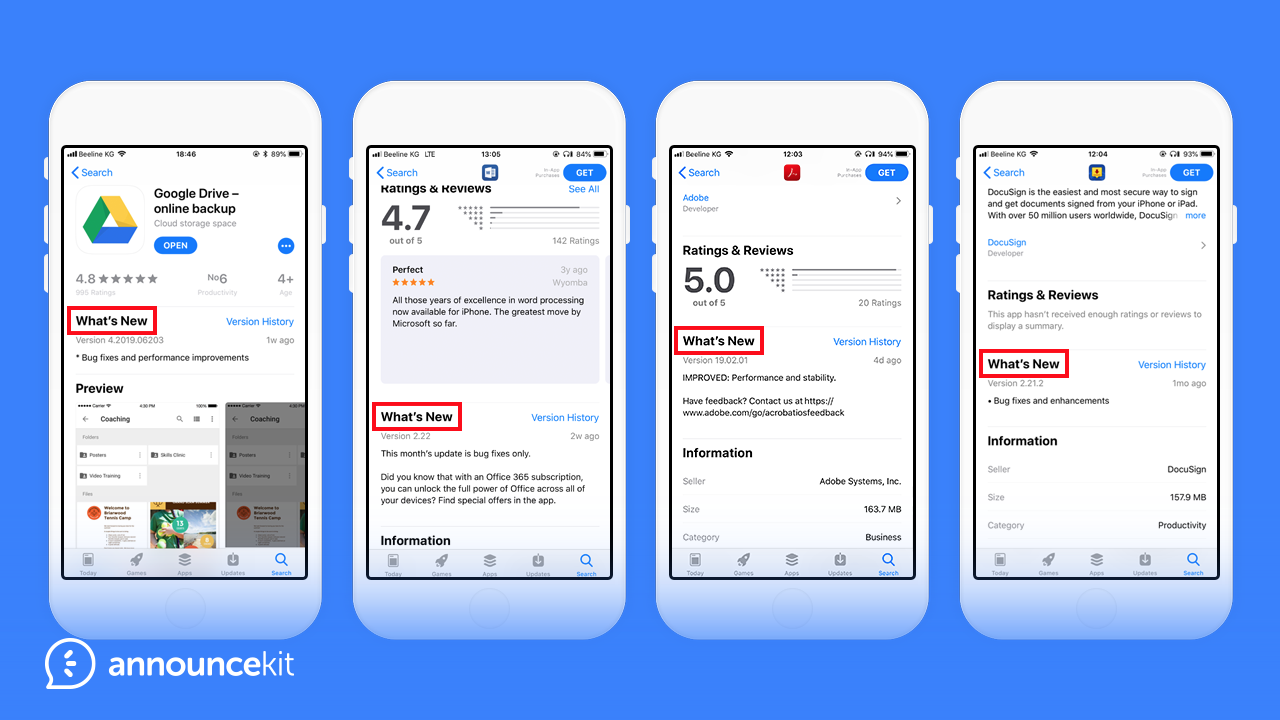 Google Drive: Bug fixes and performance improvements
Microsoft Word: This month update is bug fixes.
Adobe Acrobat: IMPROVED: Performance and stability.
DocuSign: Bug fixes and enhancements
Instagram: The latest version contains bug fixes and performance improvements.
Considering how many developers work at Uber or Google drive and how much their application is improving in speed none of the startups can't catch up, why such big corporations don't even bother, right?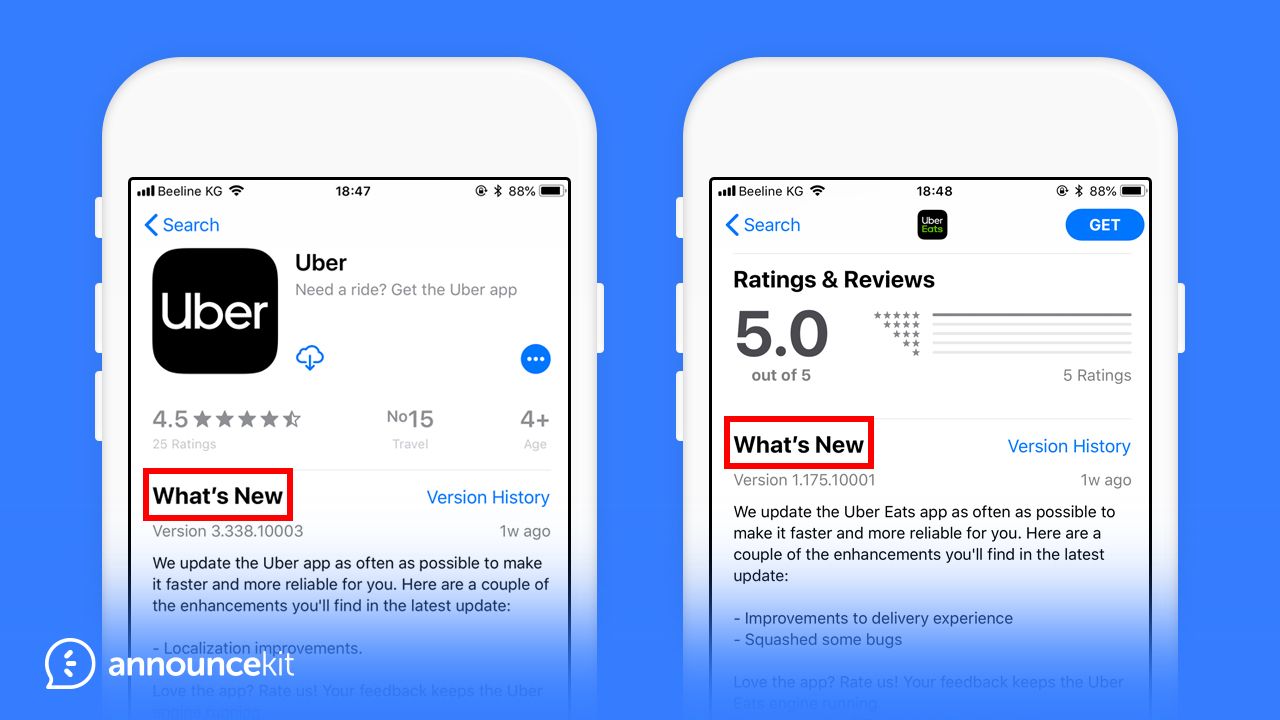 Uber Eats:
We update the Uber eats as often as possible to make it faster and more reliable to you. Here are couple of the enhancements you'll find in the latest update:

– Improvements to delivery experience
– Squashed some bugs
Sounds nice, doesn't it?
Well, have a look at Uber What's new:
We update the Uber eats as often as possible to make it faster and more reliable to you. Here are couple of the enhancements you'll find in the latest update:

Localization improvements.
Dear, Uber, you are a great company. But you can do better!
Side note: release notes like any other business activity must correspond to brand management. It is understandable to see the conservative, structured release notes from companies such as the Economist or DIORMAG… But you would expect at least Uber to make something more exciting…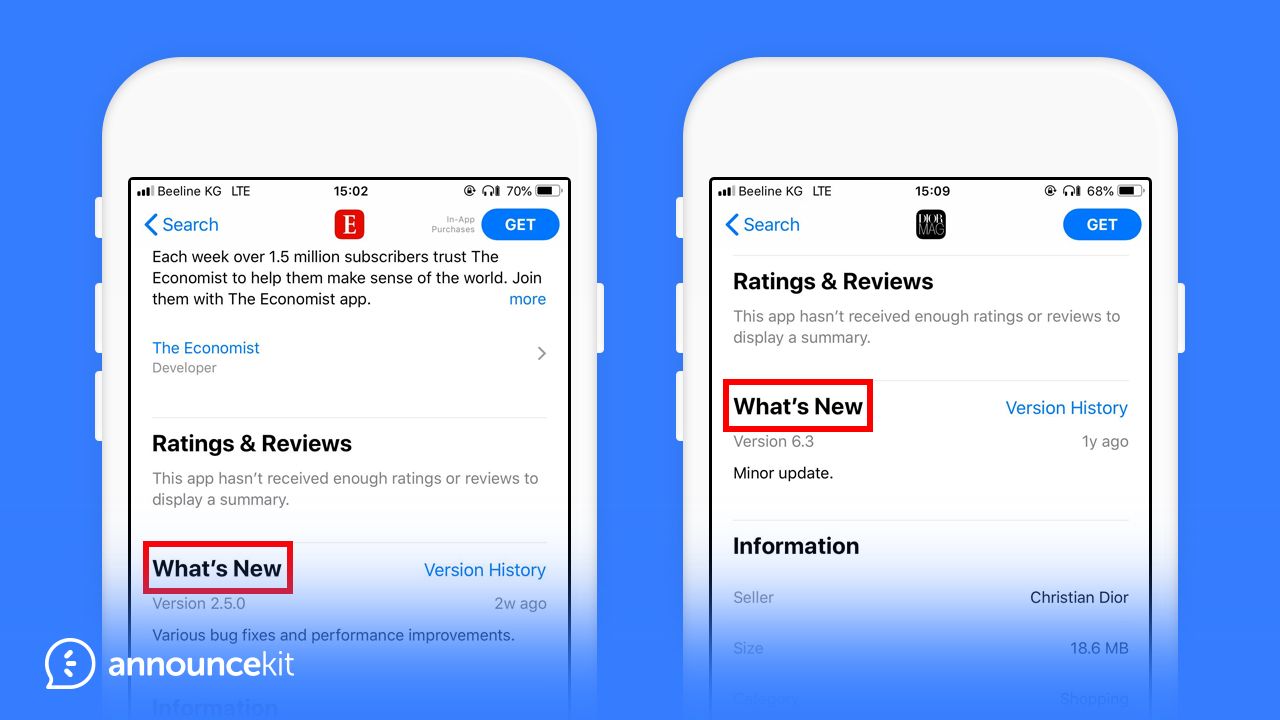 The Economist: Various bug fixes and performance improvements.
DIORMAG: Minor update.
Applications whose product updates announcements are hilarious and will make your day! Let's all appreciate the work they do each week, trying to bring your attention to their developers' hard work. Manage product updates easily!
👉 Related article: Why announcing product updates is NOT the best strategy?
💡 Our top picks
Slack and Medium: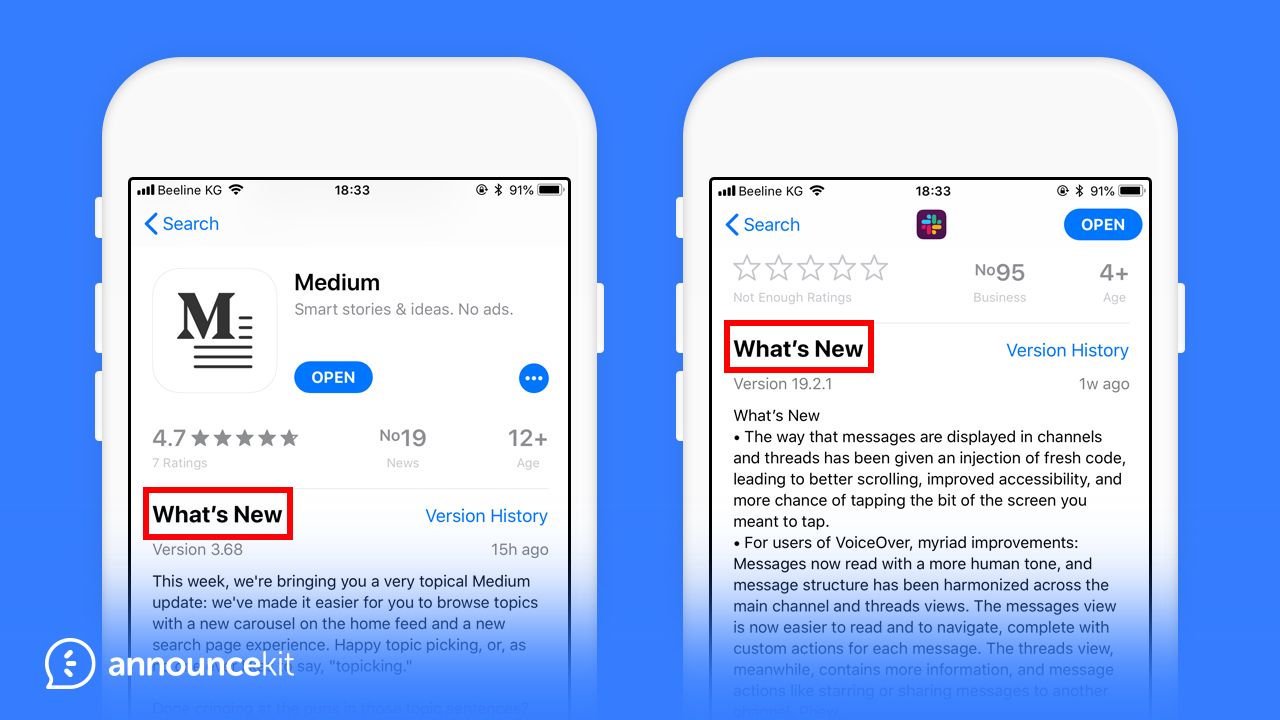 Medium: "This week, we're bringing you a very topical Medium update: we've made it easier for you to browse topics with a new carousel on the home feed and new search page.
Done cringing at the puns of those topic sentences? Great, we can move onto the less topical items of this release. We've also added beter deep linking support for publications and granted writers the ability to opt in the curation of their stories in the post editor."
Slack Release Notes: "For the eagle-eyed: Yes, the last release was numbered 3.61. This one is 19.2.1. You haven't missed anything, or been asleep for a decade. We just changed the way we number releases"
👉 Related article: Why do you need a product updates page?
Asana, Twitter & Netflix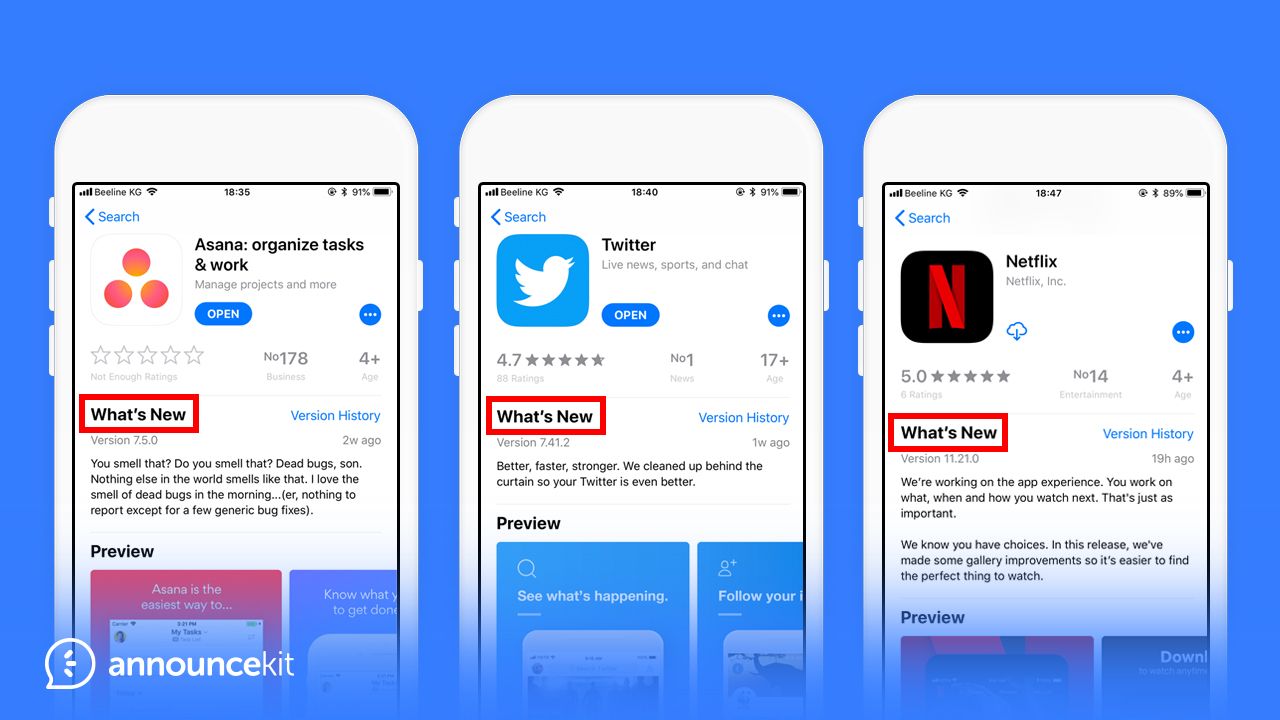 These applications have something fun to tell you! They show a great example that even small bug reports news can be delivered in a way that will make you smile.
Asana: "You smell that? Do you smell that? Dead bugs, son. Nothing else on the world smell like that. I love the smell of dead bugs in the morning.. (er, nothing to report except for a few generic bug fixes)."
Twitter: "Better, faster, stronger. We cleaned up behind the curtain so your Twitter is even better."
Netflix: "We're working on the app experience. You work on what, when, and how you watch next. That's just as important. We know you have choices. In this release, we've made some gallery improvements so it's easier to find the perfect thing to watch."
---
It is up to you to decide how to announce product updates, bug fixes, and new feature releases.
AnnounceKit's developers partly agree with the phrase: "Release notes are useful for small applications with a few changes each release but are useless for large, complex applications with hundreds of developers."
Writing a release note can be a complicated task, but it shows your care to customers. Updating release notes frequently can improve your customer engagement.

Quick Setup, Easy to Use, and Many Integrations
Manage your product announcements from a single place and easily distribute them
across multiple channels.
That extra effort you make to create a funny and engaging product announcement can indeed make somebody smile and happy. Your loyal customers will be excited to read about a new feature or bug fixes. After all, all business main goal is to make users satisfied one way or another. OR do you disagree?