Hi, beautiful people. Welcome to AnnounceKit Blog and greetings from our studio to our viewers all over the world, thank you for watching, thank you for having me.

It's a great honor to be here among so many talented changelog examples, congratulations to all of you, you made it, we're at the Oscars. Some of you will be going home tonight with an Academy Award, what could be better than that? Nothing, right…
Tonight, in this article, you will see 4 well-developed changelog examples that will inspire your product development in 2021.
A changelog is one of the most essential components of your software or product development.

Why is it so essential?

Whether you are a customer or developer, you have to maintain your product experience day by day. Changelog act as a direct line of communication with your customers.
"Changelog is no more a need; it becomes an indispensable part of this huge developing SaaS industry."
Starting from this indispensability, the Changelog-as-a-service market is getting bigger and bigger in recent years and it becomes much easier with no-code, in-app changelog-as-a-service tools.


Quick Setup, Easy to Use, and Many Integrations
Manage your product announcements from a single place and easily distribute them
across multiple channels.
First of All, What is This Changelog?
You may have seen a cleaning schedule before. Think about it. Employees record what they have done; when they have done; and by whom the work has been done on this table.

Why did I want you to think of this simple example? Here's why;

You may consider changelog as a developed version of cleaning schedules. This time, it is not about cleaning; but about software. It can be basically described as a kind of a file in which changes related to your software or product, are being recorded.

Let's make it more professional.

A changelog is a chronologically ordered list of changes, new features, swift fixes, updates, new integrations, enhancements, bug fixes, etc. embedded in-product, in-app, or on a dedicated release note page.
Why is a Changelog Important for Your Product Development?
A changelog acts as a direct communication line with your end-users. Whatever these changes are about, a changelog is an important part of communicating with your customers or developers. Keep a changelog and keep them aware of what's new in the latest version of your product.
What is Changelog-as-a-Service?
There is always a better way to do something. Same rules apply for a changelog!

We call them changelog-as-a-service tools!

These in-app, no-code changelog-as-a-service tools sit on your website, work for you, and enable you to make beautiful, catchy, and informative changelogs.
What are Some Great Changelog Tool Examples?
There are several great changelog tools similar to each other in the market. People keep asking "What is the best changelog tool?". But, the question must be "Which changelog tool is best suited for my product?"

Here are 3 different changelog tools offering different plans depending on your requirements. (Please note that each is just wonderful!)
Beamer.
AnnounceKit
Noticeable
Headway
Let's See Some Great Changelog Examples Powered by these Tools
The complete list of Oscar nominees for Best Changelog Example is as follows;
Intercom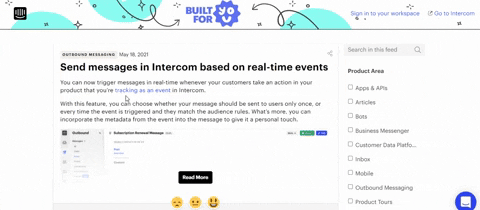 Intercom has a very visually compelling changelog. They list their updates and new features in such a beautiful design that anyone can enjoy checking their page which is only a click away. If you ask me, 2 main points that make their changelog great are as follows;
Their friendly approach: Your goal is to be sure that your changelog is actually read. Always remember that changelogs are for humans, not machines. Intercom just kills it!
Their CTAs: Intercom allows you to check out the newest feature or improvement immediately. They include buttons that lead you to the relevant page in an instant.

Powered by Beamer.
Gorgias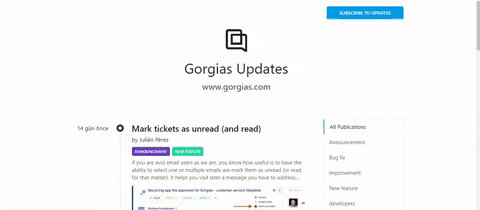 Gorgias has a very clean changelog. They stick to the traditional changelog design while adding some visual elements. I love 2 things about them.
Stay simple, stay true: The simplicity is everything! They announce their updates and features in a simple manner which eventually makes each of these announcements well-clarified.
Emojis, emojis, and emojis: People love the idea of adding little emojis into texts. This is a simple way of drawing attention.
Powered by Noticeable.
Chargify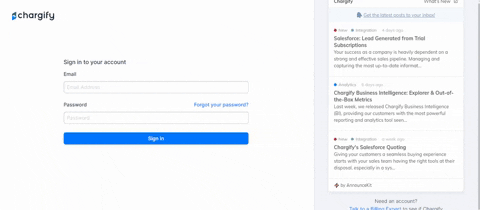 Another clean but unusual page, Chargify. People need to see what is presented at first glance. Chargify provides it to their customers successfully. There are several things that make their changelog successful.
Their in-app changelog design: Chargify embeds their "What's New?" page on their login page. By doing so, they make it more apparent.
Rainbow dedicated categories: AnnounceKit allows them to personalize the color of their categories. There is a reason we don't see the world in black and white; then why don't we see changelog with colors?
Powered by AnnounceKit.
Marker.io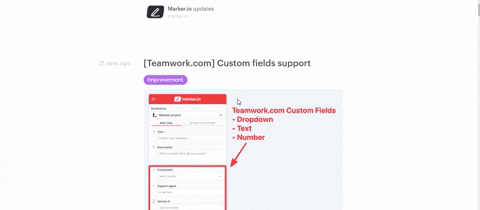 Marker.io has an unembellished dedicated changelog page. Short explanations and listed product news. In which way it may appeal to you?
Short and plain: If you are a simple man with simple desires, Marker.io's changelog example is brilliant for you.
Powered by Headway
And the Changelog Oscar Goes to…
All of these examples are well-designed and each is powered by brilliant tools. However, If I were a decision-maker, I would say Intercom would win the Oscar with its beautiful visual elements and friendly approach.

What About the Best Changelog-as-a-service Tool?
It is hard to say there is one single changelog-as-a-service tool that is the best.

Most of the changelog tools offer similar functionalities as you see in the above changelog examples. You should compare them according to your requirements. There are several different factors that should go into the decision-making process for determining what changelog tool is best suited for your product.
Do They Have a Good Customer Service?
While AnnounceKit and Noticeable have an embedded ChatBot, Beamer and Headway have Help Center pages.

The Best Customer Service Oscar goes to AnnounceKit! AnnounceKit mostly offers answers in under 20 minutes to their customers. They are also have a brilliant Help Center in which you may find how-to articles.
| | AnnounceKit | Beamer | Noticeable | Headway |
| --- | --- | --- | --- | --- |
| Customer Service | Embedded ChatBot | Dedicated Help Center Page | Embedded ChatBot | Contact Button at the Bottom of Their Page |
Do They Offer Multi-Language Support?
AnnounceKit, Beamer, and Noticeable offer multi-language support in different styles while Headway does not have a kind of support. You should consider do you need multi-language support while determining what changelog tool is best suited for your product.

The Best Multi-Language Support Oscar goes to Beamer! Beamer enables you to find language options in their dashboard. You may quickly go to settings and select the language box.

But, consider AnnounceKit as Leonardo DiCaprio… Always deserving but not winning.
| | AnnounceKit | Beamer | Noticeable | Headway |
| --- | --- | --- | --- | --- |
| Multi-Language Support | | | | |
When It Comes to Pricing, Is It Worth Paying?
They all have a free plan or free trial. But when it comes to paying plans, they offer different charges with different features. Never jump to the one with the lowest price, but check out Comparison Articles first to see what they offer in their start-up plans.

And the Best Pricing Oscar goes to… Please support me on this. You may reach me out on Twitter, Quora or leave a comment!
AnnounceKit
Beamer
Noticeable
Headway
Pricing
Essentials
$49
Start-up
$49
Starter
$19
Pro
$29
That's All Folks
Thank you all so very much. Thank you to the Academy. Thank you to all of you in this room. I have to congratulate the other incredible nominees this year.
Communication is what makes a team strong. In that sense, a changelog is a must-have in this developing industry. There are several ways to have one, but which is best suited for you? We've discussed 4 different changelog examples powered by successful changelog-as-a-service tools and even choose the best among them -as an AnnounceKit lover-. Hope this inspires your product development.

Once Heraclitus said, "Change is the only constant in life." Now we are saying, "Changelog is the only constant in life!"
Let's find out Best Practices of Keeping a Changelog