Are you one of those people who like to drink coffee after waking up in the morning? ☕ Maybe one of your morning routines is to get a coffee every day from a coffee shop on the way to work.

You can say that it is just a coffee. But, there even can be a connection between coffee and the term user satisfaction. 🤞

Have you ever thought about why you prefer the same coffee shop every day? Many factors may influence your decision; It can be the taste of the coffee, the quality of the coffee cup, the architectural design of the coffee shop, the smiling and polite barista, or even the air freshener they use in the coffee shop.

Whatever the reason, some details make you happy in that coffee shop.

I just tried to explain the concept of user satisfaction, which is very important in professional business life, with coffee, which is your morning routine. Users become your customers over and over again; they recommend your brand to their circle of friends and become your brand's advocate.

I realize that you are currently wondering how to increase user satisfaction. Before I move on to the steps to increase your user satisfaction rates, let me fully explain the concept of user satisfaction!
What is user satisfaction, and how critical is it for SaaS companies?
Have you heard of a successful company without loyal customers? The answer is no!
Users are indispensable for SaaS companies because all product and service production is made for users. Accordingly, one of the priorities of SaaS companies is to increase user satisfaction rates.

User satisfaction is a concept that helps you understand how satisfied your users are with the products and services you produce. With various metrics, we can measure user satisfaction rates and make optimizations to improve these rates.

For example, if your app on App Store or Google Play Store has lower scores than your competitors, there are things that your users don't like and you need to look for ways to make them happier. 🙃

If you want to create a loyal customer base, you must first make the users happy. Users do not stay too long with products and services that they are not happy with and choose competitors that provide the same or similar service as you.

As I mentioned in my previous articles, it is more profitable to please your users than you think. According to research made in America; it is 7x costlier to acquire new users than retain old ones.
1. Follow user reactions and understand their needs

There is no better way to understand your user satisfaction rate than by listening to your users. You should always be open to ideas from your users and you should not ignore them.

For example, you developed a new feature with your team and you thought users needed it. If you followed user feedback on any online platform, you could prioritize a real need from users instead of the new feature you developed.

Let's move on with real examples! 🧐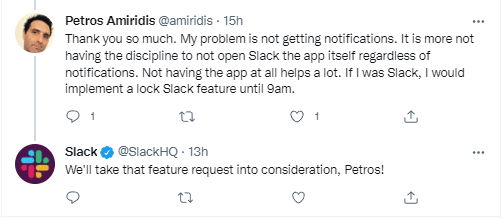 Most of you have heard of Slack, probably. People are using Slack to communicate with co-mates and Slack's social media team is trying to build a connection and understand users' expectations with users by responding to them on social media platforms such as Twitter. 🤜🤛

As you can see in the example above, a user shared the problem he encountered and her request regarding this problem on Twitter; then Slack's admin answered this request and states that they will consider the user's request.

Have you noticed that one of the tricks of ensuring user satisfaction is such small touches?
The company did not leave the feedback unanswered and shared with the user that they would be interested. I cannot prove that the user feels happy and valued, but I must state that I am sure. 😏
2. Train and inform your support team
Your support team communicates with users regularly. They are kind of brand ambassadors for your SaaS business.

When any person from your support team does not communicate well with the user or cannot help enough, the brand will be negatively affected from the user's point of view, not your support team employee.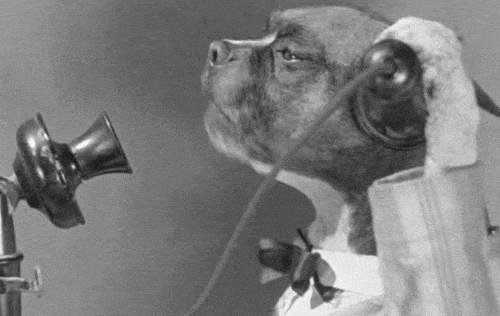 You can train your support team to make sure your customers' problems are resolved. Also, do not forget to share the new features and changes you have developed with your support team.

When you have a support team well educated and warmly communicated, you will significantly increase user satisfaction and loyalty. 🤩

What user would want to communicate with a support team member who doesn't understand their request or issue? No one, probably!

If you wonder how to improve your customer support experience, check out our old article that will give you awesome strategies!
3. Build communities and follow the whispers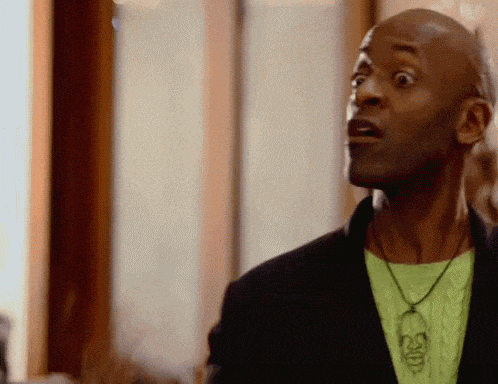 Setting up communities is the best way to measure users' satisfaction rates and what they think about your SaaS business or what they share with other users.

If you build a successful community with your community manager, you can then identify the shortcomings with the reactions and thoughts shared by that community. Your next step is to remove the things that make your users unhappy and turn them away from the brand.
Is there a feature in your new product that users do not understand enough?
Is your customer success team's response time too long?
Are users wondering about the launch date of your product?
Are users encountering bugs while using your app?
If you have users whose answer is yes to any of the above questions, there may be users who are not satisfied with your brand.
Communities are great structures for getting feedback. You can share the problems with relevant teams and they focus on the cases with which users are unsatisfied. Also, the community you build gives you the opportunity that can monitor all conversations and keep the conversations moving in the right direction.

The solution is very clear; follow whispers to find problems that make users away from your SaaS business, then focus on these problems to make away with them!
4. Provide multichannel support for users
Technology and the internet have incredibly developed in the last two decades and users' habits have also changed with these technological developments. Users do not want to receive support over the phone only. The days of waiting for a long time to get support over the phone are passed away.

The time is cash! 💵

The vast majority of customers want to contact your company through many different channels as soon as possible. Social media, chat, video support, and even artificial intelligence-supported solutions can be present as options for customers.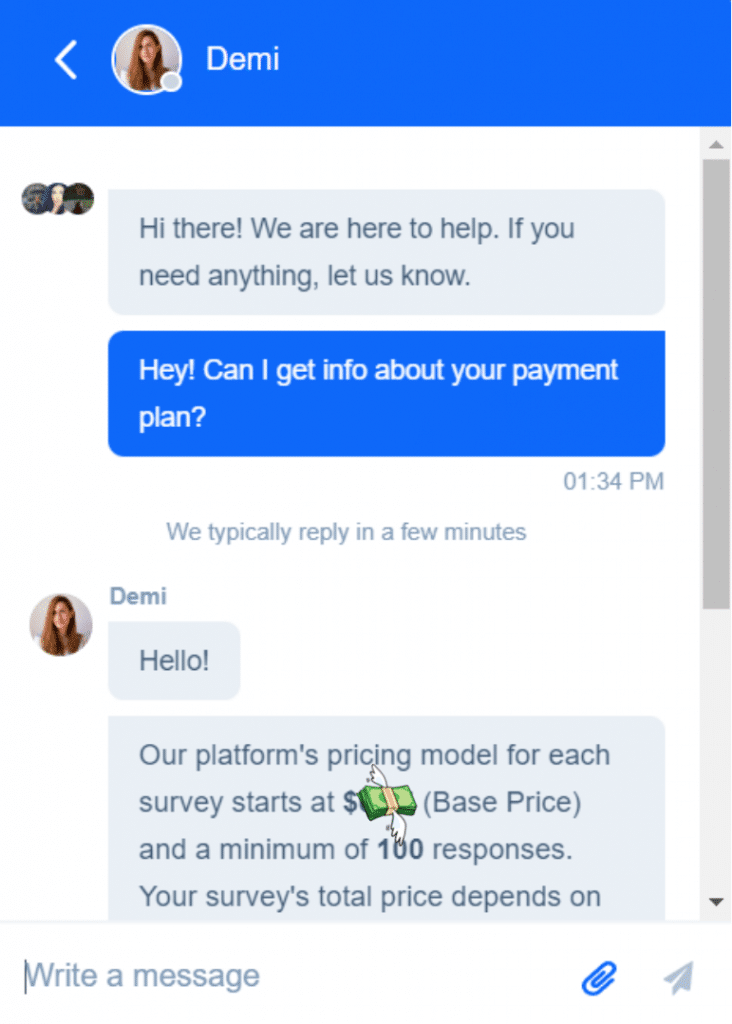 You can ask questions to your customers to find the support channel option they want to use the most.
Perfect! You know the missing piece of your support options. For example, you had no artificial intelligence-supported option for users. Start working with your software team and give them users what they want!
Giving importance to users' expectations will make your company of vision rise in users' minds! ⭐
5. Create customized experiences for users
Shall I tell you a very simple method to be satisfied your users? You can create customized messages!

Send them birthday wishes directly with users' names. Also, you can send celebration messages when they have completed a year in your service.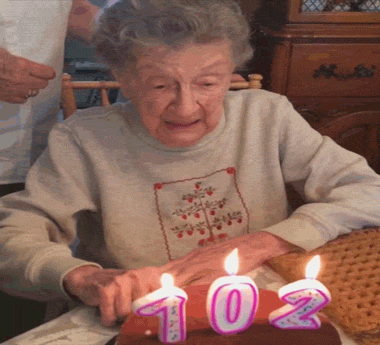 Because they are human before users, as soon as they feel special, they also have positive thoughts about your SaaS business. Use the data users give with their consent when they buy something from you to interact with customers and increase user loyalty and satisfaction!
So let's take a look at what AnnounceKit does to achieve a high user satisfaction rate!
Many of you may know, but for those who don't: AnnounceKit is a SaaS product that helps companies communicate product updates and news to their customers, increase feature adoption, and build customer trust.

While AnnounceKit has many useful features for their customers, they are developing new features to add to their products day by day.

Let's focus on the product features that AnnounceKit uses to raise user satisfaction rates!
Again and again, AnnounceKit develops new features without stopping…
As the number of users increases, your customer diversity will increase at the same rate. As your user diversity increases, you will have customers with different priorities and needs.

The features you have developed before may be sufficient for the users you have in the past, but new customers may come with different needs. To meet these needs, you need to keep your product updated by adding new features.

AnnounceKit develops new features according to the needs and demands of its customers and shares these features with its users.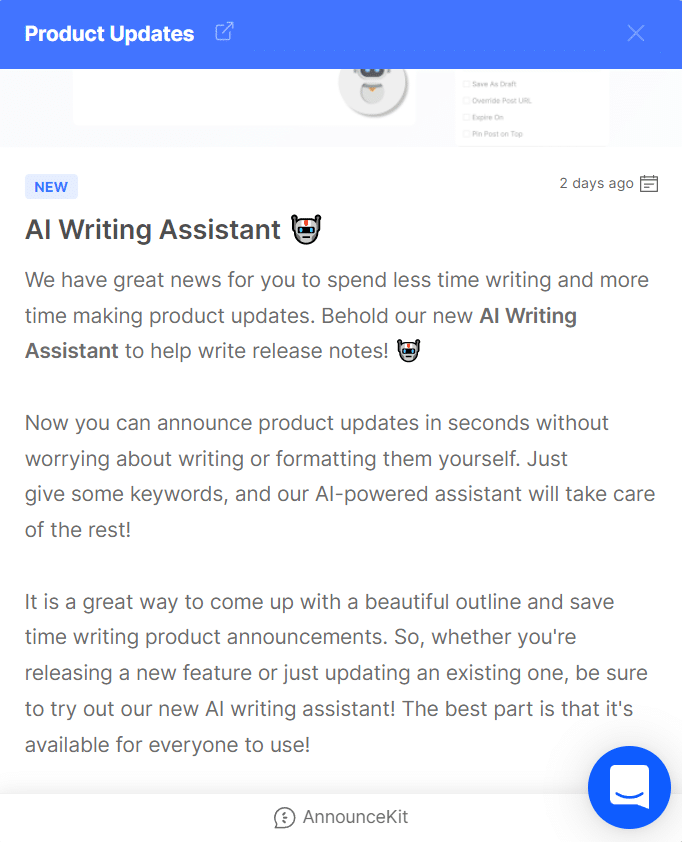 Artificial intelligence is a technology that we use unconsciously in many aspects of our lives. Why are we not using it when writing our announcement texts? Probably AnnounceKit's software team asked themself that question. 🧐
A great product feature for users who need to write multiple announcement texts! Make it easy for users; they will naturally love your company and the way you work. 😉
You can collect feedback from updates you announce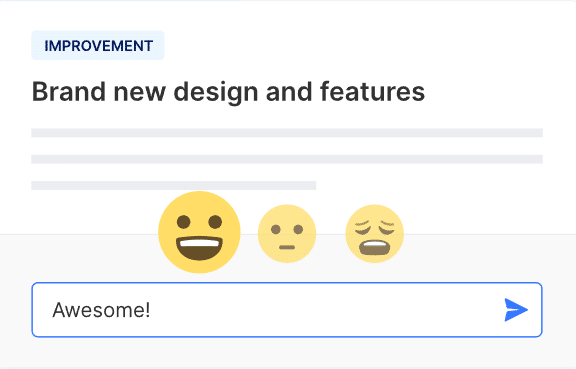 AnnounceKit can collect feedback from your users for your announcements. In this way, you can find out what people think about the new things you develop. There may be some details or bugs in features you develop that users do not like.

As you make adjustments and eliminate problems based on feedback, you will provide a better user experience for your users.

AnnounceKit primarily helps its customers increase user satisfaction rates. Then, users who have achieved good results in their own work become satisfied AnnounceKit customers.

It's like killing two birds with one stone! (Of course metaforically…🥰)
Don't you have any announcements that you don't want customers to miss?
There are always some updates that your users shouldn't miss. AnnounceKit gives customers the opportunity to get users' attention with Boosters for important announcements.

Thanks to the booster feature of AnnounceKit, customers can share all the announcements they produce with their users with very high access rates. 🚀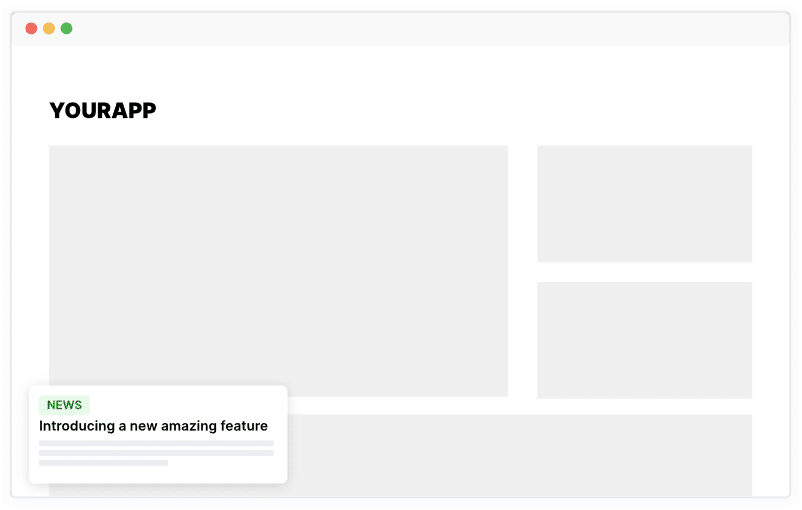 Also, AnnounceKit has a great support team that they reply questions in minutes, receives software requests from customers, and sends them to software teams. 🐆
Ready to go!
Competition in the business world continues more intensely than ever before. There are countless companies that provide the same service to users in many sectors.

They aim to increase the number of customers with their marketing efforts. Thus, they can increase their market share. In addition to the energy and budget they allocate to marketing, they also need to work to satisfy their users.

Let me tell you a little secret about delighting users. A happy user comes with a lot of people when it comes to doing business with your company again.

Unfortunately, it could also be the other way around. If you don't care enough about users and don't solve their problems, negative whispers will raise and they will take other users with them when they stop working with your brand.

Follow the tactics above and check the results to avoid the second possibility!

Adiós! 🤞