How do you keep up with the rapidly increasing number of application systems and growing amount of data?

Companies are spending almost four hundred million dollars a year to connect these systems and a growing amount of data.

Cloud-based integration is a powerful weapon that lets companies win the battle of connecting, transforming, and combining data against forceless gray-headed data silos.

These platforms and services have opened an ocean of new solutions for businesses wanting to connect disparate systemsto facilitate business-oriented outcomes.

In this article, we'll cover the definition, advantages, and examples of cloud integration.
What is Cloud-Based Integration?
At its simplest, cloud integration refers to bringing multiple cloud systems together.
Cloud integration is a system of technologies that connect disparate applications, cloud systems, and IT environments into a single platform to exchange processes and data in real-time.
This system of technologies enables to break down software silos so that let businesses combine their cloud applications and data systems and manage them all in one place.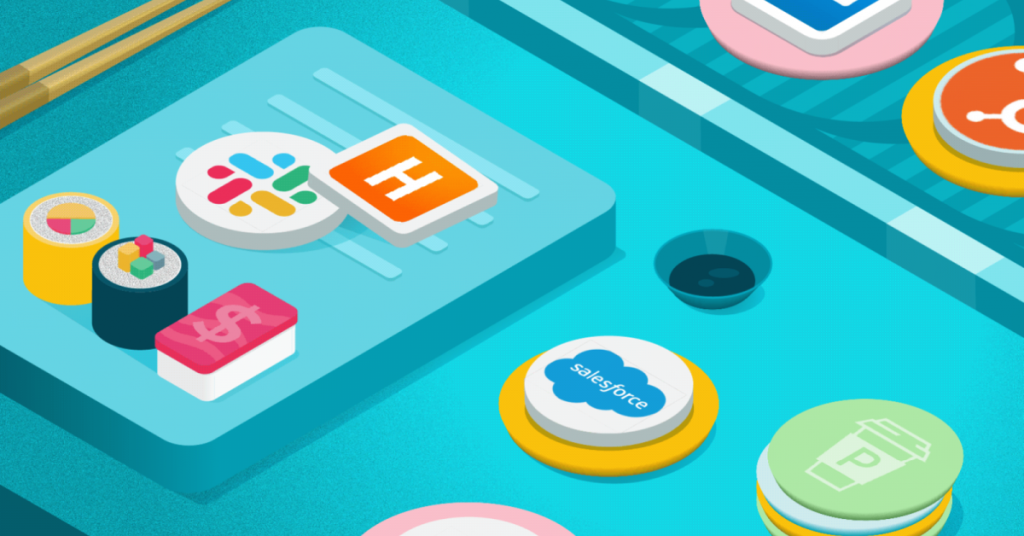 The Rapid Growth in Cloud-based Integration Market
Cloud integration has increased its popularity as the usage of SaaS solutions is snowballing day by day.

As SaaS solutions keep developing, businesses start to use more and more SaaS services in their workflow. However, this high demand makes it difficult to manage their IT environments efficiently. As a result,combining cloud applications and data systems in one place makes the process less complicated. These factors are increasing awareness about integration platforms globally and, therefore, the market size.

According to the latest report, the integration platform as a service market was valued at $2,306.32 million in 2021, and it is projected to reach $8,844.20 million by 2028; it is expected to grow at a CAGR of 21.2% from 2021 to 2028.
Benefits of Cloud-Based Integration
Cloud integration is evolving with several benefits to deliver business-oriented solutions, including;
Improved Operational Activities
It is possible to deploy infrastructure and services in-house; however, it can be unreasonable when time and cost factors are considered. Cloud integration platforms, on the other hand, are designed to reduce the effect of these factors.

If the necessary components are integrated into the cloud, they allow you tooptimize and streamline processes within your business and reduce the time required for deployment. As a result, your company's workflow becomes smoother, communication is better, and all the productivity of your operational activities improve.
Increased Internal Communication
Companies also take advantage of increased internal communication when using cloud integration platforms. As these platforms eliminate the issues caused by data silos, they make it easier for different company teams to communicate better with one another.

It provides businesses more comprehensive access across the company by combining each application system under a single place. As a result, each of the teams in the company can benefit from the information they quickly acquire and be better prepared for the conflicts and requirements.
Advanced Customer Experience
Companies most value a good customer experience as satisfied customers lead to increased retention rates. Cloud-based communication systems, in that sense, can be a significant factor in improving customer experience. With better operational processes, it increases the chance of advanced customer experience.
5 Cloud-Based Integration Platforms
1. Zapier
Zapier empowers anyone to integrate their apps and automate work without writing any code. For growing businesses that want to make the most of their time, Zapier offers an easy, powerful, and cost-effective automation solution. It allows connecting with almost 1,000 web apps, like Facebook, Slack, Mailchimp, and Google Drive.
From our point of view
Zapier is a must tool for almost every company dealing with digital environments. It makes communication between different tools easy in just a few clicks, and it doesn't require any coding to make complex automation. It also provides templates to solve problems faster than ever.

The best thing we like about it is that it has hundreds of app integrations available. With various combinations of "Zaps", it is easy to automate most business tasks and make time for the rest of the day.
2. IBM App Connect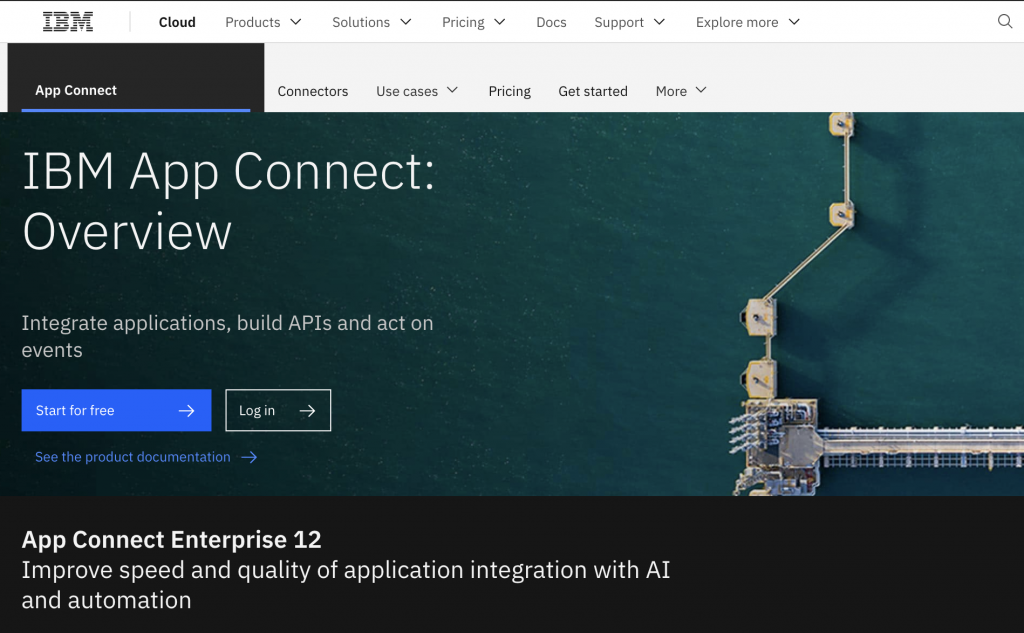 IBM App Connect offers powerful integration capabilities for quickly connecting a range of application types and exposing data as REST APIs using a model-driven approach. It supports a range of integration styles, including real-time event-based and scheduled batch data copy/synchronization.
From our point of view
IBM App Connect is one of the old but gold in the cloud integration technology. It has is a user-friendly interface and encourages customers to concentrate on creating business logic without infrastructure management.

It enables you to use only a press of a button if you want to find data on the server, change your local data to the cloud, or acquire the whole data collection to combine it into one.
3. JitterBit
Jitterbit is dedicated to accelerating innovation for our customers by combining the power of APIs, integration, and artificial intelligence. With the Jitterbit integration platform, companies can rapidly connect SaaS, on-premise, and cloud applications and instantly infuse artificial intelligence into any business process.
From our point of view
JittleBit is easy to use and has excellent support, dedicated technical experts. We like that it enables people to build all necessary integrations on a single standard platform, and it helps bridge the gap between companies and the most critical business systems.

The best thing we love about JittleBit provides excellent resource guides for those who don't know how to code.
4. Operations Hub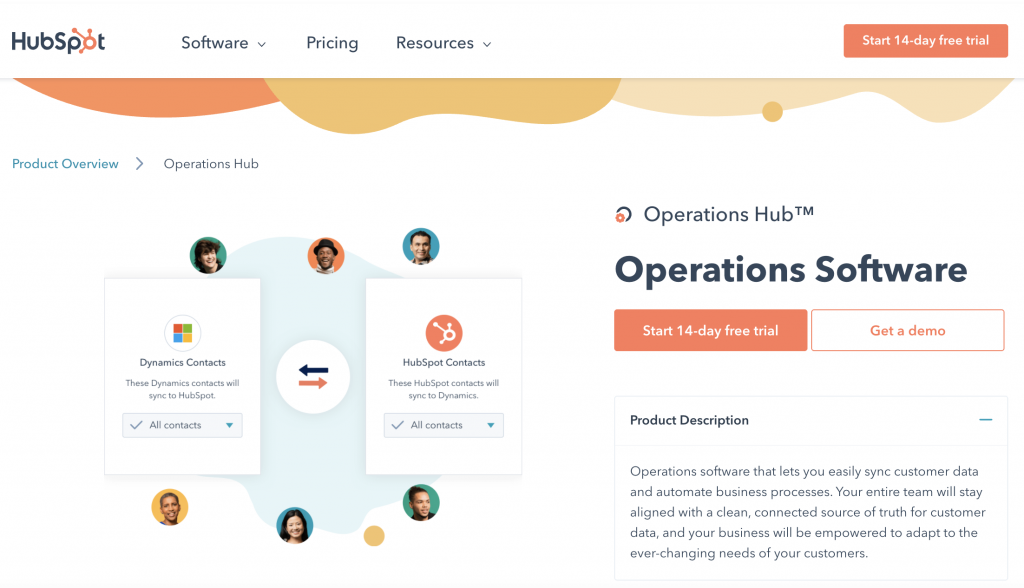 Operations Hub offers a toolkit for Operations teams with all the features they need to clean, sync, and automate data between apps. This product unites your company around a single source of truth and frees your operations team from reactive busywork.
From our point of view
We love the fact that it is easy to use and set up. It has limited integrations when compared to other integrations software like Zapier. But it still makes the customer journey more effective from lead acquisition to nurturing and managing through different stages of the sales funnel. Custom fields add the ability to fine-tune attributes that are specific to my business.
5. Boomi
Boomi helps grow and thrive in the fast-paced digital era. You need an agile technology foundation that speeds the flow of information, interactions, and innovations to achieve better business outcomes faster. Boomi's intelligent, flexible and scalable platform quickly and easily unites everything and everyone in your digital ecosystem across channels, devices, and platforms.
From our point of view
Evolved from Dell Boomi to Boomi, it has become a stable system with an easy setup. It also designed a new landing page that is very easy to navigate.

Boomi educates its customers by publishing guides, courses, and programs. Without the need for technological expertise, basic integrations can be easily created with these supportive documents. For more simple integrations, method diagrams can be used.
6. MuleSoft
MuleSoft is one of the leading solutions for API-led connectivity that creates an application network of apps, data, and devices, both on-premises and in the cloud. This hybrid integration platform includes iPaaS, ESB, and a unified solution for API management, design, and publishing.
From our point of view
We like that it has several functionalities that enable people to build a better work environment, particularly one of its critical characteristics, which lets them create a system of connections between many systems of their business. It also provides a friendly interface for API portals and easy deployment on cloud hubs or on-premises.
Conclusion
Cloud integration platforms simply allow businesses to manage a great number of applications under the same roof. This reduces the time, effort, and cost of the data and system management while improving operational activities, increasing internal communication, and advancing customer experience.

There are many cloud-based integration services out there, but we wanted to give you the top 6 of them according to our observations.

Hope you enjoy it and then benefit from it!
Article image credit to Ai Power, https://dribbble.com/alzer81

Quick Setup, Easy to Use, and Many Integrations
Manage your product announcements from a single place and easily distribute them
across multiple channels.