Another year has passed, and this time of the year is when we look at ourselves and realize how we made it. At AnnounceKit, we seek ways to "always do better," so we want to reflect on how far we came for you to do better this year!

In this year-end roundup, we'll take a look back at the significant updates and experiences that have shaped 2022– all created to better your customer engagements.
Taking a moment to reflect on the past year and share some exciting updates and experiences
It was a year full of significant improvements, fantastic growth, and much joy between you and us. No joy can come out of zero. To bring success and joy to you, we started the year with one– the goal of expanding the powers of our product. As a result, we gathered three infinity stones to complete a significant part of the customer feedback cycle.
Listening to customer feedback 👂
Outlining a public roadmap 🗺
Writing outstanding announcements 📣
Key Updates
Concentrating our main goal of expanding the powers of our product, our effort to improve your experience was our main motivation. With that in mind, our team has grown our feature set with several major updates. And our efforts and motivation finally resulted in a new product concept of creating a centralized place for the customer feedback loop.
1. Product Feedback and Idea Voting
To complete the first step of the customer feedback cycle, we introduced our product feedback and idea voting feature in beta this year. With this development, you can easily create a centralized place for customers to submit and vote on the feature requests they're most interested in seeing.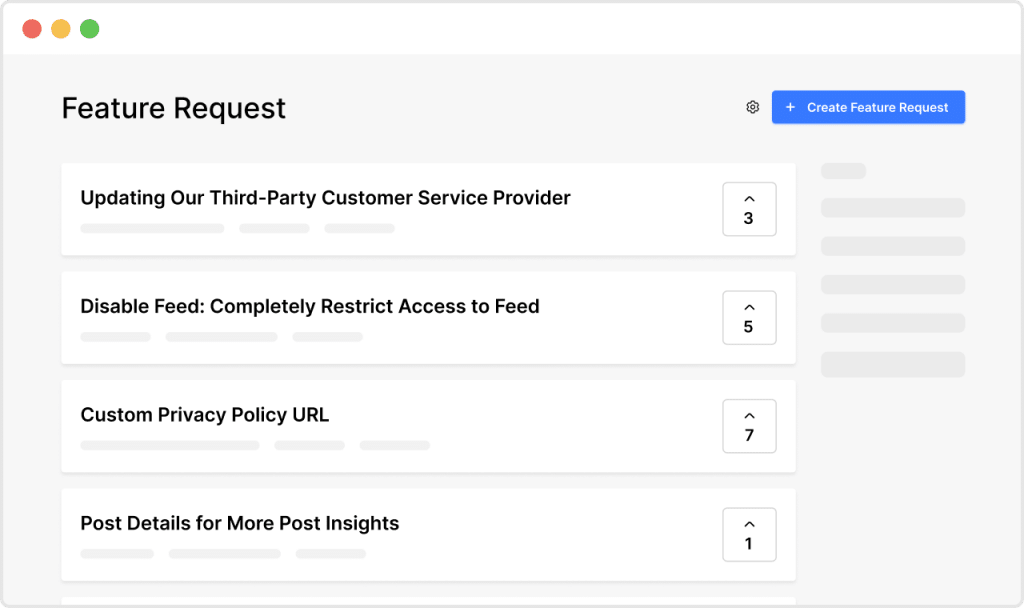 And for you, this can help guide your product development and ensure you build the features that matter most to your audience 🆙
Without completing each step successfully, we wouldn't be able to reveal and expand the power of the customer feedback loop. The second stage is the second leverage— keeping your customers informed about what's coming next for your product and building transparency with your audience.
This new addition to the product creates a better atmosphere for your audience where you keep them informed, engaged, and excited.
And finally, the last (but not least) step of the customer feedback loop— making announcements and product updates. Product updates are the phase where we are the strongest and the reason you are with us today. With that in mind, we sought ways to improve your experience with writing product updates. And our little friend is the result of this brainstorming! 🤖
Hence, we were more proud than ever to introduce our AI assistant this year. He is not only a major improvement in shortening the time you spend writing product announcements, but he also is a milestone of what will happen in the future.
Quick TL;DR on More Updates
User List Import
You can now import your user list to your AnnounceKit project if you have an existing emailing list and would like to send out product updates and announcements to them via email.
Post Preview
You can preview your post on your feed, widgets, or boosters before publishing it to ensure it looks just the way you want it to. Preview functionality will help you to avoid any last-minute surprises.
Email Domain Setup
You can set up your company email to send product updates and announcements from your own domain address.
React Native SDK
You can quickly implement AnnounceKit into your React Native mobile apps and take advantage of its great features.
Modal Booster
We announced our new modal booster that allows you to highlight important announcements on your website in a modal window, ensuring that your users see them.
Key Engagements
In addition to what we rolled out for our product, it is also important for whom we made these. We met many beautiful people, had lovely chats, and learned from our users ❤️ We are more than happy to engage with them and make AnnounceKit a part of their business in 2022.
Our Customers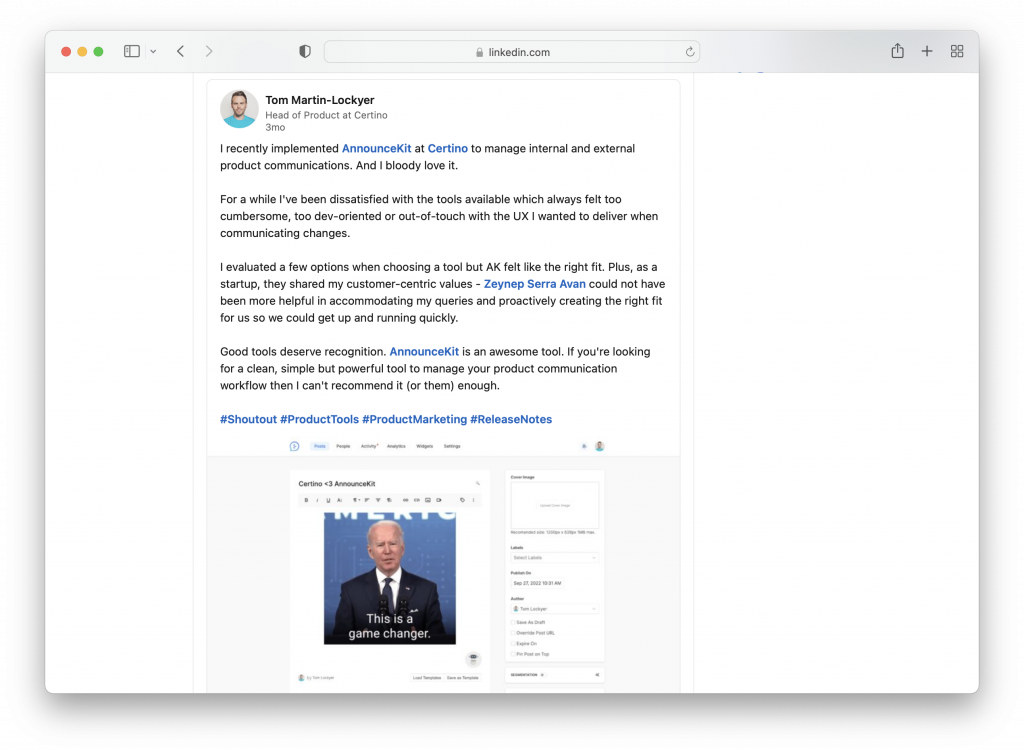 Many great companies joined our family in 2022. We now total a family of 5000 customers in 51 countries 🌎 Starting to help our users with internal and external product communications also became a great opportunity for us; we got to know these beautiful people! Meeting many special people around successful companies is the best part of running a business 🤗
Case Studies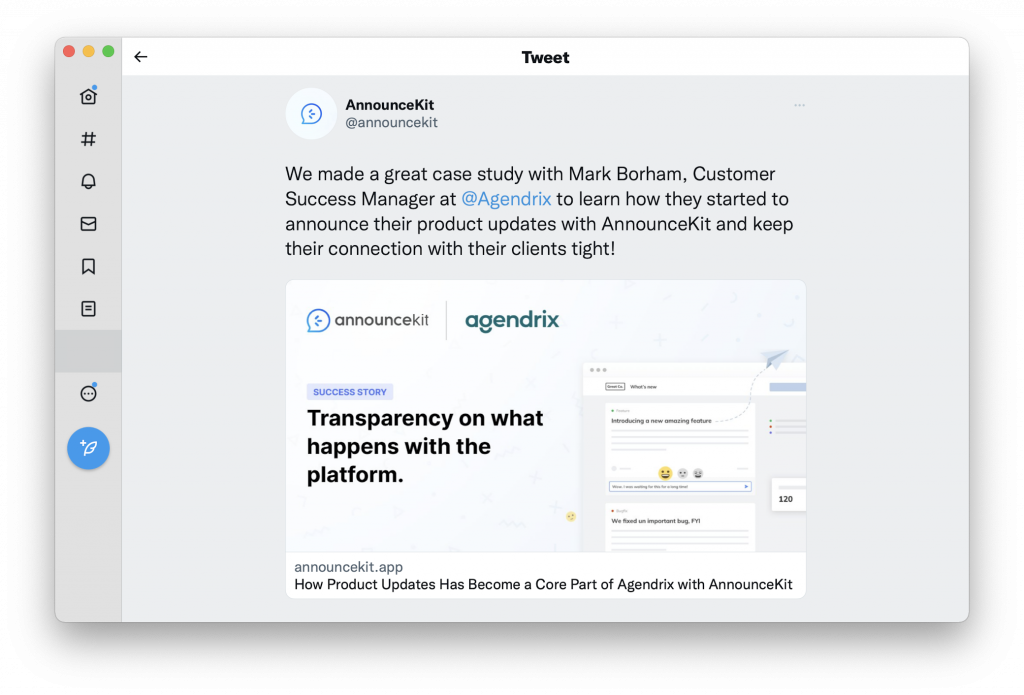 We made many great case studies to learn how our users use AnnounceKit and how they benefit from it. Within these studies, we had a chance to learn about our users better— their stories behind taking their businesses to another level and how they decided to use AnnounceKit. Agendrix was one of them, with many more…
Feedback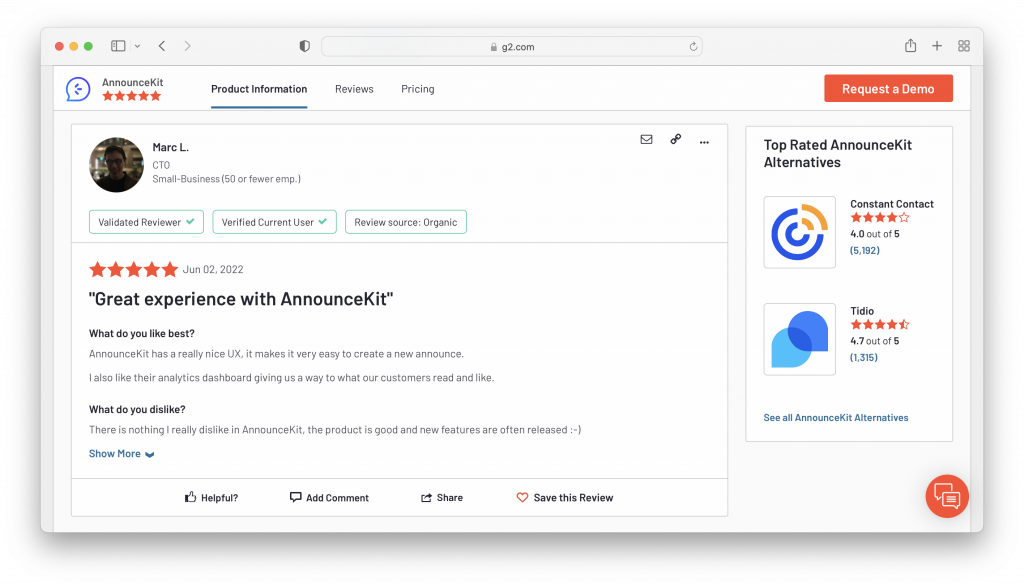 We also heard many great words from our users that motivate us always to do better for them 🤟 We have reached 50 reviews on G2, but the feeling of good words is countless!
"AnnounceKit enables us to send quick and fast messages to our customers." Oliver Fink, Shareholder at ObjectiveIT
"AnnounceKit has all the tools we needed to establish a professional-looking release notes feed for our SaaS business. Their support team is also actively listening for important enhancements or issues from their customers." Tony Fisher, VP of Customer Success at Centercode
"How easy it is to implement AnnounceKit widget and how enthusiastic our customers are about this! AnnounceKit widget is an amazing way to get feedback." Aurelio Volle, CEO and CO-founder at WP Umbrella
Final words from the AnnounceKit team 🥳
To expand our product's powers, we also needed to expand the powers of our team. Motivated by the same goal, we got bigger and stronger with our new team members! And now, as we look ahead to the new year, we are excited to continue improving our product, its functionalities, and your experience. Thank you for your support and for choosing AnnounceKit. We can't wait to see what the future holds!