The introduction of technology into our lives is a turning point for humanity. We have achieved a certain standard in every aspect of our lives, and perhaps we have extended the human life span in a way that was unimaginable centuries ago.
As technology has positive aspects, it also has another result that we humans accept, albeit unwillingly. Our habits are constantly changing, and this happens against our will.
Let's say you opened a coffee shop 100 years ago. Hanging posters on traffic lights and walls could be enough to advertise your shop and attract new customers. Yes, this was one of the most popular marketing tools 100 years ago. What about nowadays? Sorry, no one cares about posters.
So how do we achieve our dreams of reaching turnover targets? Of course, by using popular and effective marketing tools and methods!
I say methods because each method can appeal to a specific group. Because your customers will not be in one form. Hundreds, if not thousands, of customer groups with varying shopping habits
Don't worry, today we will talk about how and where we can reach them!
What are marketing tools?
There are many different marketing tools, but they all have one common goal: to help you promote your business. Some common marketing tools include advertising, public relations, and social media.
Advertising is a type of marketing that involves creating and placing ads in order to reach a large audience. Print, television, radio, or online advertising can be done. But for SaaS companies, old-school advertising stuff may not gain the performance that you want.
Social media is a form of marketing that uses online platforms like TikTok or Instagram to reach a wide target audience. Also, social media can be used to create and share content to inform your audience and persuade them!
1. Pressed Marketing
Print marketing refers to any form of advertising that uses printed materials to reach consumers. Print (print) advertising is one of the most common and well-known forms of promotion.
Billboards, business cards, brochures, direct mail, catalogs, sales reports, order information, etc. are examples of print advertising.
When a customer engages with a marketing tactic in the real world, that tactic becomes a tool for building familiarity and understanding. It's important to ensure that print ads for your product appear where people won't necessarily look, so you're putting your product in their minds.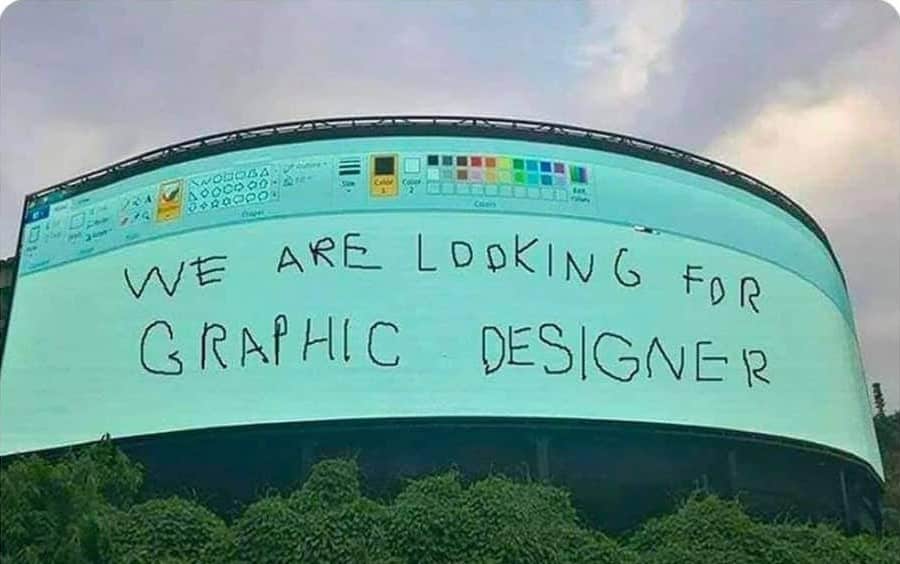 If you are planning to do a print marketing campaign, your campaign should be creative and memorable. In this way, you can earn a place in the minds of your potential users. The example above shows great creativity in print advertising.

This is a job posting, not a marketing campaign. However, it was so well thought out that it was talked about for a long time on social media and the brand was unintentionally advertised.
Print marketing can be used to supplement your other digital marketing campaigns. Attract people's attention with print marketing first, and then knock them out with digital marketing! 🥊
2. Digital Marketing
With the entry of COVID into our lives, the importance of digital marketing has been slapped in the face of traders. All stores closed and people left their homes only for groceries.
Shall I tell you what happened to those who moved their businesses to the digital world some time ago? They got rich! You can call it visionary if you want, or you can say that the timing was pure luck. But someone had already started using this powerful weapon to increase their sales.
You can use your website or your product on digital platforms to build brand awareness and raise your income. By gaining brand awareness, you will get more connections and have more customers.
The more you bring in customers, the more you need feedback to maintain your quality and sustainability. Then, you may use that feedback to create new features and improve your work. You can teach and tell potential customers about your products and services, promote them, talk to customers, and make sales.
Power Digital for Online Growth: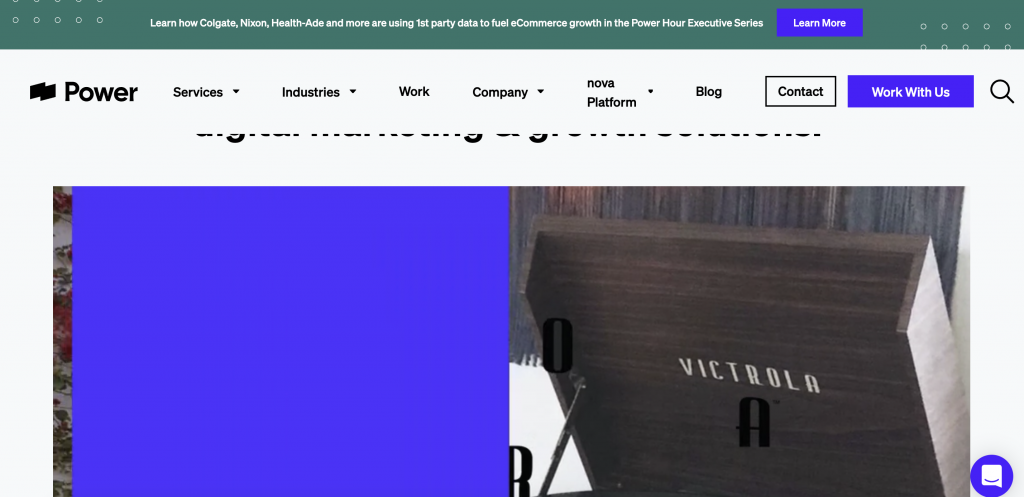 Power Digital is a data-driven, return-on-investment marketing agency. Power's team consists of highly specialized marketing professionals who are experts in their fields. Instead of a standard strategy, they want to offer everyone brand- and industry-specific digital marketing services that are made to fit their needs.
3. Search Engine Optimization (SEO)
The other marketing practice you can benefit from is Search Engine Optimization which is generally called SEO. SEO enables you to focus on your website and digital data, which will help you to indicate and increase your brand's awareness. The most appealing sites will appear at the search page's first rank thanks to the significant engine results.
The quality score, originality, and speed of your website directly affect the results you will get from SEO. The higher your scores in the criteria I mentioned, the more your website will appear on the first page.

SEO can make up a large part of your marketing campaigns. If you give due importance to this issue, you will see that your traffic and sales increase.

Customers usually think that the first sites are the most preferred websites and click on them for both quick access and reliability, so SEO is a vital marketing tool for your business from different perspectives.
Semrush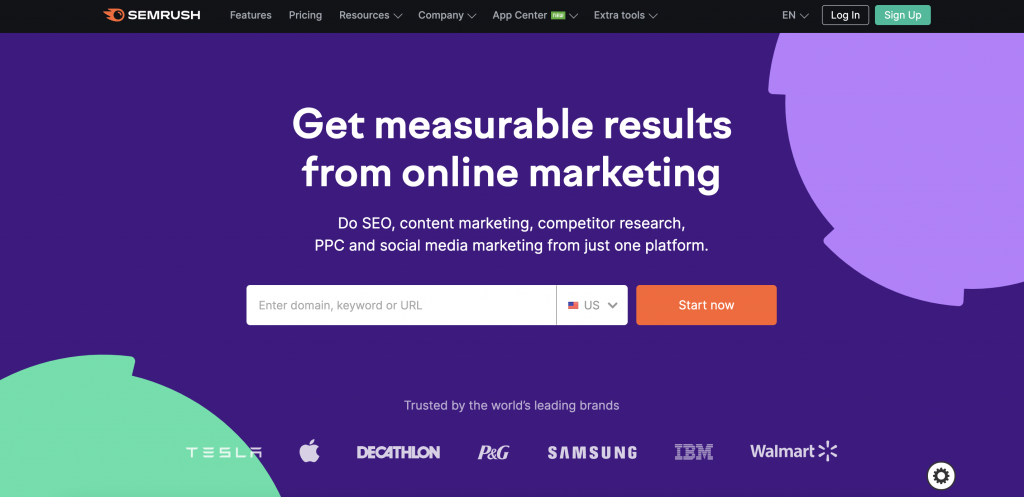 Semrush is an SEO service that helps you with online marketing and rankings.
4. Social Media Marketing
Social media is one of the essential marketing tools for every type of business. It is the best, most complete, and most exciting marketing tool that can be used by people of any age, from any country, and from anywhere.
Worldwide, 4.48 billion people are using social media. Getting awareness on social media will boost your product, be accessible, and get you the most desired brand quickly.
Using social media effectively gives you different opportunities to connect with your customers. You can post short, long, and reels; draw lots; make live broadcasts; etc.; or even make your product announcements via social media.
MailChimp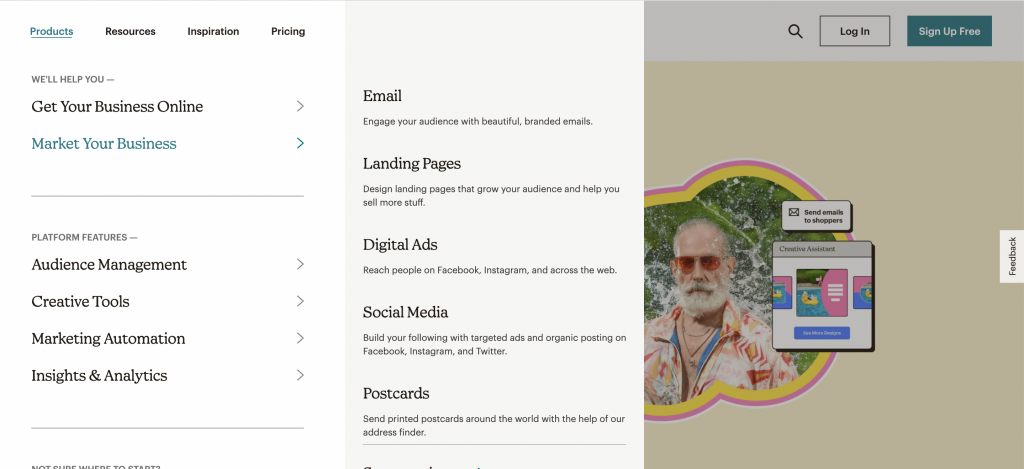 MailChimp provides you with several marketing tools along with social media marketing. It manages your social channels all in one place, from organic posts to targeted ads.
5. UX Gathering
This tool can be used more effectively after post-launching than other tools. After introducing the product and giving it to the customer, it's important to get feedback from the customer by thinking about how they used it. This is a key marketing tool for improving the brand's character, quality, authenticity, and longevity.
By analyzing data, you can gain insight and focus on the parts of yourself that need to be improved.
You can send informative and motivating e-mails, calls, and small gifts to persuade the potential customer to choose your service. This is a great marketing strategy to enhance your customer base.
You can work with a freelance UX designer or marketing agency to get a brilliant UX design.
Beyond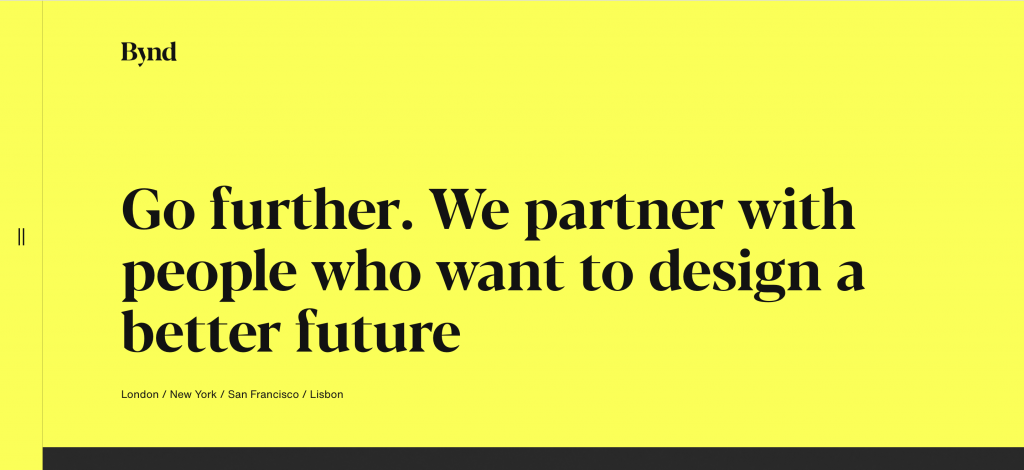 Beyond is a marketing agency that helps businesses to design a UX. As it can be seen on their own web page design, it gives a sense of a better future.
Conclusion
Marketing tools are tools that will strengthen your brand, increase your income, and make a profit in the long run. When choosing the tools you will use, research whether they will suit the industry you serve, your company policies, and your customer base.
If a great product doesn't meet your needs, it's no more than an expense for your company. But when you find the right product, you will feel like you have found your soul mate because it will make your work easier and increase your company's performance!

Take care of yourself!
Cover image credit to https://dribbble.com/kristynbraden